Now Playing: Video on the iPod
PC World
Tuesday, November 22, 2005; 12:10 AM
Apple iPod
You can watch downloaded TV shows on the Apple iPod.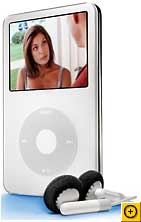 Given the brouhaha surrounding Apple's latest player, one might assume its name is the Video iPod. Think again: It's an iPod that can do video, not a dedicated video player.
Don't get me wrong: The 2.5-inch screen on my $299, 30GB, black shipping model (the company also has a white 30GB version, plus $399, black and white 60GB versions) is absolutely beautiful. The 320-by-240-pixel screen is bright and sharp, and videos look great on it. In my hands-on tests it offered crisp playback with smooth movement. The unit ran videos at roughly 30 frames per second, the same as a broadcast TV signal.
My only complaint with the image quality is that details in shadows were often hard to see. Other nits to pick: The glossy surface of the player's faceplate tends to reflect lights, and although the unit weighs under 5 ounces, holding it up close for long periods can get a bit uncomfortable.
Videos appear as a new item on the top menu and are divided by category below that (including TV shows, video podcasts, and a rather tantalizing movies category). The new iPod supports downloading videos from iTunes 6, as well as video encoded as H.264 or MPEG-4 (in my experience, however, not all third-party encoders worked). iTunes' inability to convert existing video into an iPod-friendly format is its biggest failing.
The battery life of the new iPod is reasonable. When I played back my videos, the device lasted around 2.5 hours.
If you're looking for a player mostly for audio use but also for occasional video viewing, this is a great choice. If video playback is your main focus, though, look elsewhere.
PCW Rating
The new iPod adds video capabilities, but its great-looking screen is a bit too small for extended viewing. Price when reviewed: $299 (30GB version), $399 (60GB version) Current prices (if available)