Wii Workout Games vs. a Personal Trainer
Darren Gladstone, PC World
PC World
Friday, May 29, 2009; 3:19 AM
At the Body Mechanix Gym in San Francisco, Joel Hornsby is the bona fide, certified "Mind and the Machine" master trainer. Can he be replaced by a videogame? To help me find out, Hornsby was good enough to spend an afternoon testing four fitness-focused games for the Wii. We set up a Wii balance board, then fired up some software to see what he thought of Jillian Michaels' Workout Ultimatum 2009, Gold's Gym Cardio Workout, EA Sports Active Personal Trainer, and Wii Fit (the Nintendo title that kicked off the videogaming/personal training craze when it launched a year ago).
What follows are two perspectives--that of an an over-the-hill, out-of-shape Average Joe gamer (me), and Hornsby's professional opinion--to help you select the best-bet at-home game workouts for you.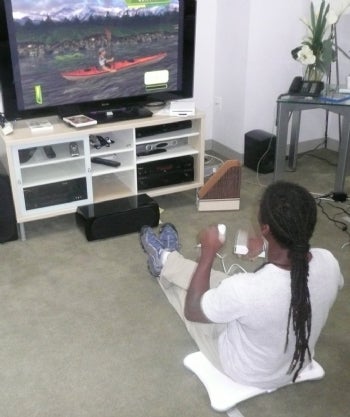 The first workout for me--the lateral eye-rolls. Jeez, the production's a little cornballish as Jillian Michaels (of The Biggest Loser fame) welcomes me to this digital boot camp in her own sassy idiom. The deal here is to get sweaty with nontraditional activities. That is, unless your average day includes throwing paintball grenades and log-jumping while on the river. As you exercise, you're treated to music that'll make you want to run away from your TV. Hey, so I guess that means its working, right?
"I'm very impressed with the fact that the game offers cooking tips, food substitutes...I think this is a great thing to do and a smart way to disseminate this information. I like that the tips seem all-inclusive," says Hornsby. Obviously Jillian picked up a couple of ideas from being on the show. Hornsby adds: "I'd hope that there's something on heart rate training, fat burning, and specifically how it works--because without a heart rate monitor, measuring calories burnt is a guessing game." (We didn't have time to exhaustively unlock all of the fitness tips.)
With the balance board plugged in, he was a little down on running. "When you're trying to simulate running, you shouldn't bother using a balance board. The issue with running in place is that you're only really calculating moving up and down as opposed to that and going forward. It's not going to give you the same degree of exercise, as a general rule". And "running" on a balance board is even less effective. When Hornsby tried the kayaking exercise, the game didn't recognize his movements until he began wildly flailing to get its attention. So...it's the tantrum-throwing workout?
"I really like the nutritional part of the package; but the exercises, poor directions on proper form, and bad animation make it tough to recommend."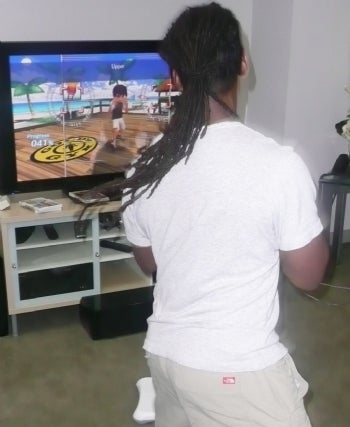 Not that I'm the shallow type, but I was turned off by this game for a couple of superficial reasons. Strike one is the cutesy anime characters in the gym. Is this the Naruto workout? If so, I'm not the target audience. Strike two (and a painful foul tip at that) is having to listen to the instrumental version of Survivor's "Eye of the Tiger" during workout sessions. Over. And over. And over. But once my ears cauliflowered over, I found that I was breaking a serious sweat while throwing more punches than Manny Pacquiao. The program offers a good array of cardio boxing exercises, but I can hear my internal doofus alarm going off (or is that Survivor again?) as I bounce back and forth to the beat, throwing punches without much feedback as to how good my form is.
Hornsby gives a thumbs-up on the actual boxing part: "The trainer's voices are annoyingly cute, but not bad." After trying a few of the balance-board-centric exercises, however, his verdict is more thumb-in-the-eye. In the push-ups exercise, for instance, Hornsby spotted some God-awful technique: "The way the animated character was demonstrating push-ups, it would put too much strain on the lower back. If someone followed that form, it'd be a bad workout and could hurt you in the end. That form should be way better. Notice how the character drops back a little during the push--the back was arching at the end of the movement. You're supposed to go straight down and straight up. The form should be correct on the animations; otherwise, the program misses the point. If form isn't dead-on, that's major points off, because you're teaching something wrong. The biggest problem here is that your [virtual] trainer--or at least the model that you're following on-screen is doing the workout wrong."