First Look: Apple iPad
Melissa J. Perenson
PC World
Monday, April 5, 2010; 12:19 AM
The Apple iPad ships this week, and with its arrival, Apple may singlehandedly usher in the era of tablet computing?slate-style devices that look very unlike a typical computer. Bolstered by clever integration between hardware and software--as we've come to expect from Apple thanks to products like the iPhone--the iPad is a multi-purpose slate that holds the potential to be different things to different users. The various pricing options also reflect this: $499 (16GB), $599 (32GB), $699 (64GB). Add $130 to each of these Wi-Fi models for a 3G option in late April.
It's true that the iPad resembles an oversized iPhone, but in some ways, that comparison diminishes all sorts of new potential. The iPad's screen is three times larger than that of the iPhone/iPod Touch, and that extra real estate primes the iPad for activities you couldn't even consider doing with the comparatively tiny iPhone/iPod Touch screen.
Based on my initial launch-event hands-on with the iPad, this device's functionality exhibits both promise, and disappointment. The latter reflects its lack of flexibility as a full-on alternative to a netbook.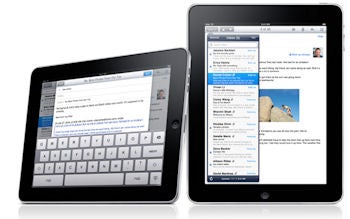 Equipped with the same underlying operating system as the iPhone and iPod Touch, it comes as no surprise that the iPad immediately feels familiar. The main menu mimics that of the current iPhone OS, with four icons across and four rows down, plus Safari, Mail, Photos, and iPod icons in a row at the bottom. Icons have the same characteristics as those on the iPhone, and include Calendar, Contacts, Notes, Maps, YouTube, iTunes, App Store, and Settings. One new item is a dedicated icon for Videos--a logical addition given the device's roomy screen. Beyond that, you can add apps from the Apple App Store; a separate section will highlight apps optimized for iPad. The 3G iPad won't have phone or traditional SMS functionality.
The iPad packs in 802.11 a/b/g/n wireless, and as mentioned, a 3G option is expected in late April. The iPad also has Bluetooth 2.1 + EDR, and is powered by Apple's 1-GHz A4 processor system-in-a-chip.
The 9.7-inch LED-backlit screen uses IPS (in-plane switching) technology to achieve better color and contrast, and a wide 178-degree angle of view. Its native resolution of 1024-by-768 pixels is sufficient for watching high-definition video, viewing photos using the slideshow feature, and for flicking-through content.
The screen dominates the device, with a wide black bezel surrounding its fingerprint unfriendly oleophobic (oil-resistant) display. That bezel almost seemed like overkill, until I took the iPad in hand. Then, I found the bezel necessary, as that's where my fingers automatically gravitated in order to hold the device in my hands. While the iPad is super slim (just a half-inch thick), I actually had some difficulty handling it steadily in anything longer than short spurt. At 1.5 pounds, and measuring 9.6 by 7.5 by .5-inches, I found it too heavy to comfortably hold in one hand, which is troublesome if you plan on using it as an e-reader. Other e-readers, like Amazon's Kindle 2 or Spring Design Alex eReader, are much lighter in hand and therefore make for a much more comfortable user experience. I found using two hands much more viable, but my relatively small hands then had issues trying to reach across the expanse of the vertical unit's on-screen keyboard. Furthermore, I quickly realized my hands would tire in this position after reading just a few chapters of a long novel.
Because of the larger display, pretty much all of the native applications we're used to viewing on the iPhone look and function better on the iPad. What I've seen so far of video playback of content purchased on iTunes appeared stunning on the iPad.
Like the iPhone before it--and unlike what we expect from future, competing Windows-based tablet devices, the iPad has a minimalist design, with virtually no complexities and smooth, aluminum back. At the bottom of the iPad are the dock connector and the speaker grille. The sole buttons are Home Button centrally situated beneath the display, and the volume rocker on the side. The iPad is missing integrated expansion (via USB or flash memory, or both); and, so far as we know before shipping, it's missing multitasking--which the bigger screen practically begs for in this Facebook-driven, always-connected age.
Yes, Apple will offer separate dock-connectors for accessing digital images via a USB port or an SD Card, but these are exorbitantly priced, and won't open the iPad for use in a way that mimics a more versatile netbook. And I find it stifling to think that a device capable of much more than my iPhone 3GS can't just take a USB flash memory drive and access any of an array of file types. This omission in particular is a serious limitation to iPad's functionality--and its ability to compete with less expensive, slightly heavier and bulkier, but more full-featured netbooks.
A little more on the iPad's integrated input capabilities. Simply put, if you plan to do a lot of typing, the iPad's touch keyboard is no match for the physical keyboard found on a netbook. The touch keyboard is a larger version of the iPhone's. But in the pre-shipping version of the iPad, the keyboard lacks the iPhone's letter magnification when you press a key, and I missed this visual cue immensely. It also lacks the haptic (vibration) feedback common to Android phones. So with no physical or visual feedback when you press a key, I found myself frustrated as I tried to pound out a long e-mail or note.