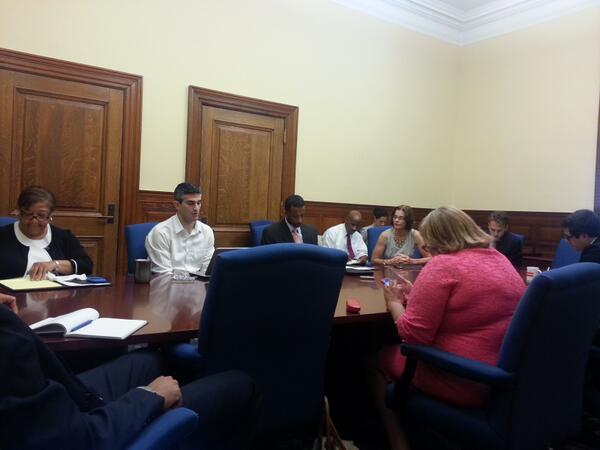 Five D.C. Council members met behind closed doors for about 90 minutes Thursday morning to have initial discussions about what should happen to their colleague Marion Barry.
Barry (D-Ward 8), you'll recall, was fined and censured in a settlement last week with the District's ethics board over his accepting illegal gifts from city contractors. But the council itself could still levy further sanctions, and it is up to the five-member special committee to recommend what, if anything, that should be.
The committee has a menu of sanctions to choose from, ranging in severity from a simple reprimand to the more serious censure to the ultimate penalty of expulsion. In addition, the committee could recommend changes in Barry's committee assignments — such as the loss of his committee chairmanship, as happened the last time Barry was disciplined, in 2010.
One thing the committee will have to keep in mind is that any sanction will have to be approved by the full council, and the more serious the sanction gets, the more consensus is required. While a reprimand requires a simple majority of seven votes, censure requires nine votes and expulsion requires 11 votes, meaning two dissenters other than Barry would be sufficient to kill the measure.
The ad hoc panel's chairman, Kenyan McDuffie (D-Ward 5), was reticent to speak about what should happen to Barry or even what the process for determining an appropriate punishment should be — including whether the panel will investigate the matter independently of the ethics board's findings. "We began our review, and the work of the committee is ongoing" was about all McDuffie offered after the meeting.
But interviews Wednesday with committee members revealed a variety of opinions about Barry's behavior — with at least one member openly willing to consider expulsion.
Yvette M. Alexander (D-Ward 7): Alexander noted that the ethics board found no evidence of a quid pro quo and suggested that the council could "follow their lead" and recommend a censure. "In my view, I don't think we have the right to expel," she said. "I think the people who voted for him have that ultimate right. … There's a recall process, I truly believe in that. That's what democracy is all about."
Anita Bonds (D-At Large): Bonds would not speak about the matter directly, but spokesman David Meadows said she "is going to work with her colleagues to judge Council member Barry fairly and impartially, look at the facts and move on."
Mary M. Cheh (D-Ward 3): Cheh said she was not intending to start "with a fixed notion about what penalty you impose." But she noted that expulsion would be "extraordinarily procedurally difficult" and suggested that the facts of the case as known would not warrant it: "We would have to talk about it, but my instinct tells me now, if these are isolated incidents and he disclosed it … if there's no quid pro quo, under those circumstances, I would have to see something more."
David Grosso (I-At Large): Grosso was the most aggressive in his comments, saying he was "disappointed and frustrated" by Barry's latest misdeed. "I think everything should be on the table," he said, including expulsion, citing Barry's previous disciplinary record. He added, "I'm not sure what [expulsion] does. … Council member Barry has shown he can win election after election" and would likely run in the special election that would follow an expulsion and win. "Perhaps we should keep him here and limit his powers," Grosso said.
As for McDuffie, he said Wednesday that he was "not prepared to get out in front of the committee." Asked if expulsion should be on the table, he noted, "No one member can make that determination."
Asked for comment, Barry referred the matter to his spokeswoman, LaToya Foster, who said it "would be inappropriate to comment."
Council Chairman Phil Mendelson (D) has asked the committee to make recommendations in time for the council's next legislative meeting on Sept. 17.