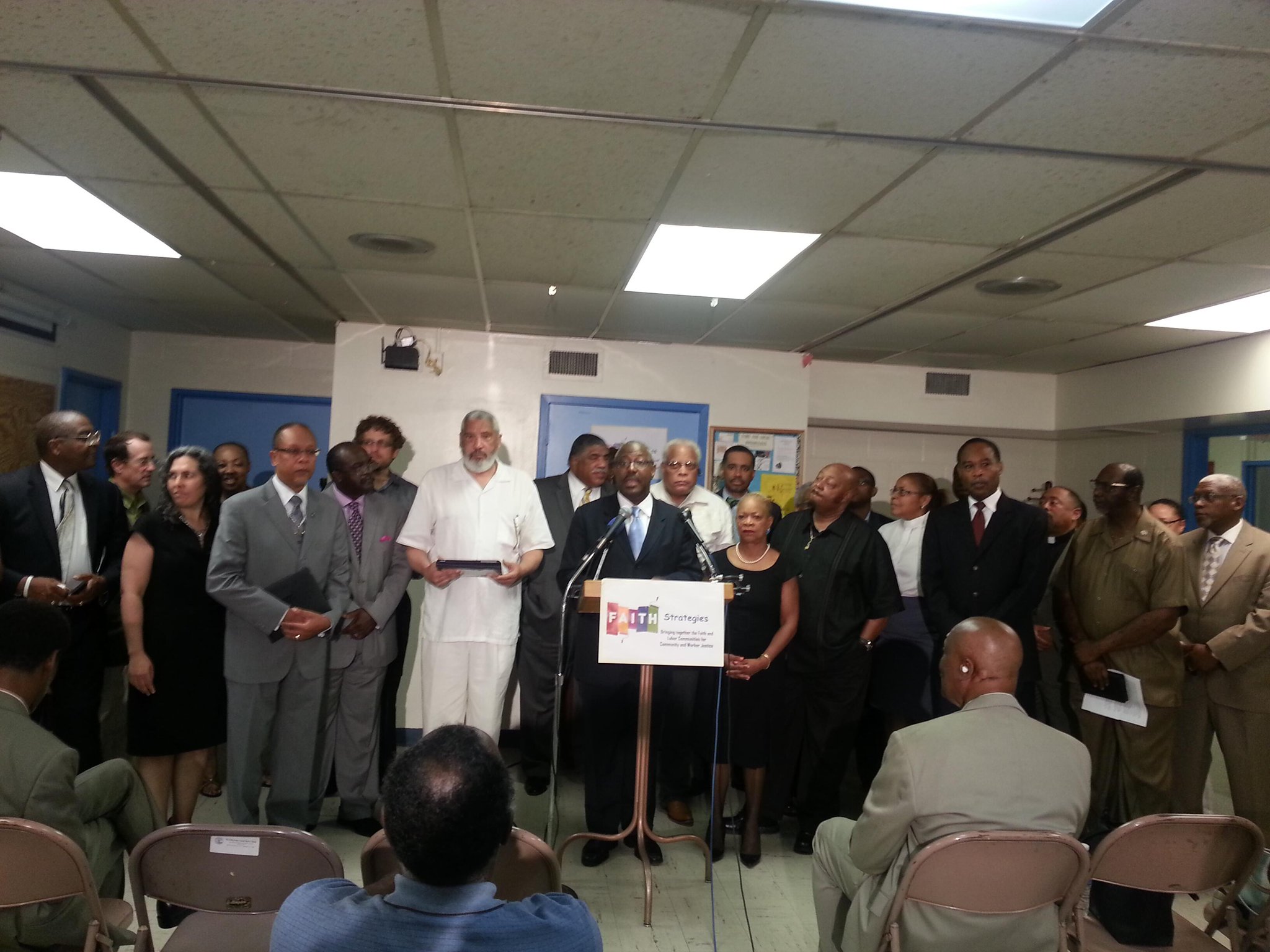 At some point in the coming weeks, the Large Retailer Accountability Act will hit the desk of Mayor Vincent C. Gray, who will be forced to choose between (a) signing the narrowly targeted "living wage" bill and forsaking at least three Wal-Mart stores and their attendant jobs and low-priced goods or (b) vetoing the bill, thus vexing unions that supported his election and potentially alienating the liberal-leaning public by buckling to the controversial megaretailer's ultimatum.
Thus far, all signs indicate Gray is leaning toward a veto. A deputy mayor has said the bill would be disastrous for the city's economic development efforts, Gray's spokesperson has shared letters urging a veto and, after going great lengths to lure a Wal-Mart to anchor the redevelopment at Skyland Town Center, it's difficult to see Gray signing a bill that would effectively kill the project.
But the group of clergy who rallied Friday urging Gray to sign the bill think they have identified Hizzoner's political soft spot: his zest for "self-determination."
As the Rev. Graylan S. Hagler puts it, how can a mayor that has been outspoken opposing congressional meddling in city affairs and supporting greater democracy for city residents buckle under to a giant corporation's threats? Wal-Mart's ultimatum, Hagler said Friday, "strikes at the very heart of self-determination."
"We have stood with the mayor as he courageously demanded voting rights from Congress, budgetary autonomy," Hagler continued, saying a veto would send a "contradictory and counterproductive message" to the residents who support those issues: "If this is the way that our government functions, then we might as well get rid of the city council and get rid of the office of mayor, and let the corporations run the city."
It's an appeal nicely calibrated for the sensibilities of a mayor who is never so comfortable speaking as when he has the opportunity to rail against interlopers seeking to impose their will on city residents. But there's is little indication Gray sees the debate in those terms.
Mayoral spokesman Pedro Ribeiro said there's evidence popular will lies on the side of Wal-Mart, not on the side of the ministers.
"We've received quite a bit of correspondence from the residents of Ward 7 [where two of the six planned stores are located] who wants jobs and development in their ward," he said. "While the mayor hasn't made up his mind, he's certainly listening to those people."