At his sentencing hearing Tuesday, convicted child rapist Jerry Sandusky will give his side of the story.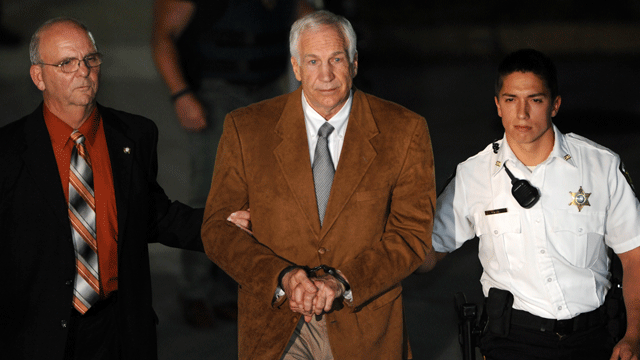 In open court, Penn State's former defensive football coach will read the statement he's spent the last three months in jail writing and rewriting. The one about how the jury got it all wrong, finding him guilty of 45 counts of the sexual abuse of 10 boys over a period of 15 years. And there was the guilty verdict for using Penn State's football program as bait for the disadvantaged and then devastated kids he got to know through his so-called charity for vulnerable boys.
I think it's great he'll have the chance to tell us all about it, too — the chance he passed up at his June trial, because it would have laid the predicate for rebuttal by his own son, who said he, too, had been sexually abused by Sandusky.
Judge John Cleland has so much leeway in sentencing that he could give 68-year-old Sandusky as little as 10 years behind bars, or as much as 218 years. And before he pronounces the sentence, it's appropriate that we understand how lacking in remorse or self-awareness this predator still is. He has consistently insisted that he was the victim and that his victims were only after money. 
Sandusky's defense attorney, Joe Amendola, told the Associated Press that Sandusky has spent these last months in isolation in Bellefonte's Centre County Correctional Facility working out twice a day and polishing his statement. His wife, Dottie Sandusky, visits him, and his time in local lock-up has otherwise been uneventful. "Jerry is a very likable guy; he gets along with everybody," Amendola added. Sure he is, counselor. That's what makes him so dangerous.
Melinda Henneberger is a Washington Post political writer and anchors the "She the People" blog. Follow her on Twitter at @MelindaDC.