I agree with my She The People colleague Melinda Henneberger, who puts responsibility for retired four-star general and recently resigned CIA Director David Petraeus's devastating downfall firmly at his own spit-polished shoes, and thinks we as a country may have dodged a bullet: "Our favorite Gmail-using general seems to have let his guard down in so many matters that we may well be lucky this affair ended his career when it did."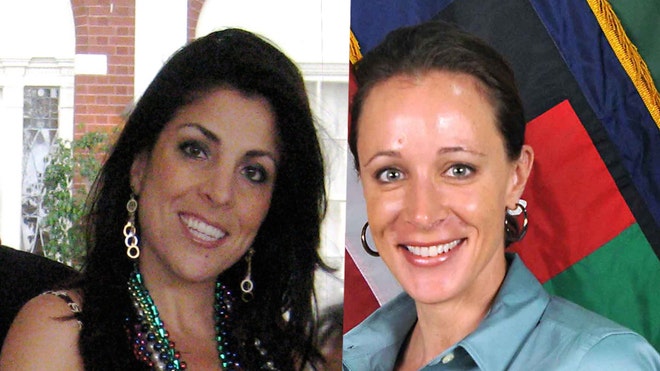 As a military strategist, his 37-year Army career was highly decorated, but in his latest professional role, as a collector and collator of secret intelligence, he seems to have been in the wrong uniform.
His two lady friends at the center of the scandal are Paula Broadwell, a West Point graduate, Ironman triathlete and bare-armed arms spokeswoman; and Jill Kelley, an unpaid contact to the top secret U.S. military organization, Joint Special Operations Command. Broadwell, referred to in the media as the "mistress," made a target shooting video for the .45 caliber machine gun manufacturer Kriss in 2011. Kelley, tagged the "other other woman," appeared on the Food Network's reality program "Food Fight" in 2003.   
Broadwell has so far not commented publicly but she has been cooperating with the FBI. Kelley released this statement: "We and our family have been friends with Gen Petraeus and his family for over five years. We respect his and his family's privacy and want the same for us and our three children." (Speaking of family, the New York Post reports Kelley's twin sister, Natalie Khawam, received support from Petraeus in her divorce and child custody dispute after a judge ruled on "serious reservations about her honesty and mental stability.")
Despite their close associations with Petraeus, his women friends only became dangerous liaisons after their mutual friend put them in each other's range of fire. Their actions detonated when one anonymously cyber fragged the other — who then returned fire by contacting the FBI.
And the former U.S. commander of our forces in Iraq and Afghanistan is not the only general to be exposed by the investigation. The Pentagon announced Tuesday that Gen. John R. Allen, who replaced Petraeus as top Allied commander in Afghanistan, had between 20,000 and 30,000 documents  of "potentially inappropriate" communication with Kelley.
Although the effect was an IED explosion of the personal narrative of both generals, Petreaus watchers are predicting his skills and experience will help him recover from his injuries. I expect the two women who triggered the scandal will survive the stigma as well.
Unfortunately, neither has escaped the inevitable sexism still inherent in our culture. The Daily Beast's Michael Daly wrote on Monday, "The besotted Broadwell may have viewed the curvaceous Kelley as a threat. Broadwell may be able to run a six-minute mile with Petraeus, but Kelley looks like a woman who lets the guys do all the running—and in her direction."
Both are apparently outgoing and physically fit Gen-X career moms who are coincidentally both married to doctors named Scott. (I wonder if that detail made it easier or more difficult for the man so close with both women to keep his pals' respective spouses straight?) They have each engaged powerful D.C. attorneys (Kelley hired Abbe Lowell and Broadwell retained Robert Muse), seem well-connected in the regimented and regulated military culture, and both women still have their 40s ahead of them. 
In the community support department, however the general's life partner and saving grace, home front halo-wearing Holly Petraeus — the materfamilias of military families – will have the honor and ignominy of being the "Good Wife" for whatever domestic image repairs become necessary.  Unsurprisingly, ABC's Martha Raddatz reports the general's wife is "beyond furious."
Holly Petraeus is well loved by legions of soldiers' wives for whom she has stood as a role model of hearth-burning spouse and helpmeet to troops at war. She has made her own career as a trusted counselor to military families whose loved ones are in harm's way and those adjusting to traumas. 
I wish her the best — and can't wait to see if she holds her position.
Bonnie Goldstein is a Washington writer. Follow her on Twitter at @KickedByAnAngel.