The Idyllic Lakeside
Getaways of Canada
How to plan a luxurious getaway
in the country
with the most
lakes in the world
Anyone who has spent time by the water knows intuitively that it is good for the spirit, and now science confirms it has profound mental and physical effects. Research shows, for example, that spending time in aquatic environments contributes to overall wellbeing, as well as people's perceptions of how healthy they are.
Canada, which is home to 60 percent of the world's lakes, has millions of awe-inspiring bodies of water. And with so many options, visitors can spend time around the water in utter solitude, enjoying Canada's breathtaking scenery, before heading out to explore its diverse cuisine and vibrant culture.
From British Columbia to the Atlantic, there are once-in-a-lifetime, luxurious lake trips to refresh your body and your mind. Here are three of the most outstanding options.

LAKE MINNEWANKA, ALBERTA
Where mystery lurks
below the surface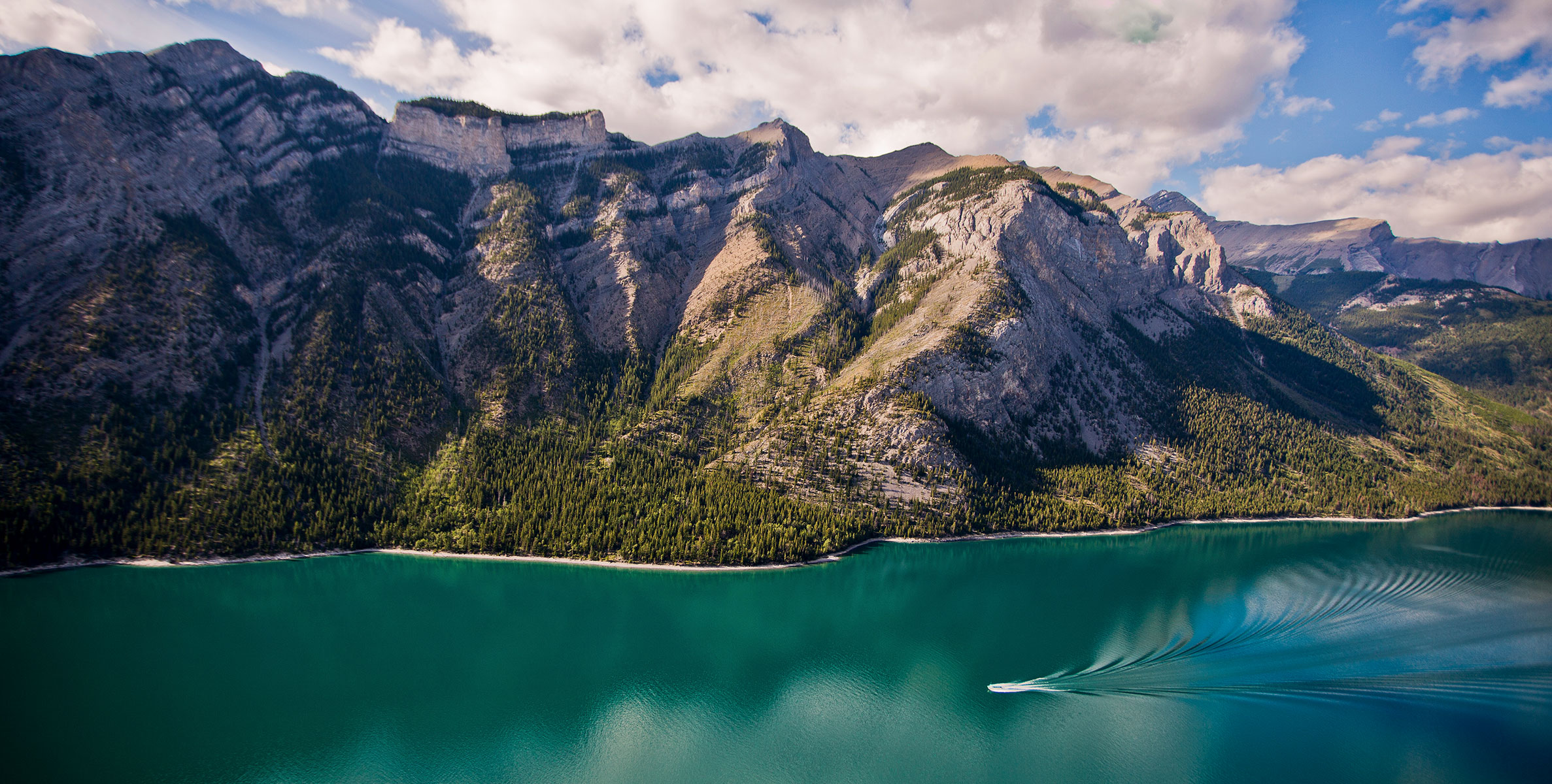 Opportunities to have true adventures—and to feel like a real explorer—are few and far between these days, but Lake Minnewanka in Alberta offers both. Beneath the surface of the 13-mile-long glacial lake in Banff National Park—a World Heritage site worth savoring in its own right—hides an underwater ghost town.
Strap on your scuba gear and slip below the lake's chilly, emerald green waters to explore Minnewanka Landing, a summer resort village that began attracting visitors in the 1880s. Part of the village was flooded in 1912 to facilitate the expansion of a dam, then in the 1940s a new dam was built, raising the reservoir's waters and submerging the entire town. Divers can see intact house foundations, bridges, fireplaces, chimneys and more.
Both divers and non-divers will enjoy the hour-long Lake Minnewanka Boat Cruise, which gives visitors a unique view of the towering peaks of the Canadian Rockies. Knowledgeable guides will help you scan the mountains for hidden waterfalls and local wildlife, from bighorn sheep to bald eagles.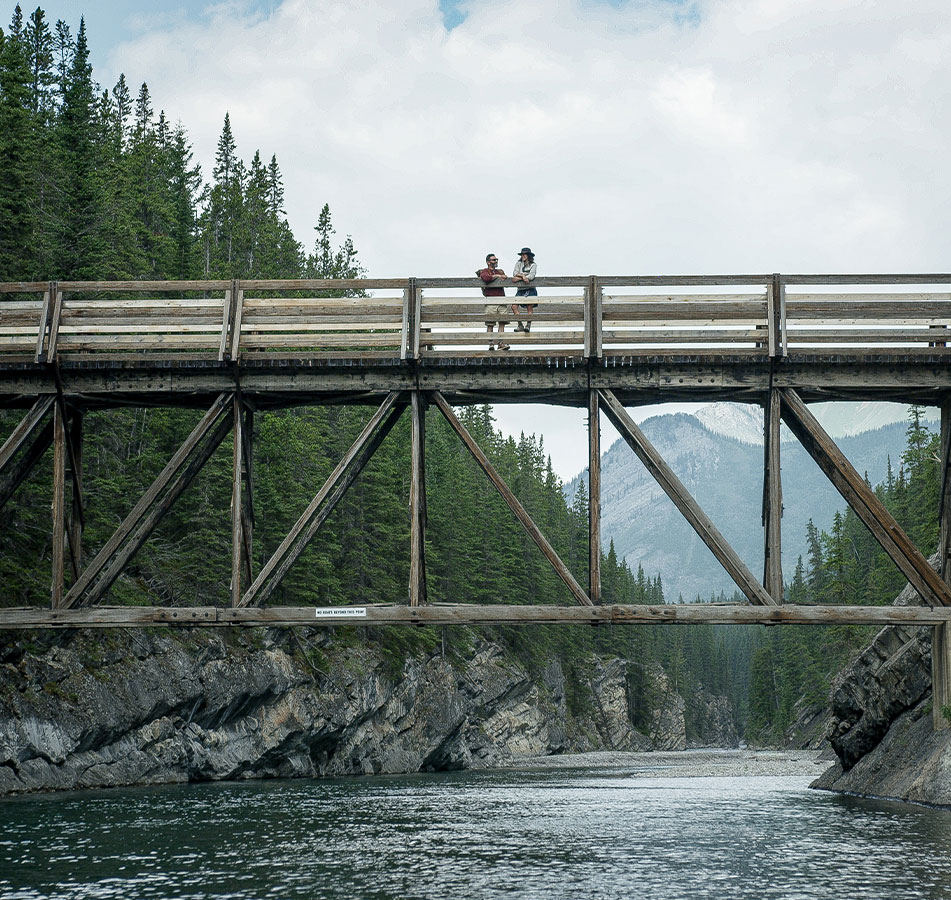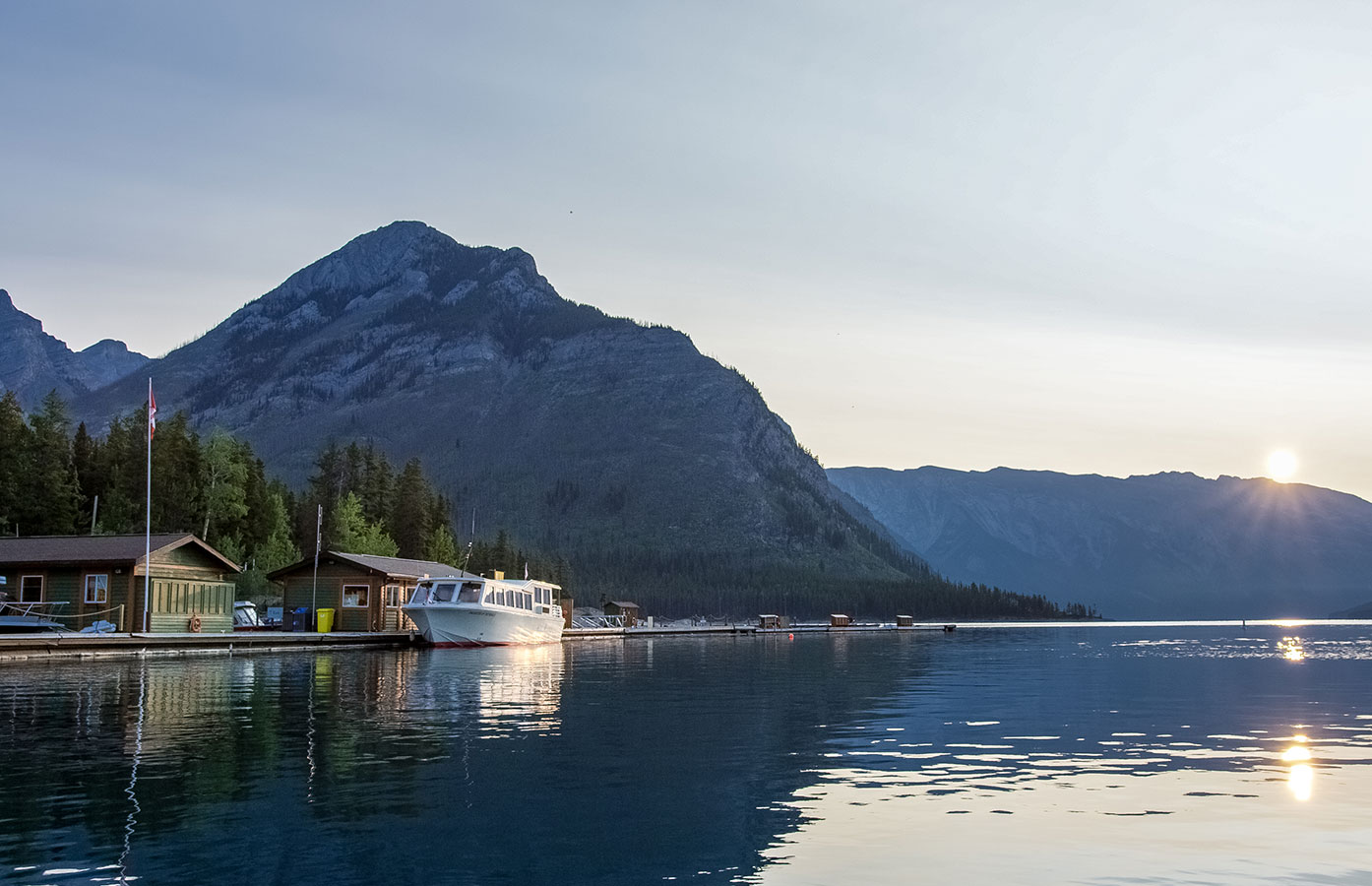 Top, Bottom: Areas around Lake Minnewanka. Photo credit: Lake Minnewanka Cruise by Pursuit
For a bit of sophistication after a day in the wilderness, try Banff's Three Ravens Restaurant & Wine Bar, which offers a breathtaking 360-degree view of the Rockies—and food that stands up to the surrounding splendor. The restaurant has been ranked among Canada's 100 Best Restaurants.
For heartier, more rustic fare, consider The Banff Grizzly House which specializes in one thing: fondue. The restaurant, which has been a local staple since the 1960s, will delight adventurous carnivores, with offerings like buffalo, wild boar, venison and rattlesnake.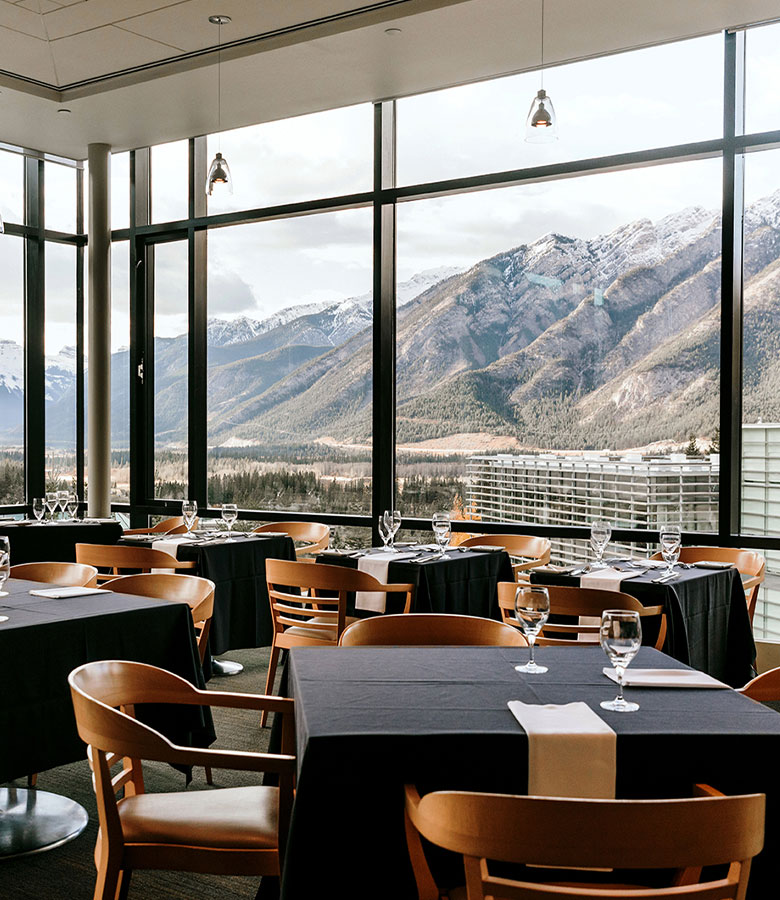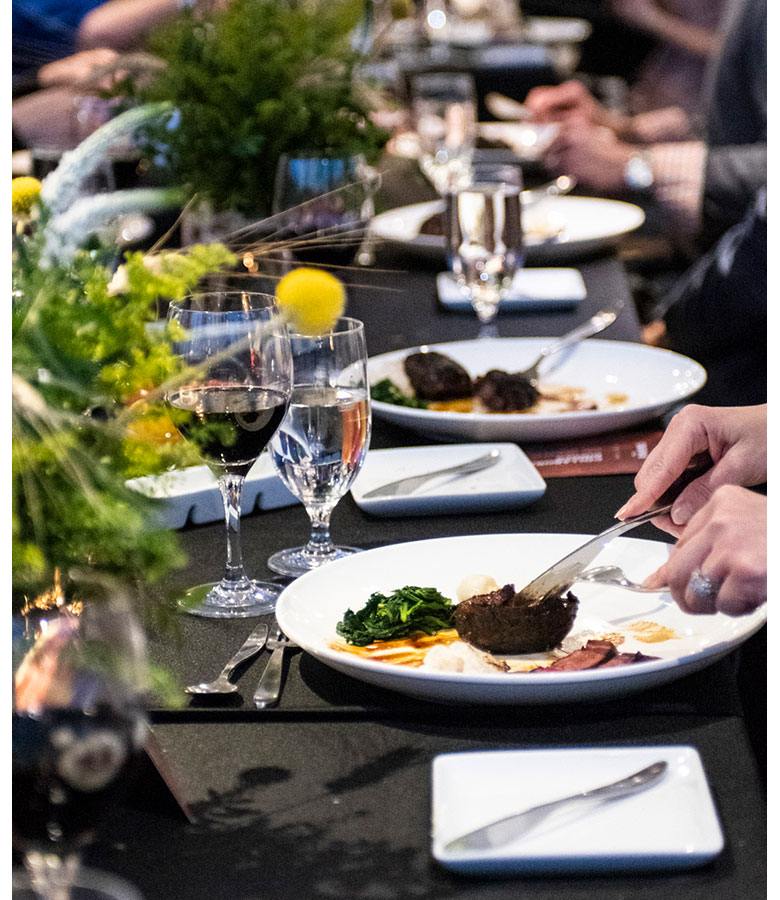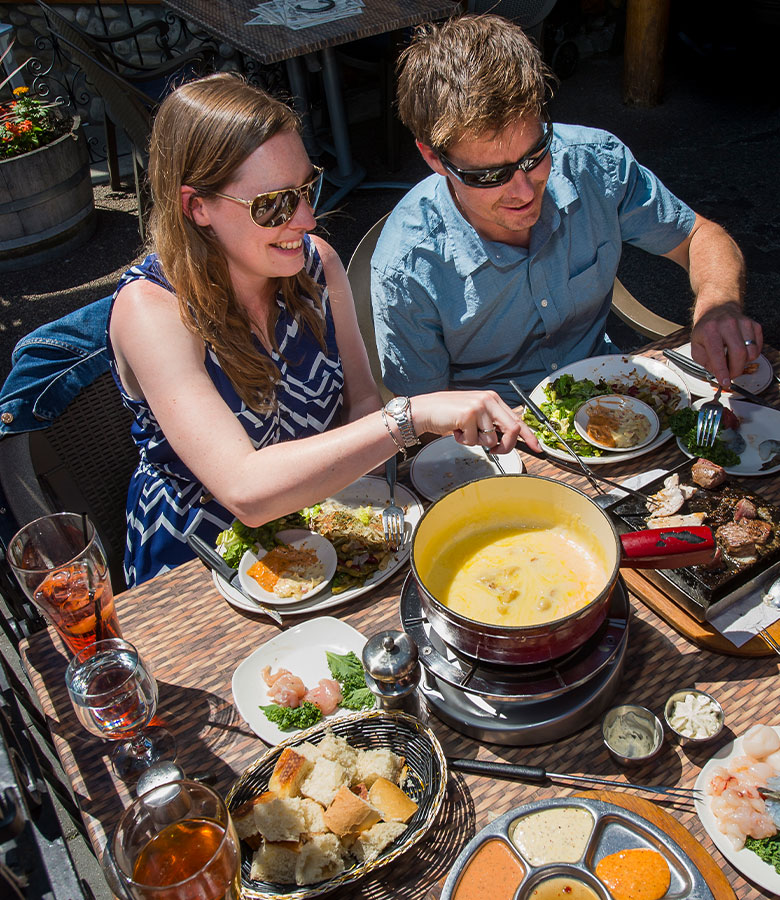 Top, Center: Three Ravens Restaurant & Wine Bar. Bottom: The Banff Grizzly House.
If you'd like to explore the town of Banff, Moose Hotel & Suites is an ideal option less than a one-minute walk downtown. The four-star hotel combines an emphasis on luxury and the outdoors, best experienced in one of the rooftop hot tubs that provide a 360-degree view of the peaks of the Rockies.
Or to continue the sense of exploration and adventure, consider the Sundance Lodge 10 miles from Banff. The remote 10-room lodge is fully solar-powered and completely off-the-beaten-path—it can only be reached via foot or horseback.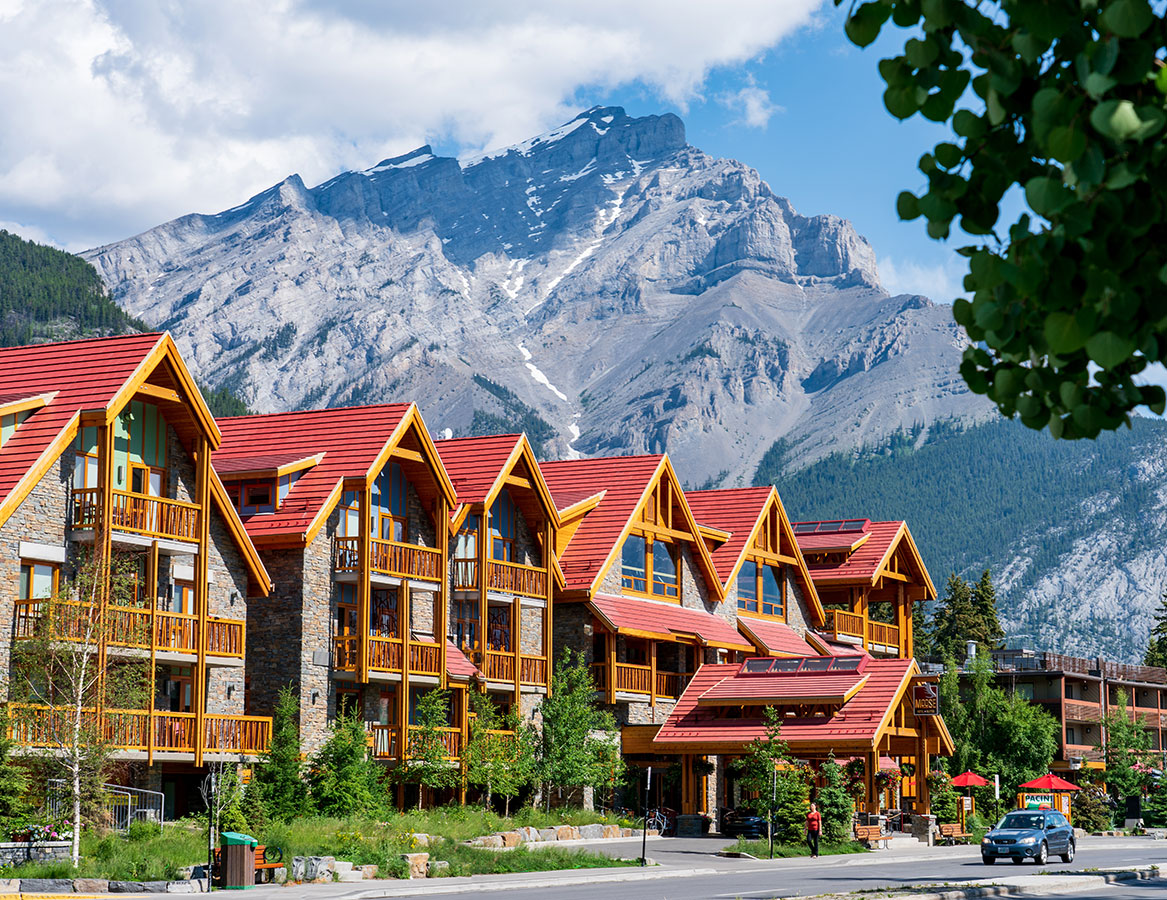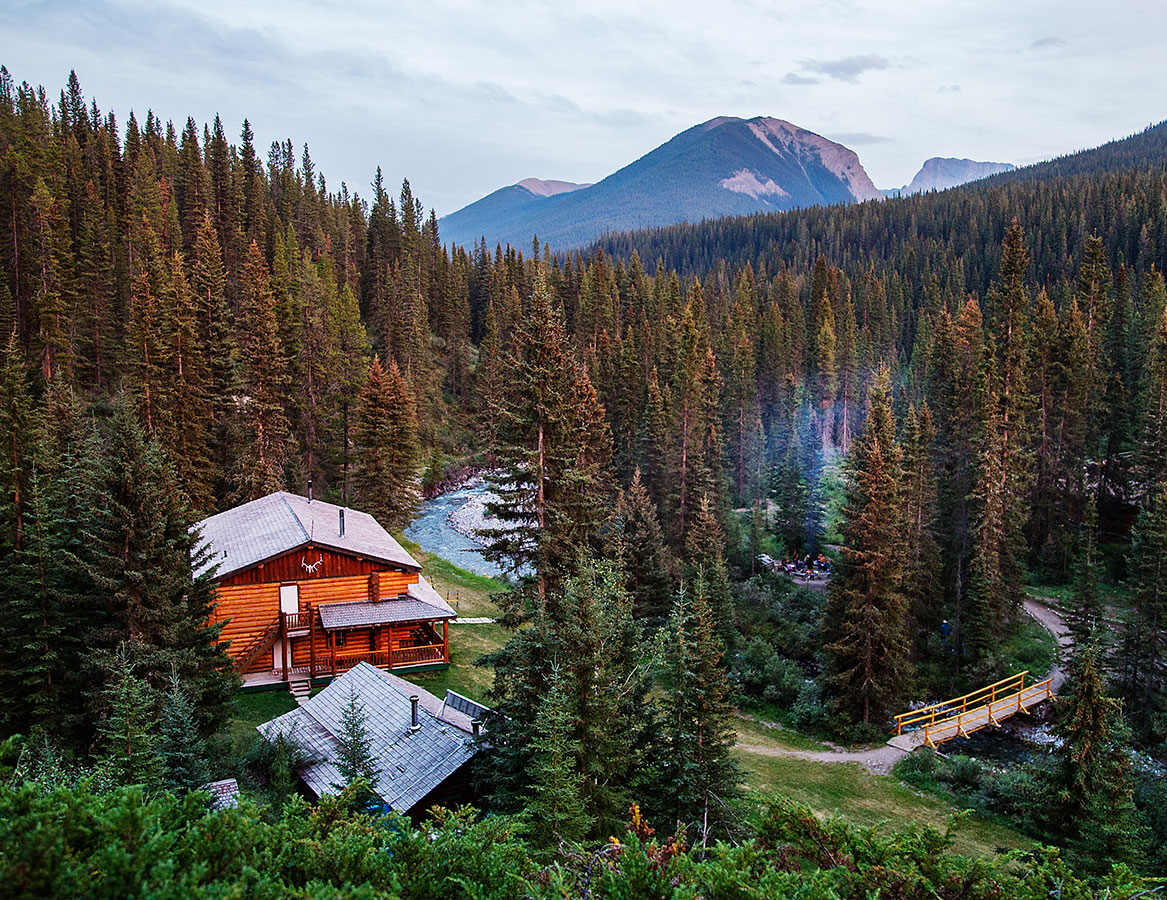 Top: Moose Hotel & Suites. Bottom: Sundance Lodge.

LAKE ON THE MOUNTAIN, ONTARIO
Where the impossible is real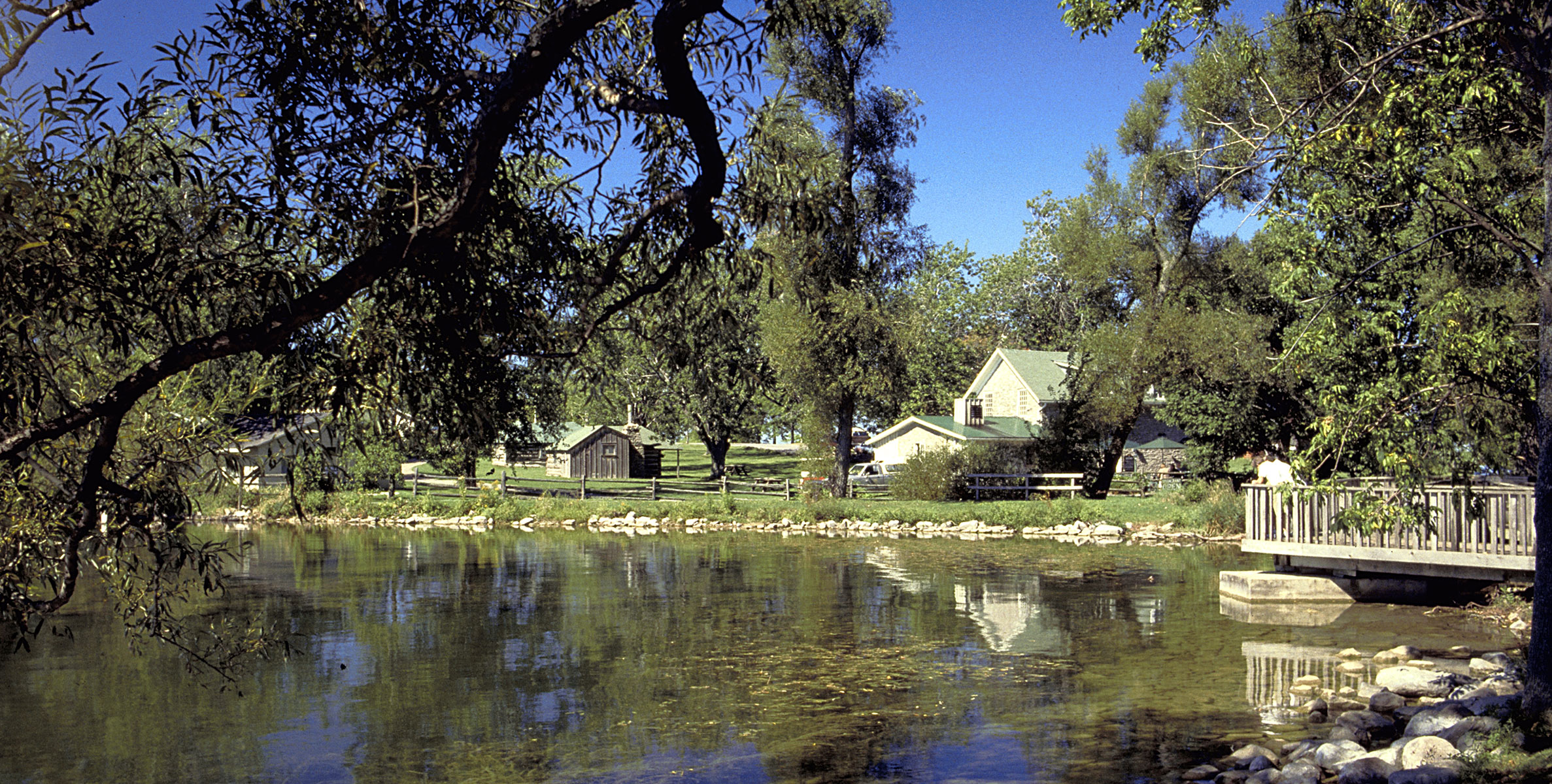 Amid the rolling hills, idyllic vineyards and quaint towns of Ontario's Prince Edward County (not to be confused with Prince Edward Island), sits what has long been one of Canada's great natural mysteries: Lake on the Mountain. This pristine turquoise lake has a constant flow of fresh, crystalline water—and no visible water source.
The Mohawk people called it "Onokenoga," or lake of the gods, and made regular offerings in the hope of good harvests. Early settlers believed it was either bottomless or fed by some mysterious subterranean passage within the mountain on which it sits. Today, experts believe it is a type of sinkhole that developed in a limestone formation, and that water flows through an eroded path in its bedrock.
It is, indeed, a lake on a mountain—perched high above the Bay of Quinte, which draws anglers from around the globe. At Lake on the Mountain, the main draws are stillness (the lake does not allow any gas-motor boats) and awe—a peaceful spot to sit, take in some breathtaking views and marvel a bit at the wonders of the world.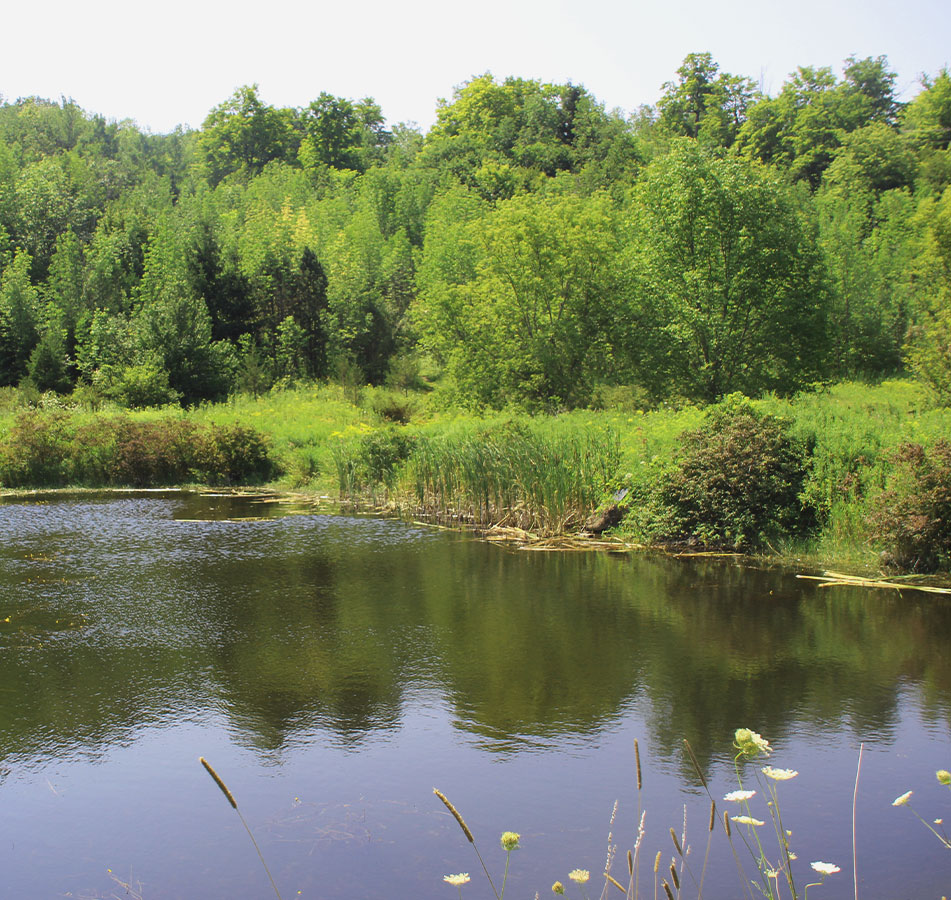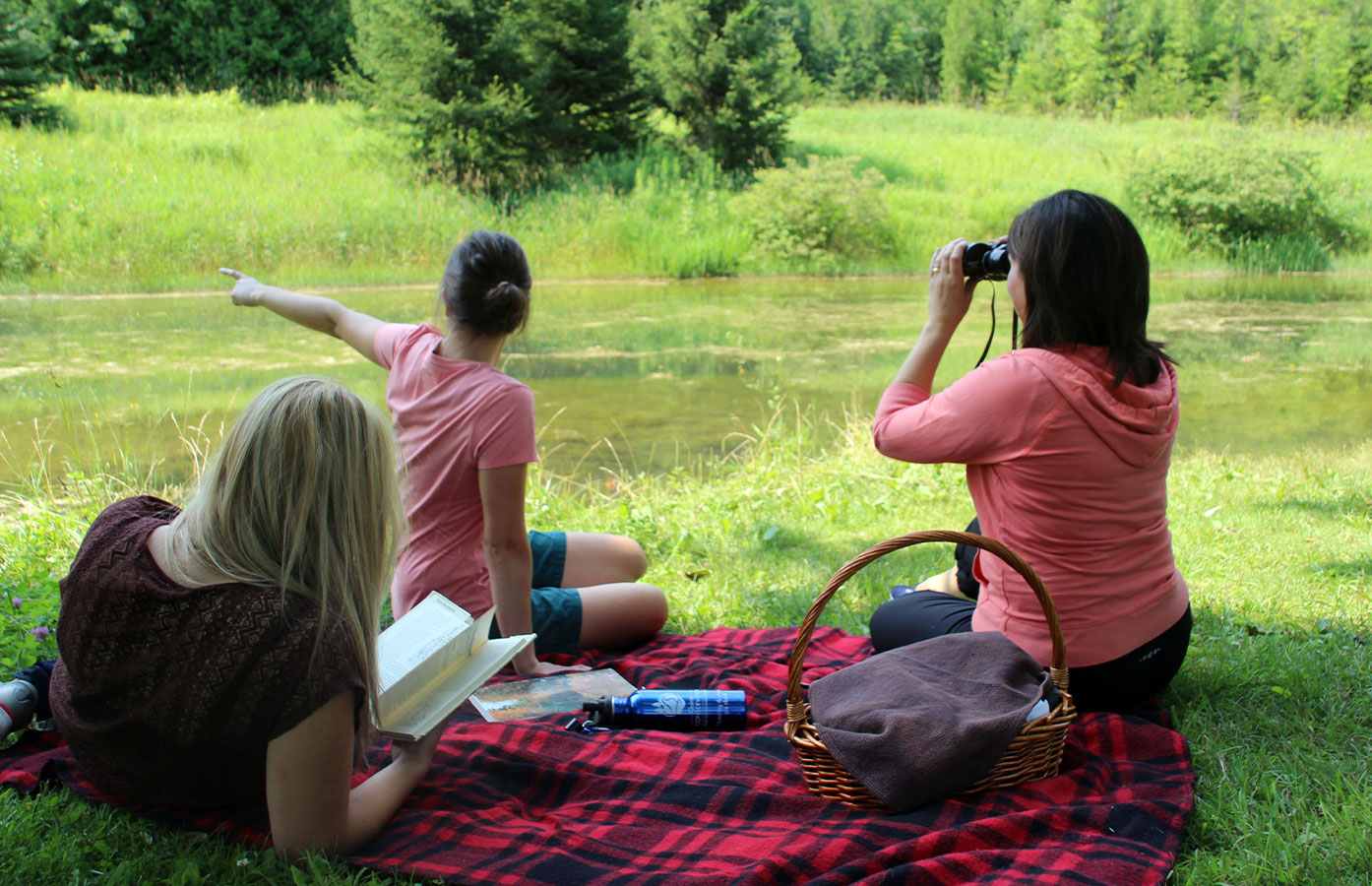 Left, Right: Activities and views around the Macaulay Mountain Conservation Area.
Top, Bottom: Activities and views around the Macaulay Mountain Conservation Area.
Macaulay Mountain Conservation Area area offers hikers of all levels an opportunity to get out and acquaint themselves with the local landscape. Its 440 acres of conserved land include gravelled paths, lowland hiking trails and more challenging routes. Bikers have plenty to enjoy as well, with access to more than 12 miles of forest trails that weave through the trees.
After spending some time in nature, head to The County Cider Company—an estate winery that has, for decades, had the singular focus of making delicious, authentic hard ciders. The apples are grown directly on the family farm—land that has been producing apples since the 1850s. And the tasting room, housed in a historic 1840s barn, offers self-directed and guided tastings. The Cider Company's Patio Restaurant serves wood-fired pizza and wraps that pair perfectly with a hard cider.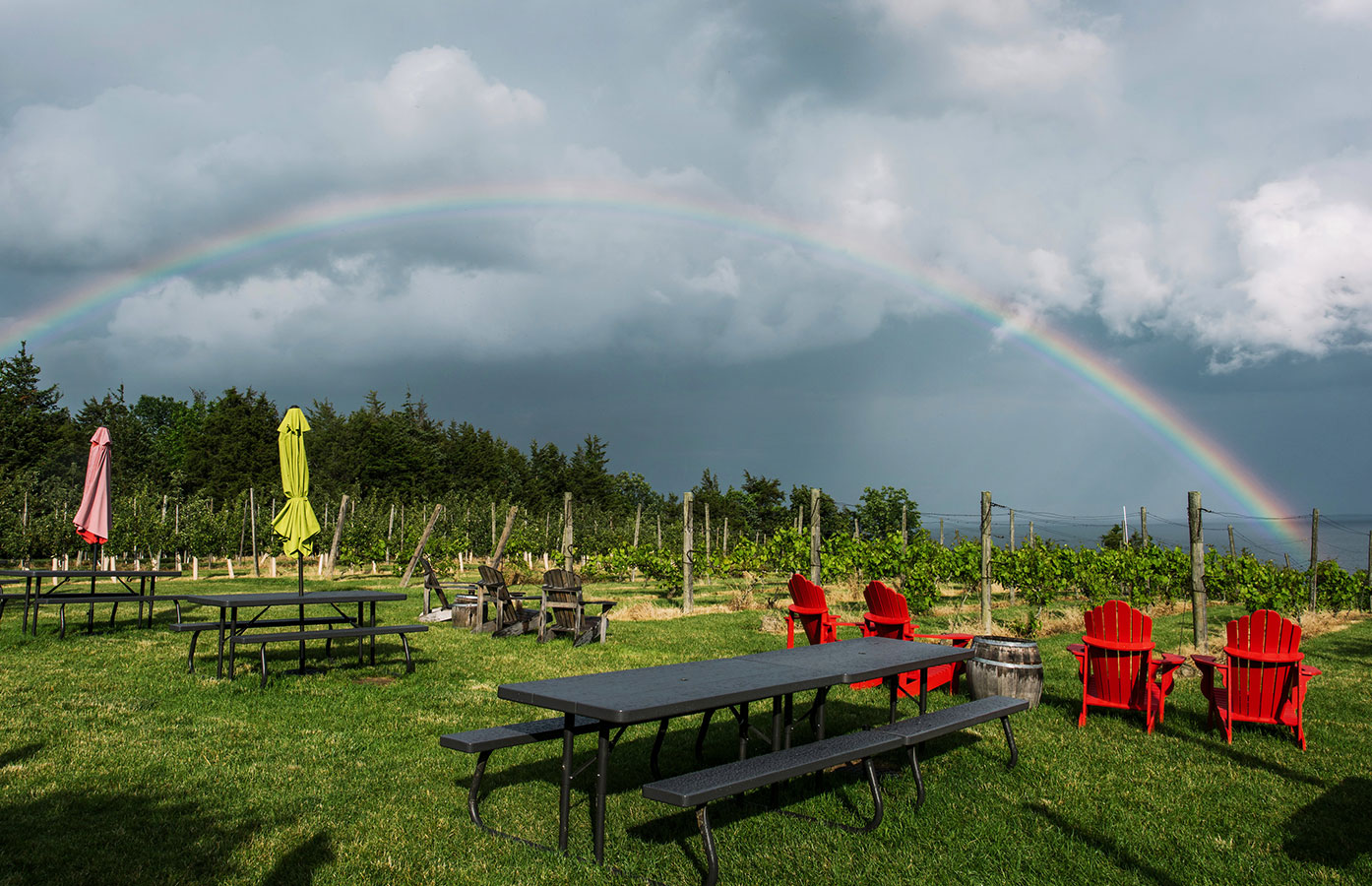 Top, Bottom: The County Cider Company estate. Photo credit: Johnny C.Y. Lam
When it's time to sleep, consider the seven lakeside cottages and single lakeside suite of Lake on the Mountain Resort, which offers views and privacy in spades. The Miller House, one of two on-site restaurants, has panoramic views of both Lake on the Mountain and the Bay of Quinte more than 200 feet below, and feels as though you are stepping back in time. The building was constructed in the 1790s for the owner of a local mill.
The picturesque Manse Boutique Inn & Spa is another nearby option, in the quaint community of Picton, that is steeped in history. The landmark limestone building was completed in 1906, and is maintained by husband-and-wife owners who pride themselves in personal service. It has seven rooms, a heated pool and hot tub, and a spa where guests can book facials and massages.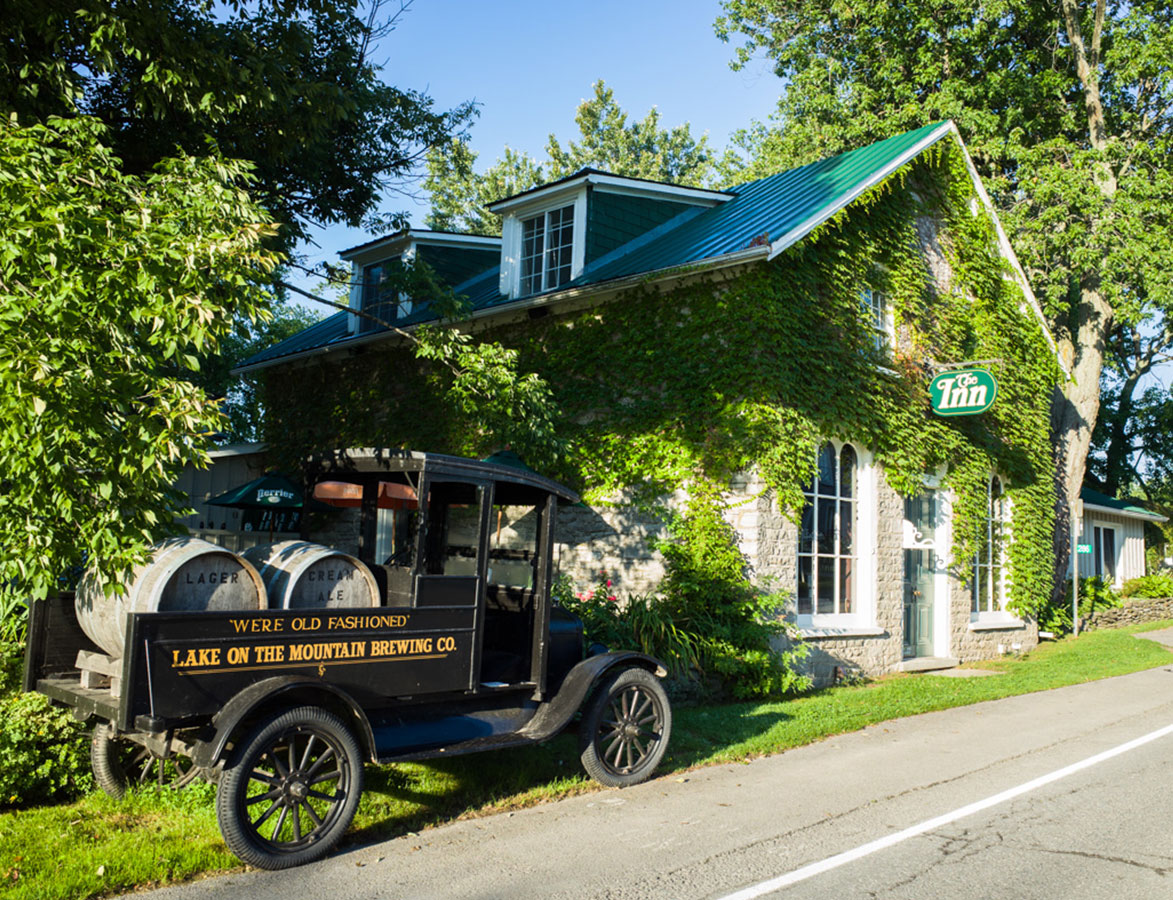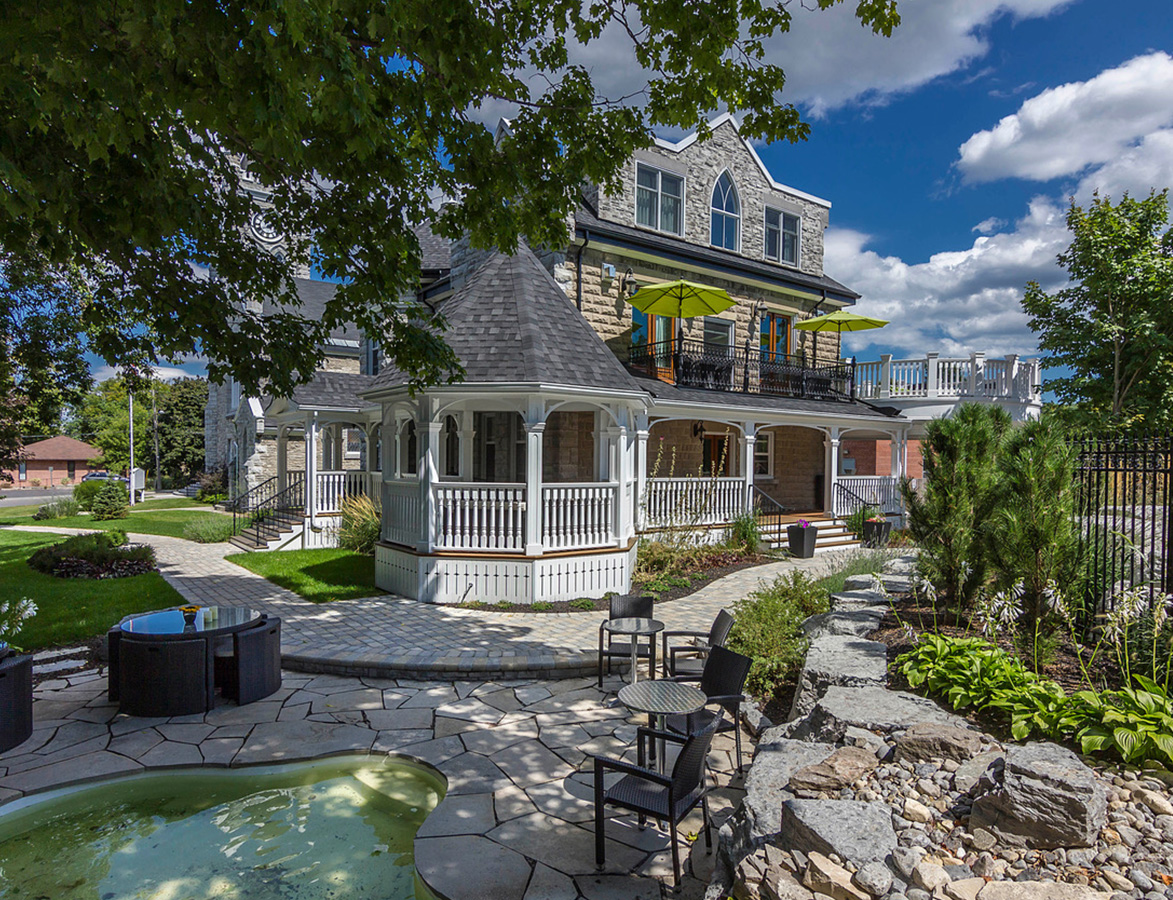 Top: Lake on the Mountain Resort. Bottom: Manse Boutique Inn & Spa. Photo credit, bottom: © Daniel Vaughan

Nita Lake, British Columbia
Where getting there
is half the fun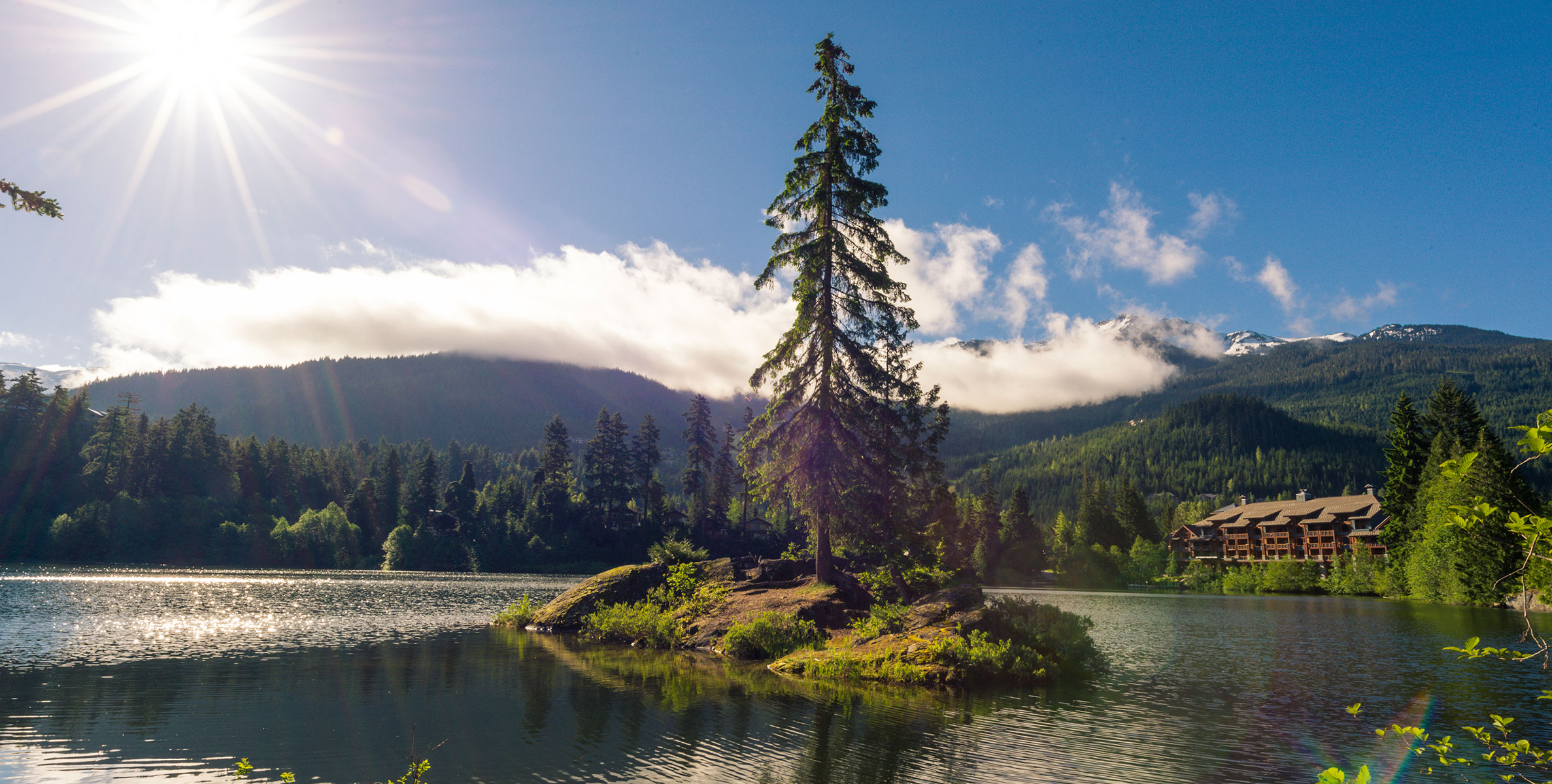 Rarely is the drive as good as the destination, but that is absolutely true with the Sea-to-Sky Highway—a winding, cliff-hugging stretch of road that connects Vancouver to Whistler. Stunning views of sheer granite cliffs and even orcas breaching in the Howe Sound are around every corner.
Nita Lake—about a 90-minute drive from Vancouver along BC Highway 99 (the highway's formal name)—is a perfect spot to pull off the road and immerse oneself in the majestic beauty of Whistler. The tranquil, glacier-fed lake is one of the smaller, quieter lakes in the area. On hot summer days, other lakes in the immediate vicinity can attract hundreds of hikers, picnickers and boaters. Lesser-known Nita offers peace and tranquility, only two-and-a-half miles from bustling Whistler village.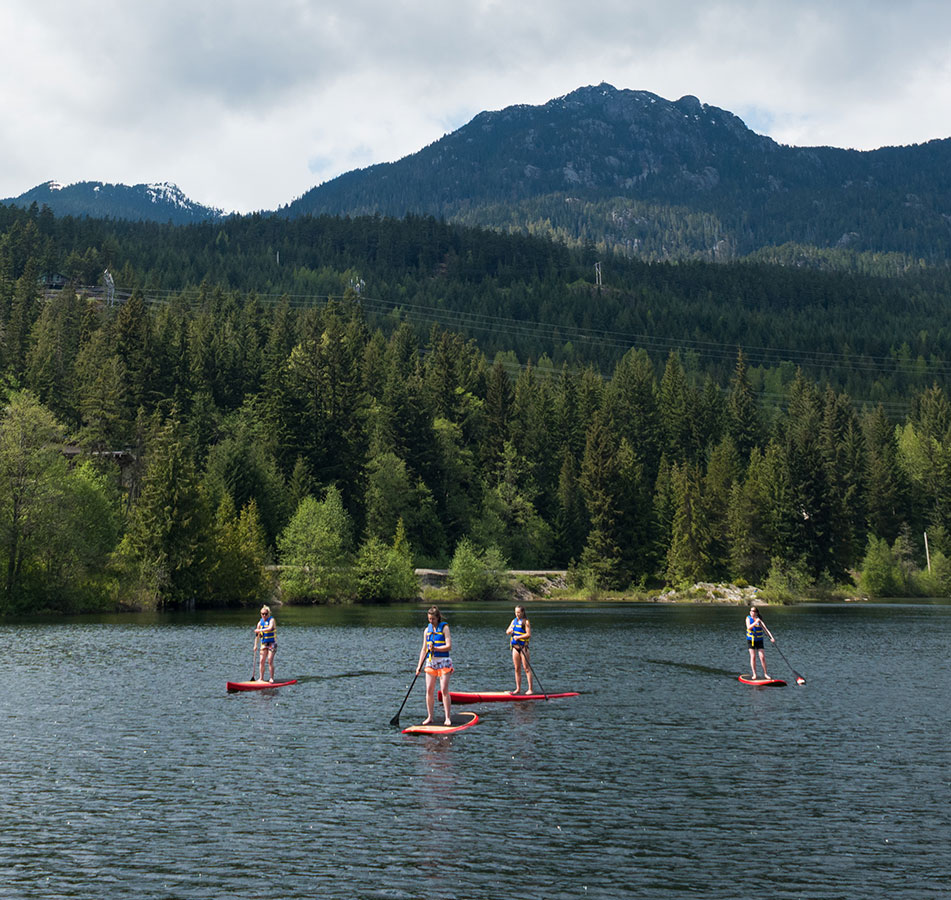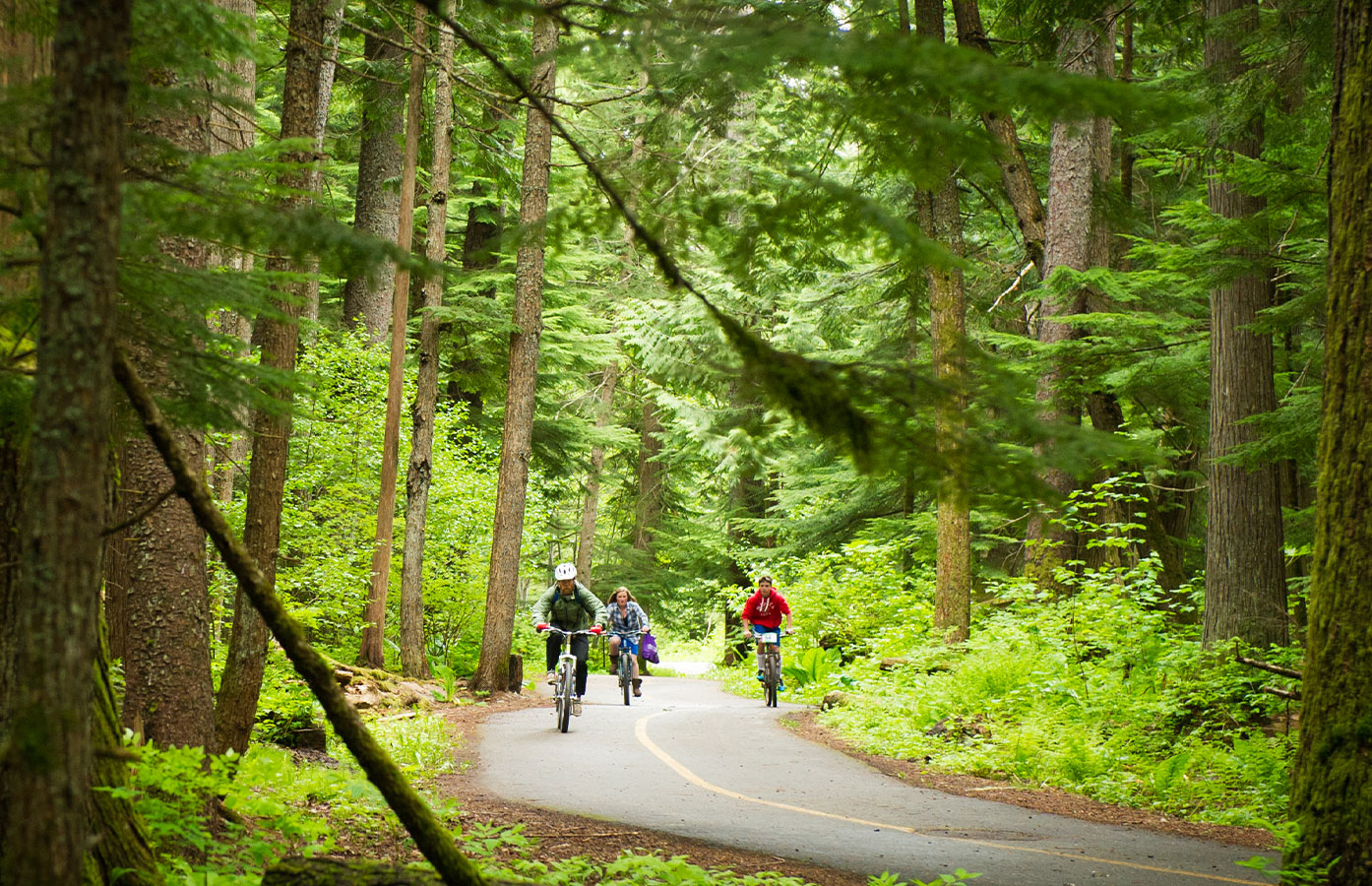 Left: Biking along Whistler's Valley Trail. Right: Paddleboarding on Nita Lake. Photo credit: Mike Crane
Top: Biking along Whistler's Valley Trail. Bottom: Paddleboarding on Nita Lake. Photo credit: Mike Crane
When you've done enough exploring from the car, enjoy Whistler's Valley Trail—a trail network that runs directly alongside Nita Lake, catering to hikers, bikers and runners and linking every part of Whistler. Although it is paved, making it accessible to explorers of all ages and levels, it is still deep in the wilderness. Visitors should keep an eye out for the occasional bear.
Check into the Nita Lake Lodge, Whistler's only lakeside hotel, that offers complimentary bike rentals, canoes, kayaks, paddleboards and more. Here, enjoy dinner at Aura Restaurant, which offers stunning lake views and celebrates the local cuisine and ingredients, many of which come directly from Nita Lake Lodge's rooftop garden.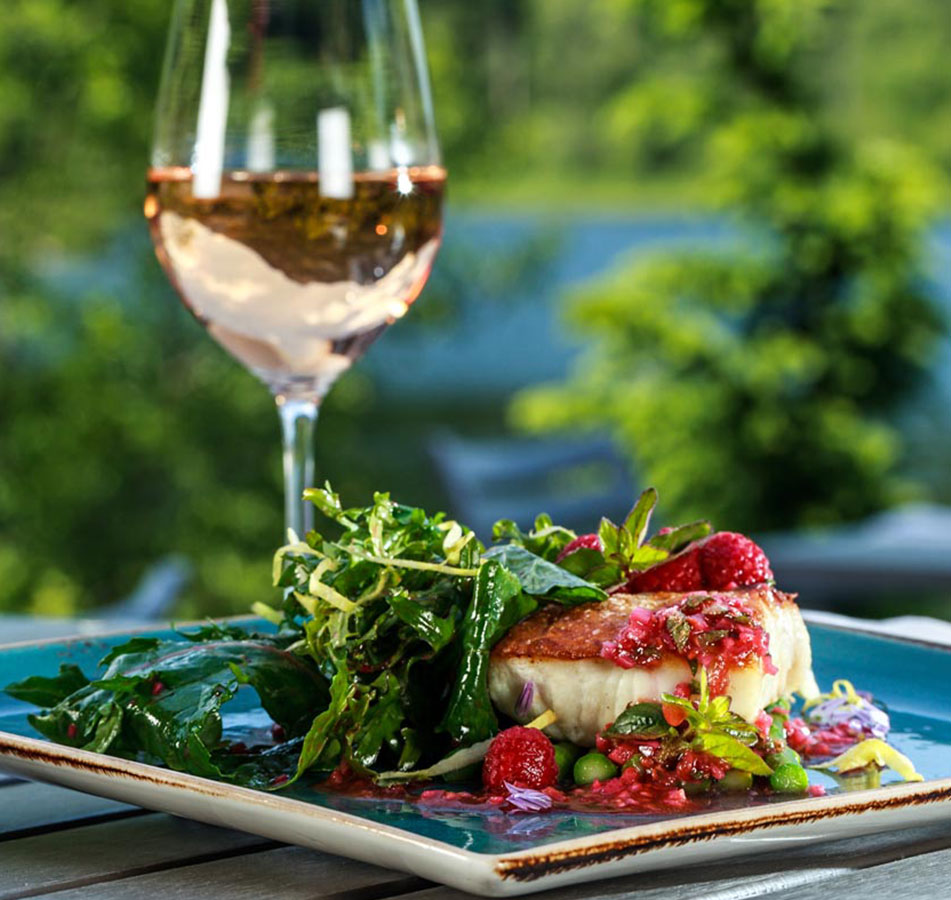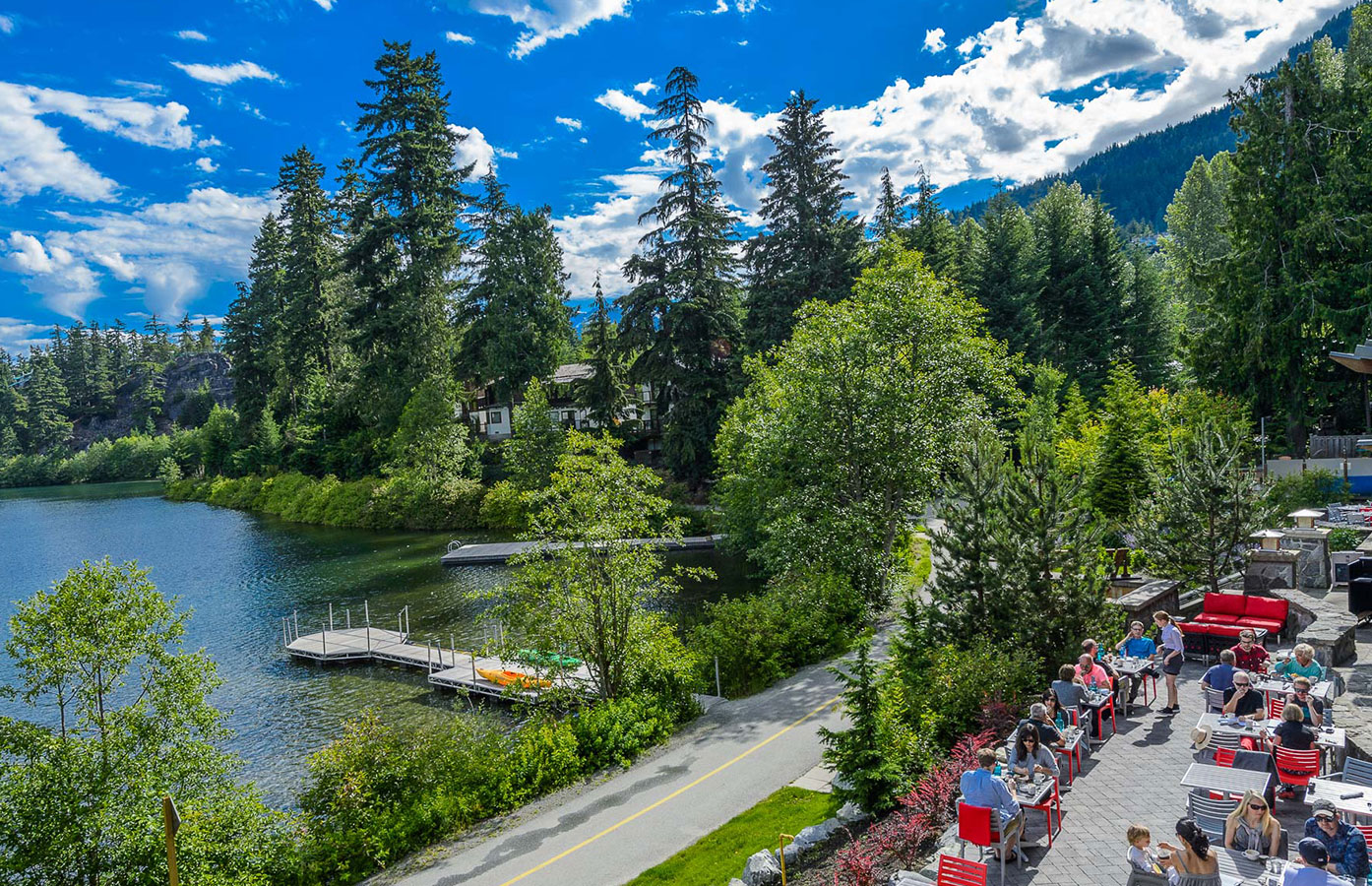 Top, Bottom: Aura Restaurant at Nita Lake Lodge.
For the ultimate luxury experience, consider the Fairmont Whistler, located at the base of Blackcomb Mountain. Bring your golf clubs and hit at its 18-hole, Audubon-certified championship course. Take a dip in the 60-foot outdoor pool (with a built-in sound system), and savor breathtaking mountain views.
Head into Whistler Village to grab a coffee and a pastry at Purebread Bakery. Although it now has five outposts throughout Canada, this is the original. The bakery is filled with the smells of fresh-baked pastries, cakes and bread in unique combinations like hazelnut fig, cheddar jalapeño and sour cherry chocolate.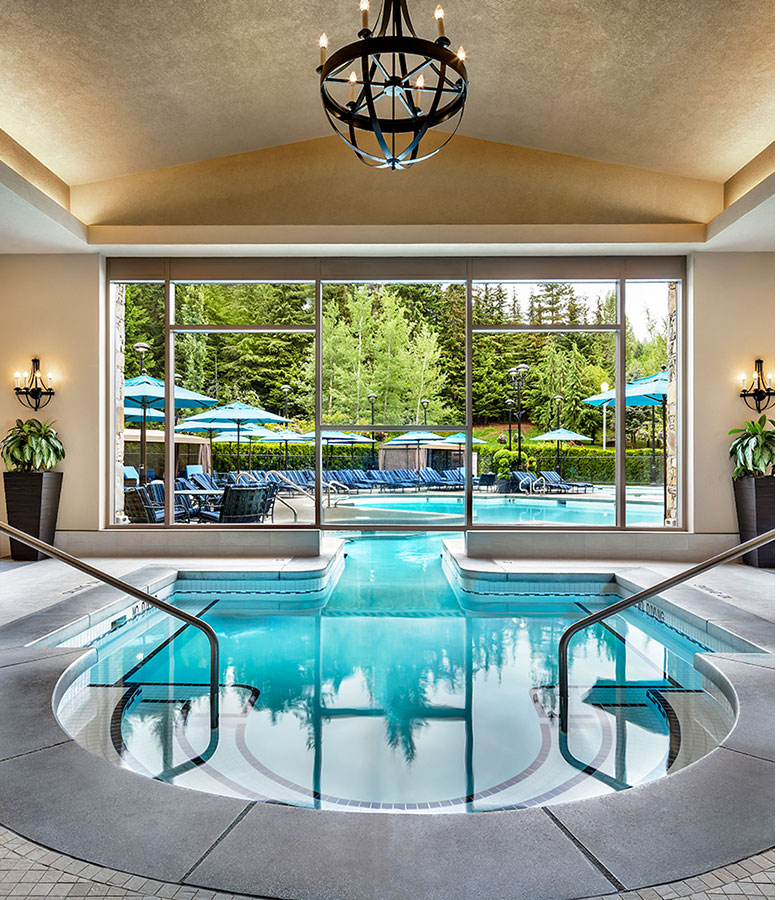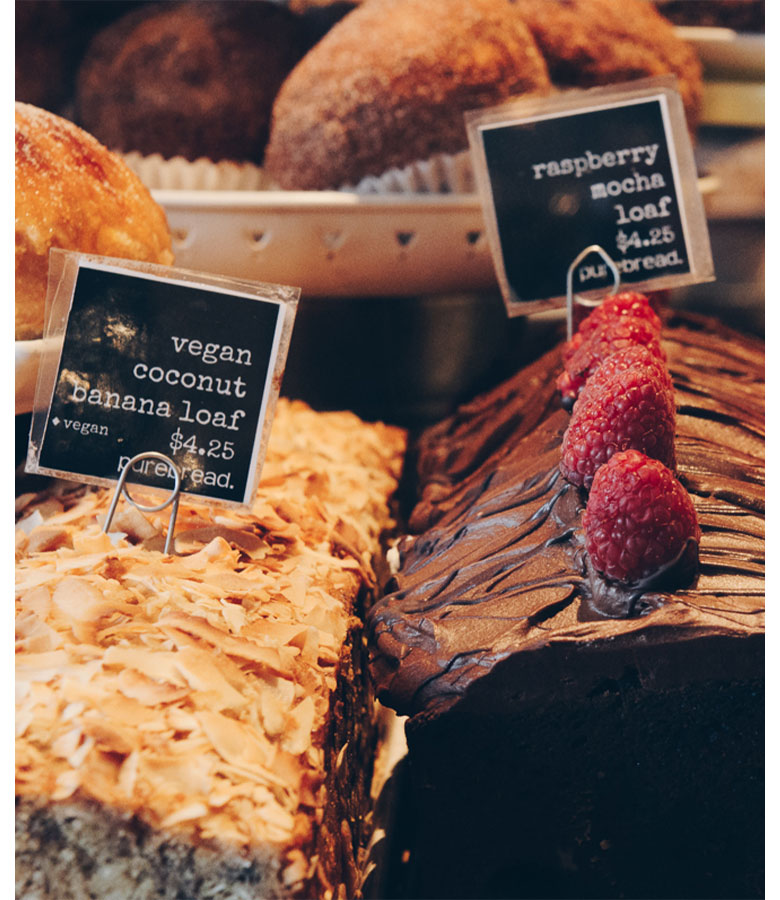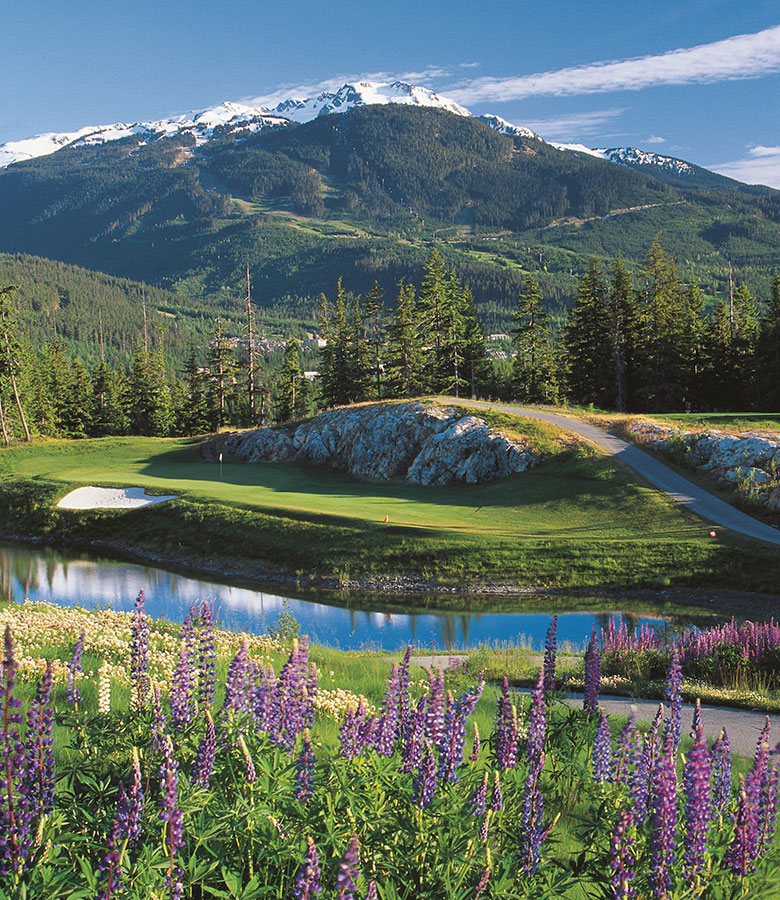 Top: Pool at Fairmont Whistler. Center: Purebread Bakery. Bottom: Golf course at Fairmont Whistler.
After you've eaten, channel your inner Paul Bunyan at Forged Axe Throwing, the only indoor axe throwing spot in Whistler. Axe throwing may not be a typical pastime in much of the world, but it is in Whistler. The founders of Forged Axe Throwing wanted to turn something typically done to pass the time in the woods into a fun and memorable group activity—not to mention a perfect opportunity to snap some shots for Instagram.
Keep the party going at the Bearfoot Bistro's Ketel One Ice Room, the coldest vodka tasting room in the world. Pull on a complimentary parka, head into the sub-zero room and sample from more than 50 international vodkas, distilled from a range of ingredients like rye and hemp seeds. It is a unique, relaxing way to unwind after a day of outdoor fun. Again, don't leave your phone behind—your friends at home will swoon as they follow along.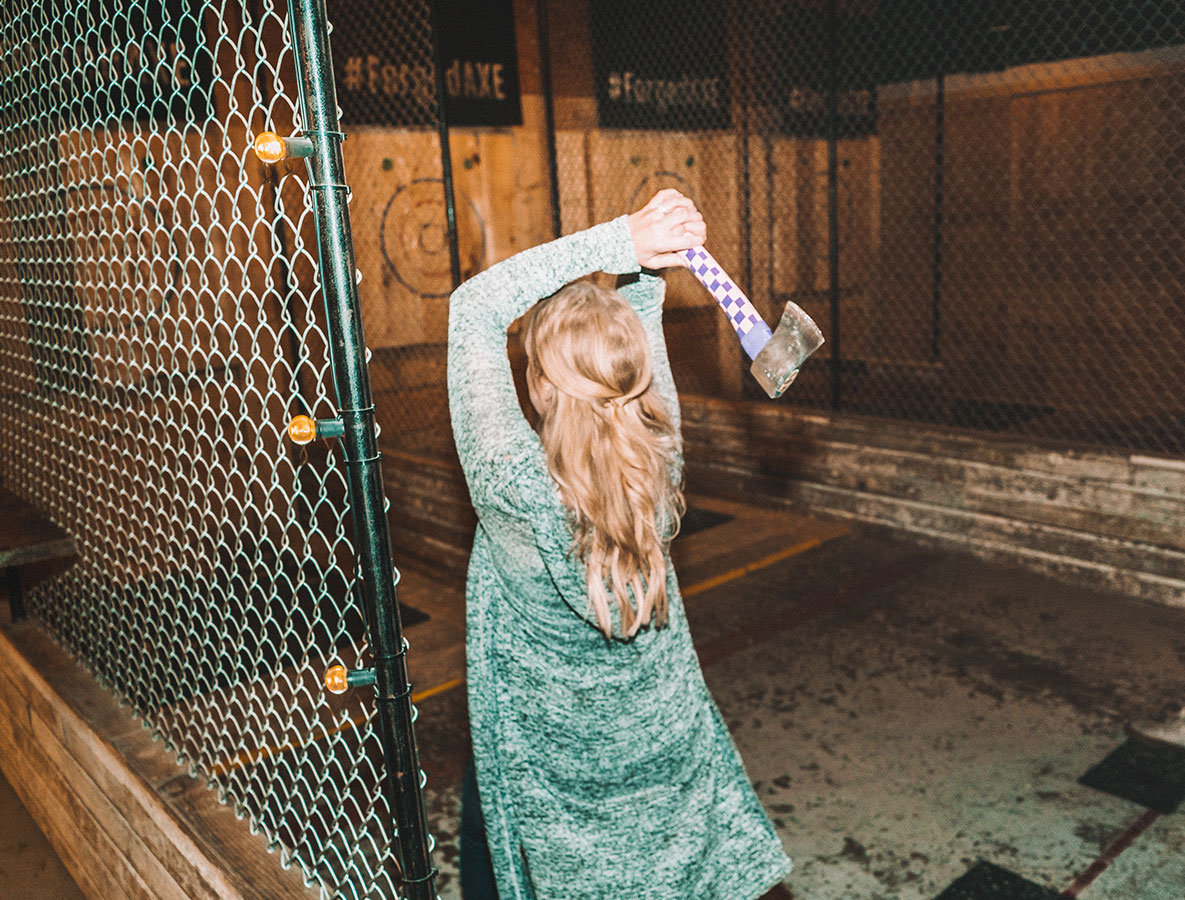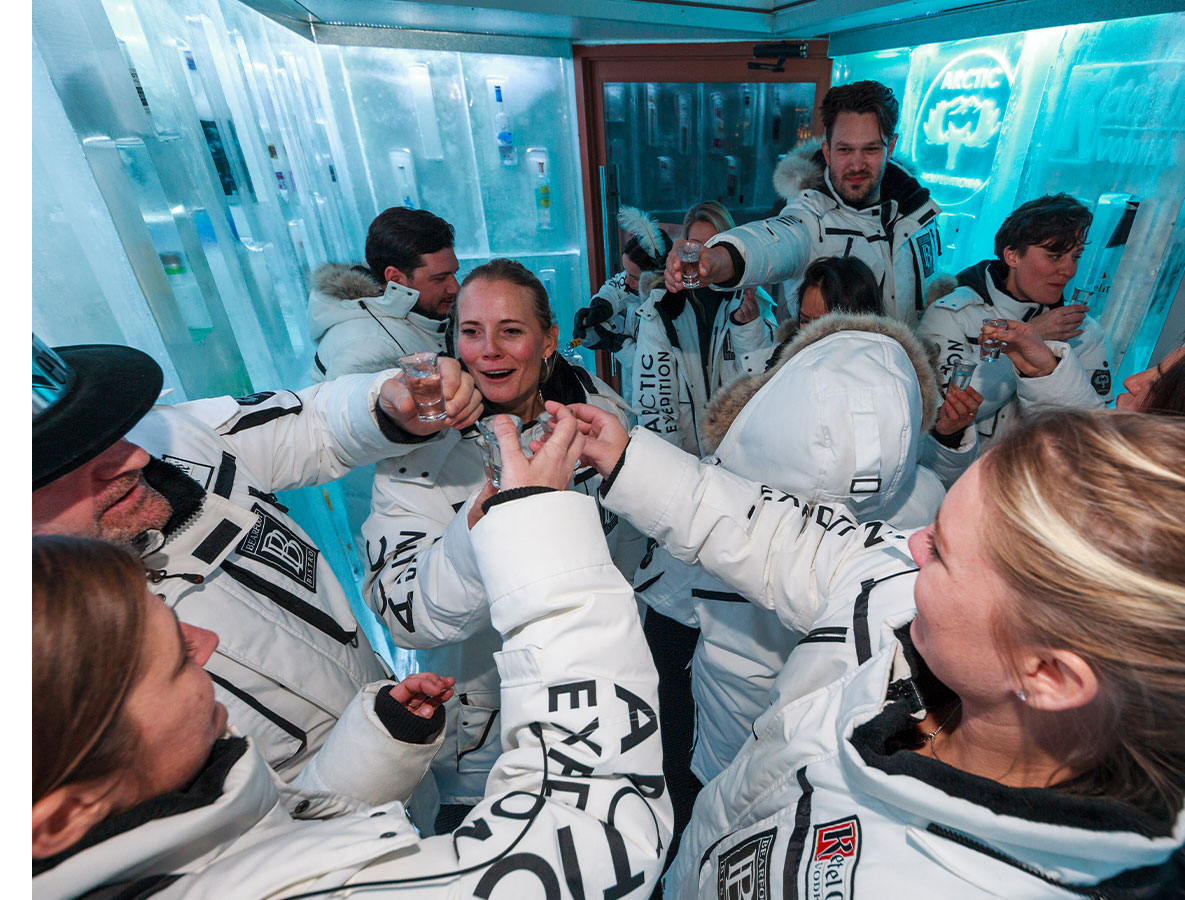 Left: Forged Axe Throwing. Right: Bearfoot Bistro's Ketel One Ice Room.