Perhaps even more exciting than the NCAA tournament games are the weird stories that pop up around it. For instance, take Stanford University's student band, currently on the road with the team. Not only does this group of cool band nerds boast one of the most enthusiastic cowbell players of all time, but it might actually be smuggling booze into the games courtesy of that Calvin and Hobbes tuba. Or so the rumor went…
"The Stanford band has been known to do this, but only when one of its pieces calls for A minor in possession." — commenter BONG HiTS 4 TEBOW at deadspin.com jokes about rumors that members of the Stanford University band, above, attempted to sneak booze via a tuba into the Scottrade Center in St. Louis during its NCAA basketball game against Kansas on Sunday. The rumors turned out to be false, but Deadspin notes, "This, of course, has no impact on whether the Stanford band is actually drunk, which is entirely plausible." Tenth seed Stanford upset No. 2 seed Kansas 60-57.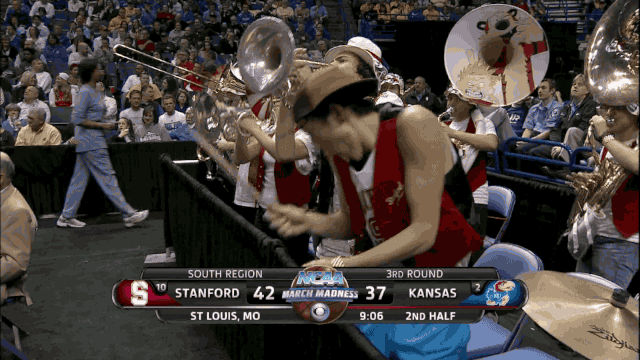 "You're officially famous. There's at least one youtube video and a shirt made after this word. Within hours." — redditor Kayehnanator at reddit.com declares fellow redditor, theoman333, famous after he misspelled the word "exaggerated" so badly that when initially googled, people claim, his comment was the only result. Not anymore. Within hours after the initial spelling mistake "excgarated" can now be found printed on T-shirts, being declared "Word of the Year" on blogs and as the subject of at least one experimental YouTube video. Way to go, Internet!
"OMG someone has to buy this couch, have a party, and invite me!" — @wardrobe_oxygen tweets a plea Monday for someone to purchase a sofa set that's so ugly it might actually be awesome. The loudly patterned set, part of which is shown above, went up for sale on Craigslist and it could be yours for just $100 if you can pick it up in Landover, Md.
"Am I contributing to the idiocy of our society? Maybe." — Anonymous at xojane.com keeps her identity secret while revealing the details about her job as a reality TV script writer. Basically, everything on "reality TV" is fake. That's probably no surprise. What is surprising, though, is the amount of information the anonymous writer says she's learned while writing for these shows. She says she's now knowledgeable about micro-beers, sports, underwater excavators, exotic fish and even crime scene cleaners. Can we get her on our pub trivia team?
"Philly's Dock Street Brewery is going all in with an American Pale Stout brewed with actual brains." — Kristin Hunt at thrillist.com introduces a new beer inspired by the AMC drama "The Walking Dead." Called the Dock Street Walker, the brew, which will make its debut at the Philadelphia brewery's "Walking Dead" finale party on Sunday, is made with smoked goat brains. Would you drink it?