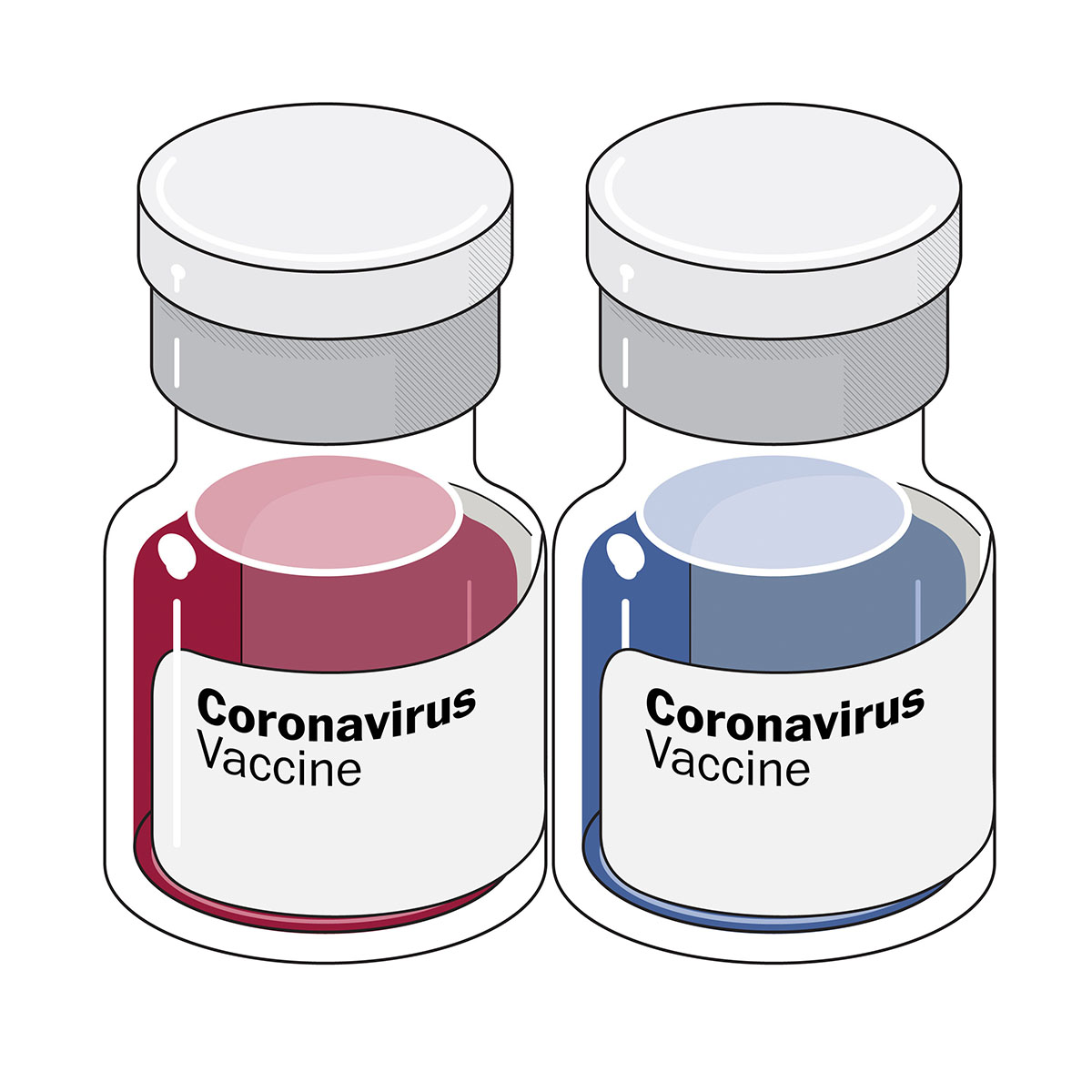 Your questions about coronavirus vaccines, answered
Updated March 8 at 10:44 a.m.
The first coronavirus vaccine was administered to U.S. health-care workers Dec. 14. Now, there are three authorized vaccines in the United States, bolstering the initial scarce supplies. President Biden recently said there will be enough vaccine for every adult in the United States by May. Here are answers to some frequent questions.
What can I do after I get vaccinated?
Can I return to my old activities?
The CDC advises fully vaccinated people that they can gather indoors with other fully vaccinated people without wearing masks or social distancing. The agency also says fully vaccinated people can gather indoors with unvaccinated people from a single household without wearing masks or social distancing — if the unvaccinated are healthy and at low risk of contracting severe covid-19 disease. That would free older people to see nearby children and grandchildren. But long-distance travel is still discouraged.
Visits to unvaccinated people at higher risk, such as older people or those with underlying health conditions, still should be conducted outdoors, or in a well-ventilated space, and with masks on, the CDC says.
The CDC considers fully vaccinated to mean two weeks after a final shot of vaccine.
Fully vaccinated people also do not need to quarantine or be tested if they are exposed to the virus as long as they do not develop symptoms. Fully vaccinated employees of high-density workplaces such as meatpacking plants without symptoms also do not need to quarantine after an exposure. But a test is recommended to be certain.
Public health experts say in the short term, life will look much the same after you get vaccinated, until a larger share of the population is vaccinated and the pandemic is curbed. For the most part, they recommend that people still wear masks and maintain their distance around most people.
One reason for caution is that the vaccines in use are 95 percent — but not 100 percent — effective at preventing covid-19 from the original strain of the coronavirus they were tested against, but may confer less protection against newer variants first identified in South Africa and Brazil that are now circulating in the United States. So there is a small possibility that people who are vaccinated could get sick, though it is very unlikely they would be hospitalized or die.
Scientists haven't ruled out the possibility that people who have been inoculated can transmit the virus to the unvaccinated. They are hoping to have data on that issue in the next few months and, if it shows that vaccinated people cannot be carriers, that could lead to more relaxed interactions.
What you need to know about the vaccines
How do the Pfizer-BioNTech and Moderna vaccines work?
The first vaccine authorized in the United States was developed by pharmaceutical giant Pfizer and the German firm BioNTech. It consists of two doses, given three weeks apart. Moderna's vaccine, developed by a Massachusetts biotechnology company in partnership with the National Institute of Allergy and Infectious Diseases, was the second vaccine cleared. It consists of two doses, given 28 days apart.
The Pfizer-BioNTech and Moderna shots are the first vaccines using messenger RNA technology approved for human use by the Food and Drug Administration. The approach is different from that of more traditional vaccines, which often use a weakened or dead version of a virus, or a laboratory-generated protein. It uses a synthesized scrap of genetic information that is wrapped in a protective fat layer to keep it from disintegrating. When it goes into cells in the muscle of the upper arm, it contains molecular instructions that tell your cells to create a protein that triggers an immune response to the spike protein on the surface of the coronavirus. This means your immune system will be prepared to eliminate the pathogen if it tries to invade.
How does the Johnson & Johnson vaccine work?
The Johnson & Johnson vaccine is the first one-shot regimen. It contains cold viruses that have been genetically tweaked so that they cannot make copies of themselves. When those harmless cold viruses infect cells, they deliver the genetic blueprint of the coronavirus spike protein, and the cell learns to build the spike. The immune system learns to recognize and block the real virus.
Are they safe?
All of the vaccines passed rigorous safety reviews by the FDA.
The agency authorized the Pfizer-BioNTech vaccine for people ages 16 and over after reviewing data from 44,000 participants in a randomized clinical trial. A 53-page analysis by the agency found that some people who received injections had unpleasant but tolerable side effects, including fatigue, headaches, muscle pain, joint pain, chills and fever. Reviewers said the two months of follow-up on 38,000 of those participants provide evidence of "a favorable safety profile, with no specific safety concerns identified that would preclude issuance of an [emergency authorization]."
The FDA cleared the Moderna vaccine for people ages 18 and over, based on data from a clinical trial with 30,000 participants. The agency found side effects were similar to those with the Pfizer-BioNTech shot.
The Johnson & Johnson vaccine was authorized for people ages 18 and over, based on data from a trial with 44,000 participants. Side effects from the vaccine were less common than those for Moderna and Pfizer-BioNTech and included pain at the injection site, fatigue and headaches.
Some experts have expressed qualms about using emergency-use authorizations for coronavirus vaccines that would be given to hundreds of millions of people, but those criticisms have become muted as the pandemic has raged, killing thousands of Americans a week.
Peter Marks, director of the FDA center that oversees vaccines, has pledged to use an emergency standard roughly equivalent to what is needed for a full licensure. Even so, the available safety data — two months of follow-up on half the trials' participants after their second shots — is shorter than in traditional trials. And some questions, such as the duration of protection, cannot be answered now. That data will be collected as the trials continue.
Will the vaccine protect me from getting the coronavirus?
The two-shot Pfizer-BioNTech vaccine has been shown to be 95 percent effective in randomized trials. The FDA's independent review found that of more than 20,000 people who received both vaccine doses, only eight contracted the coronavirus, and just one person fell seriously ill. By contrast, 162 people in the placebo group contracted the coronavirus, and nine of those people developed serious illness. There was even some evidence that the first shot of the vaccine protected against illness, but the FDA said there was insufficient data to draw firm conclusions.
Moderna's vaccine was found to be 94 percent effective at preventing disease in the trial, and particularly effective against severe disease.
The Johnson & Johnson vaccine was found to be 72 percent effective at preventing cases of moderate to severe illness in the United States and was particularly effective against severe disease.
Scientists don't yet know how long the protection from the vaccines lasts. And they don't know whether the shots prevent people from becoming infected without knowing it and inadvertently spreading the virus, although there is preliminary evidence from the Johnson & Johnson trial that the vaccine protects against asymptomatic infections.
How effective are they against the new coronavirus variants? If I'm vaccinated now, will I have to get another shot to protect against those?
The efficacy of the Johnson & Johnson vaccine held up against the variant that has raised concerns it could evade immunity — the one first detected in South Africa. The efficacy was 72 percent in the United States vs. 64 percent in South Africa. The efficacy against severe disease was equally as robust against variants as it was against the normal circulating strain.
Experts don't know yet how well the Moderna and Pfizer-BioNTech vaccines will work against the variant that emerged in South Africa. The variant first detected in the United Kingdom is not expected to pose a big challenge to vaccines. But emerging evidence — including from a different experimental vaccine trial — suggests that the protection against the variant detected in South Africa might be considerably less complete.
Vaccine companies are already working on revising vaccines so that they could be deployed to block the variant of greatest concern. Even if a vaccine is not completely effective against the variant, it is likely it would blunt the severity of illness and remain a powerful tool against the pandemic.
How were the vaccines made so fast?
Historically, vaccines have taken years to develop. Before these, the mumps vaccine — which took four years to develop — was the fastest to be approved for use in people. Developing messenger RNA vaccines such as the Pfizer-BioNTech and Moderna products has been fast because scientists were able to start their work before there was a known case of the novel coronavirus in this country, using the viral genome shared online as a template. They were able to draw on years of research developing the vaccine platform.
The Johnson & Johnson vaccine was rapidly designed using the genome of the virus. That vaccine technology had been in development for years against HIV, Ebola and the Zika virus.
What's happening with vaccines from Oxford-AstraZeneca and Novavax?
The Oxford-AstraZeneca vaccine is being tested in a large clinical trial in the United States. Results are expected in March. The European Union's regulator has recommended authorization of the vaccine for use in the 27-country bloc, despite a lack of data about efficacy in older people. European officials had raised concern about the limited knowledge of the vaccine's effectiveness in older people, who represented only 6 percent of clinical trial participants, though they account for most covid-19 deaths and are high on most countries' vaccination priority lists.
A coronavirus vaccine made by Maryland biotech company Novavax — which is in the midst of a large late-stage trial in North America — proved effective at stopping symptomatic infections in global hot spots where concerning variants are dominant, the company announced recently. But warning signs lurked amid those findings: The protective effect of the vaccine was substantially muted in South Africa, where a worrisome virus variant is in wide circulation.
Should I still get vaccinated if …
I already had the coronavirus?
The Centers for Disease Control and Prevention says vaccination should be offered to people regardless of whether they had a previous infection. We are still learning how long immunity to the coronavirus lasts after an infection or a vaccination. Typically, an infection causes better immunity than a vaccine, but not always — the vaccines for tetanus and the human papillomavirus, for example, offer better protection than recovering from a natural infection.
I have covid-19 now?
It's best to wait to be inoculated until you've recovered from your illness and have met all the criteria to end self-isolation to avoid spreading the infection to others. There is no recommended minimum interval to get vaccinated after you've recovered.
I'm pregnant, plan to get pregnant soon or I'm breastfeeding?
Pregnant or breastfeeding women who are part of a group recommended to get the shots — for instance, health-care workers — might want to consider talking with their medical providers beforehand. Pregnant women have been excluded from coronavirus vaccine trials, so there is no data on the safety of the vaccines for them or its effects on the breastfed infant.
The American College of Obstetricians and Gynecologists says a conversation with a clinician may be helpful but should not be required. Pregnant people who get infected with the coronavirus are at greater risk of death and severe illness than those who are not pregnant, even as the overall risk remains small.
The Pfizer-BioNTech and Moderna vaccines do not contain live virus or any enhancers to boost an immune response and are not thought to be a risk to the breastfeeding infant. They do not alter human DNA in people who get it and cannot cause genetic changes. Also, this type of vaccine breaks down quickly and doesn't enter the nucleus of the cell.
Pfizer said it is planning to report to the FDA by the end of the year on a developmental and reproductive toxicity study in animals that could help clarify any risks.
I have allergies. What should I do?
People who have mild allergies to food, pets, environment or latex can get the Pfizer-BioNTech, Moderna or Johnson & Johnson vaccines.
Concerns about rare but severe allergic reactions were sparked by reports that two health-care workers in Britain had such reactions after being vaccinated with messenger RNA vaccines.
Government officials and medical experts say these rare reactions should not deter the general public from taking the vaccine, although the standard guidance is that people who get the shot should linger at the clinic or doctor's office for 15 minutes, and 30 minutes if they have a history of severe allergic reactions. Anaphylaxis can be quickly reversed with epinephrine and other medicines.
The FDA and the CDC say people with a history of severe allergic reactions to any component of the vaccines should not get the shots.
Researchers do not know which component in the Pfizer-BioNTech vaccine might have triggered the severe allergic responses. Many, but not all, of the chemicals in that shot and the Moderna vaccine are the same. They both use polyethylene glycol, a chemical widely used in medicines, cosmetics and other household products, which the FDA has said it is looking at as a possible culprit.
If you have a history of severe allergic reaction to another vaccine or injectable therapy, that should not necessarily preclude you from getting the shots. But the CDC advises consulting with your doctor beforehand.
What about people with HIV infections or who have other immunocompromising conditions, or who take immunosuppressive medications?
The vaccines haven't been studied in immunocompromised people, but those individuals are not anticipated to be at increased risk of adverse reactions. However, they should talk to their providers beforehand because their immune systems may not respond optimally.
I want to get the vaccine …
When will I be able to get vaccinated?
That depends on your job, your age and your health. For the most up-to-date information, see The Washington Post's vaccine distribution tracker. Biden has said there will be enough vaccine for every adult in the United States by May.
But states decide when to open eligibility to vaccination, following principles laid out by experts who aim to make sure limited doses have the biggest possible impact. First in line are health-care workers and residents of long-term care facilities.
The next priority group includes essential workers — grocery store employees, teachers, emergency workers and others who are on the front lines of the nation's labor force — and adults 75 years old and older, a CDC advisory panel said.
A third group that should get priority includes other essential workers, adults 65 to 74 and people 16 to 64 with high-risk medical conditions, the committee advised.
Who is considered an "essential worker" has sparked debate.
Healthy younger adults who don't have medical conditions or high-risk jobs are likely to begin to get vaccinated starting in April, but not everyone will be able to get the shots immediately. And children aren't even included in most coronavirus vaccine trials — Pfizer-BioNTech and Moderna are both testing their vaccines in teenagers, with plans to expand to younger age groups — so they probably will be among the last to get access.
There must be some things I can do that I couldn't do before?
Public health experts say people who have been vaccinated can enjoy a bit more freedom — for example, flying while masked is far less of a risk after inoculation, as is going to the grocery store or getting a haircut. And some say it's okay to get together, carefully, with other inoculated people.
"For those who have really been like hermits and living under a shell, I think being vaccinated gives you the confidence to maybe go out to a store, go out to a restaurant while observing the public health precautions," said Onyema Ogbuagu, principal investigator for Pfizer's vaccine trial at Yale University. "Being vaccinated gives you that extra confidence that I can still go places, still maintain distance, but still go places."
Some experts are more conservative.
For people who have been vaccinated, getting together with other inoculated people is much safer than before, said Paul Sax, clinical director of the Division of Infectious Diseases at Brigham and Women's Hospital in Boston. "The only thing that people want to hear, though, is: 'Is it 100 percent safe?' And we don't have proof of that yet."
How will the vaccines be shipped?
The vaccine from Pfizer and BioNTech must be kept ultracold, at minus-70 degrees Celsius during shipping. The company has created its own GPS-tracked coolers filled with dry ice to distribute it. The vials can be stored for up to two weeks at minus-15 to minus-25 degrees Celsius, conditions that are found in less specialized pharmaceutical freezers.
Each vial of the Pfizer vaccine holds up to six doses when diluted.
The Moderna vaccine is stored frozen at minus-20 degrees Celsius, but it keeps for a month at refrigerator temperatures. This could make it easier to distribute to pharmacies and rural areas that don't have specialized freezers.
The Johnson & Johnson vaccine can be kept at refrigerator temperatures for three months. This greatly simplifies the logistics in distributing the vaccine.
How much will the vaccines cost?
The federal government has pre-purchased hundreds of millions of doses with taxpayer money and vowed to make them available free.
Will I have a choice on which vaccine to take?
Supply will be far short of demand initially, so you are unlikely to be offered options in the near term. Also, the vaccines have different storage and handling requirements, making it likely that each administration site will have only one vaccine on hand, at least to start.
Chris Alcantara, Sarah Kaplan, Christopher Rowland and Frances Stead Sellers contributed to this report.