After seven seasons, NBC's "Parks and Recreation" comes to an end Tuesday night, giving the world a reason to ugly-cry as hard as if Li'l Sebastian had died all over again. (If you don't know who Li'l Sebastian is — a.k.a. you don't watch "Parks and Rec" — what are you doing here!? Go binge!) No more will we have Leslie Knope to inspire us. Gone will be the excuses to "treat yo self" from Tom Haverford and Donna Meagle. Never again will we guiltily laugh at Garry/Jerry/Terry/Larry Gergich.
But true fans know the loss that will hurt the most: Ron Swanson.
Ron Swanson, our freedom-loving, meat-eating, mustache-rocking man's man. He's our instructor of how to live on your own terms while remaining fiercely loyal to your people — characteristics we'd want in any man, especially our fathers and bosses. We'll be lost without his rants, his wisdom, his giggle. Is there anyone who can replace him?
Well, there is a real Ron Swanson who lives in Indiana.
Real, as in his legal name is Ronald Maurice Swanson. He is 65 years old. That's all we knew about him when we cold-called his house in Noblesville, Ind., to ask if he could be our stand-in Ron from now on. We lined up all the iconic Swansonisms and set out to discover if this Ron abides by them.
1. Ron Swanson loves meat. 
This Ron Swanson picks up the phone, and his voice is deep and booming. (✓) After a short explanation, he agrees to tolerate our quest. When asked if he enjoys a good chunk of steak, he says:
"Oh yes. Oh yes. Meat and potatoes. I like to grill, I got a Weber Grill here in the garage. I cook them in the oven, I cook them in the frying pan. Sometimes marinated, sometimes plain. I love steak. I like hamburgers. Rib eye is my favorite piece of beef." ✓
2. Most especially, breakfast meat.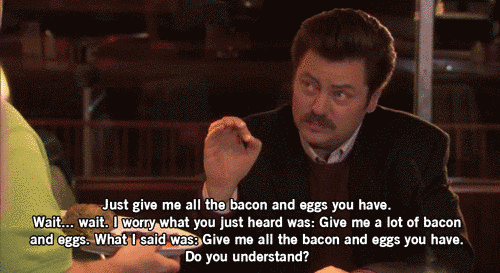 Leslie: "Why would anybody ever eat anything besides breakfast food?"
Ron: "People are idiots, Leslie."
This Ron: "Yes. Bacon and eggs. Biscuits and gravy. Biscuits aaaand gravy." We'll take it. ✓
3. A side of whiskey with that meat?
Ron Swanson of Pawnee, Ind., keeps Lagavulin in his desk. Ron Swanson of Noblesville, Ind., (about 30 minutes outside of Indianapolis) doesn't drink much, except for a beer every once in a while. X
4. Ron Swanson is a masterful woodworker 
And so too, is Nick Offerman who plays him. He runs a woodworkers collective that sells hand-crafted furniture and canoes carved from fallen trees.
[How has 'Parks and Recreation' boosted the cast's careers?]
Happily, the real Ron Swanson is also a man of the table saw. Retired from a job as a construction project manager, he spends much of his time on doing household fixes for his friends. He built this, which would make both Offerman and the fictional Swanson proud:
"Matter of fact I got a book case I built, oh lordy, probably 18 years old, six foot wide, and six and a half feet tall," he said. "The thing about it is, doing something with your hands, building a product you know is going to last, there's a certain amount of pride in that." ✓
5. He's an avid outdoorsman.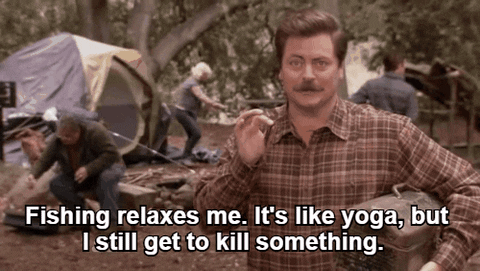 "That's me. I'd just rather be outside than inside at any time," the real Ron said.
Ron joined the Army when he was 21 years old, close to the end of the Vietnam War. Until then, he said, his number one hobby was fishing. He grew up in Panama City, Fla., so he was always close to the water. He still loves it now. ✓
6. He spreads that appreciation for the outdoors to the youths.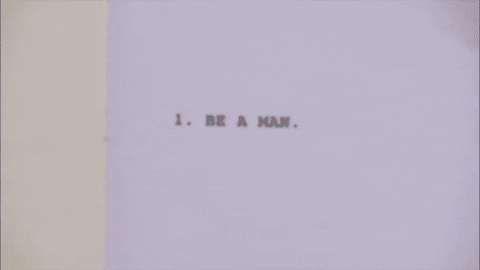 In one of the most memorable "Parks and Recreation" episodes, we witness Ron Swanson as leader of the Pawnee Rangers, duking it out with Leslie Knope's Pawnee Goddesses. (Leslie wins, with puppies.)
The real Ron was a Cub Scouts pack leader.
"I'd teach them skills, how to pitch a tent, how to dig a trench around that tent so water drains away, how to build a camp fire, how to tie a knot, all those types of things," he said. "I tried to teach them respect." ✓
7. He has a few divorces under his belt. 
Well, for the real Ron, there is no Tammy I or Tammy II — there is only Sherry. They met when Ron was stationed at Indiana's Fort Harrison. He was scheduled to go to flight school in Alabama, but because the Vietnam War was winding down, the Army canceled that next round of classes. He stayed in Indiana and fell in love with Sherry, a civilian worker at the base. They have been married for 43 years and have two children.
"She's just a real good person," he said. "Thoughtful and caring and she would help anyone. I'm just fortunate to have her." X
8. To be Ron Swanson = to disdain the government 
Real politicians love "Parks and Recreation" because it shows government as a force for good. (They told us so.) Ron Swanson is the antithesis to that admiration. If Ron Ulysses Swanson had his way, government would be "one guy who sits in a small room at a desk, and the only thing he's allowed to decide is who to nuke." Which sounds a little like Ron Maurice Swanson, who told us:
"Washington is too big and too complicated and no one can figure it out. I don't think it's a government of the people for the people, It's a government of the government for the government."
But don't be fooled, he said, America is still the greatest country in the world. ✓
9. Ron Swanson probably would have hung up on us. 
Along with his disdain of the government comes Swanson's repulsion to sharing personal information. But the real Ron Swanson was incredibly generous with his time and sharing.  X
10. Ron Swanson doesn't care what you think.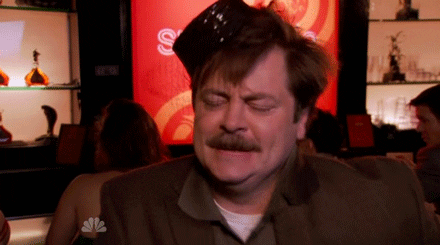 Ron Swanson of Noblesville, Ind., has never seen "Parks and Recreation." Yes, many people have told him about a man with his name in the show, but he hasn't felt the need to disrupt his routine.  "I usually watch Westerns and 'How It's Made' and the History Channel," he said. "Those are the kinds of shows I like."
Once he knew Tuesday would be the final episode of "Parks," Ron Swanson said he might, like the rest of us, be tuning in.