Although the weapon purchased at the Dick's outlet was not the one used in the massacre, Stack said his company was moved to act.
"We did everything by the book, and we did everything that the law required, and he was still able to buy a gun," Stack told host George Stephanopoulos.
Stack's announcement carried both symbolic and retail heft as companies — including sporting goods stores and airlines — have been pressured to drop special discounts and other ties to the gun industry and the National Rifle Association. Still, it remains unclear what percentage of Dick's sales came from the weapons in question, how the company will define "assault-style rifles," and whether similar retailers will follow suit. On Wednesday evening, Walmart announced that it too would raise the minimum purchase age to 21 and remove items on its website that resemble assault-style weapons. The retailer ended sales of assault-style weapons, including the AR-15, in 2015.
Dick's did not respond to a request for comment Wednesday morning.
The announcement, though heralded by some, drew scrutiny given that Dick's discontinued sales of assault-style rifles from its eponymous stores after the shooting at Sandy Hook Elementary School in Newtown, Conn., in 2012. A few months later, the firearms went back into circulation through Dick's outdoor and hunting chain, Field & Stream.
A company statement put out Wednesday morning said assault-style rifles would be removed from all 35 Field & Stream locations.
Joseph Holt, an expert on business ethics at University of Notre Dame's Mendoza College of Business, wrote that Dick's deserved praise for its ban and for "not waiting for government to get its act together to take decisive action." But the applause should be limited, he said.
"Dick's chief executive, Edward Stack, said he was 'disturbed and upset' when he saw what happened in Parkland," Holt said in a statement. "That's good, but it is hard to understand why they were not sufficiently disturbed and upset to take action years earlier, after the slaughter of innocents at Sandy Hook."
Dick's will continue to sell a variety of rifles, shotguns, blackpowder guns and youth guns, as well as ammunition. Its website listed 28 different kinds of rifles for sale, as well as 23 types of shotguns.
On Good Morning America, Stack urged Congress to put aside partisan politics and enact swift changes to gun laws. A statement called on those in office to ban assault-style firearms, ban high-capacity magazines and bump stocks, and require universal background checks that "include relevant mental health information and previous interactions with the law." The statement also demanded a comprehensive database of people banned from buying firearms and the closure of the private sale and gun show loophole that waives background checks.
The company drew wide-ranging support on Twitter in the hours after the announcement, with many people saying Dick's had won them over as new lifelong customers. Just before 9:30 a.m., the NRA tweeted that "bans do nothing but infringe on the rights of law-abiding citizens."
Nearly 250,000 people had shared a Dick's Facebook post on the change in sales practices, with the range of comments offering a brief lens into America's fraught divisions over gun control.
"Looks like my business will stay with local gun shops and anything else I need will be purchased at Bass Pro and Cabelas," wrote one commenter.
"Thank you for standing up for our kids," read another. "You have my business now."
Dick's sales decision would "not make everyone happy," Stack said in his televised interview. But when asked whether the company would ever reverse its position, Stack offered a staunch "never."
He praised action by Florida students, who have participated in marches and rallies demanding change.
"Our view was if the kids can be brave enough to organize like this, we can be brave enough to take these out of there," Stack said.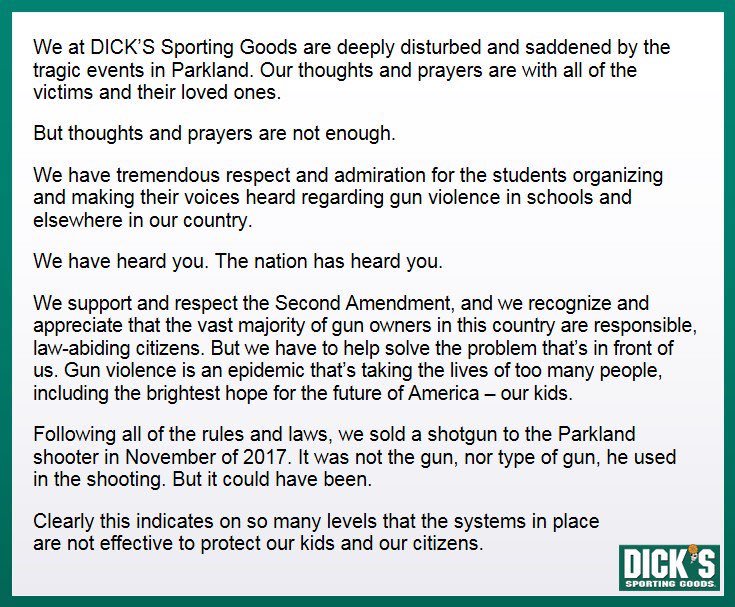 This post will be updated