Severe weather broke out yesterday along a boundary between two dramatically different air masses, stretching from the Southern Plains north-northeastward across the Midwest and east into the northern mid-Atlantic. Unconfirmed tornadoes damaged homes near St. Louis and in northern Arkansas near Botkinburg, with several people injured but no deaths reported.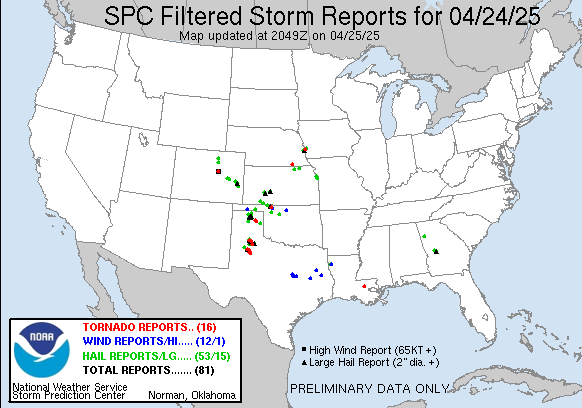 St. Louis area storms
The worst damage appeared to be in Hazelwood, to the northwest of St. Louis. KTVI reports:
Residents in Hazelwood are waking up to heavy damage and power outages. Others who took cover from a tornado haven't been to bed at all.

Hazelwood Mayor Matt Robinson says 24 homes were damaged in the area and an apartment complex was evacuated due to a gas leak.  Rescuers gathered at Shackelford Road and Patterson Road over night to assess damage and help any residents in need.
Damage was also reported at the Sullivan, Missouri airport southwest of St. Louis, where an automated National Weather Service weather station recorded a 101 mph wind gust.
Arkansas storms
The northern part of the state caught the worst of Wednesday's storms, especially in Van Buren County. CNN reports damage to homes and a destroyed church:
Some 33 homes and a business were damaged in the county, said Tommy Jackson of the Arkansas Department of Emergency Management.

The tornado demolished the sanctuary, fellowship area, classrooms and a pavilion at Botkinburg Foursquare Church, its pastor told CNN.

"If the tornado would have come an hour and a half later we would have been caught in it," said Senior Pastor Ester Bass, referring to Wednesday night services.

No members of the church were injured.
The National Weather Service in Little Rock, Arkansas, provides a detailed timeline and analysis of yesterday's severe storms.
Snow and cold in the Upper Midwest and West

On the cold side of the storm, the Twin Cities are getting heavy snow today with 4-8″ expected by Friday morning according to meteorologist Paul Douglas, perhaps 10″ in the far northern and western suburbs.
On Tuesday, Denver received around 6″ of snow with temperatures in the teens, just a day after highs reached near 70. Almost 30 inches fell in parts of Wyoming reports USA Today, while in Rapid City, South Dakota, "the 20 inches of snow that fell on Tuesday made it the single snowiest day in that small city since records began" according to Climate Central. "Rapid City also broke its record low temperature for the date, when the temperature tumbled to 11°F."
More storms as record heat subsides

As this dynamic spring storm system heads east, the risk of severe storms shifts to the Southeast U.S. and southern mid-Atlantic today into tomorrow. An associated cold front will bring heavy showers and thunderstorms to much of the East Coast tonight and tomorrow, putting an end to record warmth in the Washington, D.C. area, where high temperatures on Wednesday topped out near 90.
Here's one  more glimpse of just how dynamic this storm has been, from Climate Central:
On Tuesday, high temperatures went above 100°F in South Texas, with a national high of 108°F in Laredo, while temperatures fell below 10°F in southern Wyoming.

Also on Tuesday, Dyess Air Force Base in Texas hit a high temperature in the mid-90s before the front came charging into town. Once the front passed, the temperature dropped 50°F in just five hours, according to a Facebook post from the National Weather Service.