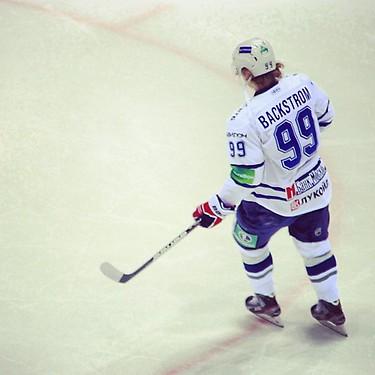 Nicklas Backstrom recorded an assist in his KHL debut Monday as Dynamo Moscow captured a 3-0 win over Lokomotiv Yaroslavl. The other member of Dynamo's Capitals contingent, Alex Ovechkin, posted a goal and an assist, bringing his KHL totals to 14 points (6 goals, 8 assists) in 13 games.
Ovechkin was also involved in some extracurricular activities against Lokomotiv Yaroslavl. He received a roughing minor for shoving Alexander Guskov, who declined an invitation to fight in the third period, and was involved in another fracas in the frame as well. (Check out RMNB for videos of both.) After the game, Ovechkin said the incident with Guskov came after the star left wing had been elbowed in the head. 
Check out highlights of the contest below. Backstrom, who finished with 17:58 of ice time, is sporting No. 99 (which has some folks riled up, apparently) because his preferred No. 19 was unavailable. 
Back to the reason why Ovechkin and Backstrom are playing for Dynamo Moscow in the first place — the lockout. This week looms large for the NHL labor negotiations. Over the weekend, the two sides spoke by phone but no actual negotiations occurred, nor are there any scheduled with the league's latest deadline looming.
The NHL said there needed to be a new collective bargaining agreement in place by Oct. 25 (Thursday) in order to salvage a full season, which would commence on Nov. 2. Many observers think reaching a resolution that quickly is, to put it nicely, a long shot.
If the stalemate between the two sides continues through Oct. 25, the league is expected to cancel another chunk of games. How many contests would be eliminated? It depends on who you ask. There's some speculation that without progress in negotiations, NHL Commissioner Gary Bettman might ax the entire season but it seems more likely that the casualties would be another month of games and possibly the Winter Classic.
For good reads on all things lockout related, check out the following: Elliotte Friedman's latest 30 Thoughts, ESPN's Pierre LeBrun on the importance of this week and the possibility of wiggle room in the NHL's deadlines and Scott Burnside on how the legacy of the NHL and its leaders is at stake.