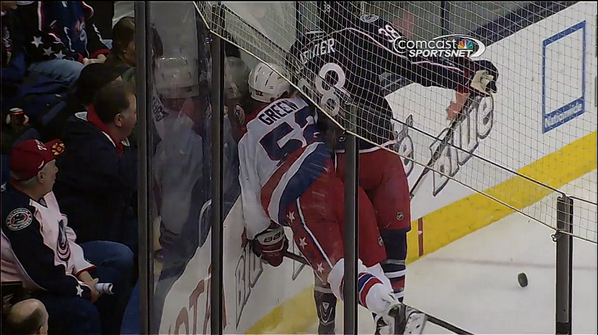 Updated 11:40 p.m. COLUMBUS, Ohio – Capitals defenseman Mike Green left the first period of Thursday's game in Columbus with an apparent injury after being hit hard into the end boards and did not return to the contest. Green will travel with the team to Detroit and will be re-evaluated there, Coach Adam Oates said.
In a race to the puck in the Washington zone, Blue Jackets forward Boone Jenner shoved Green off balance and into the boards. As Green made initial contact with the boards, Jenner finished a check that smashed the blueliner's head into the glass and crunched his right shoulder with 6 minutes 43 seconds left in the first. There was no penalty on the play.
The precise nature of Green's injury is unknown but he has suffered both concussions and shoulder injuries in the past. After the hit, Green lay motionless on the ice for several minutes where he was tended to by Washington's head athletic trainer Greg Smith before heading off the ice under his own power.
Roughly 10 minutes after the hit, Green emerged from the dressing room to skate briefly during a television timeout. The experiment was unsuccessful as he immediately went back down the tunnel and did not take another shift after the hit.
On a night defined by Washington's errors, Oates pointed out that this collision might not have happened if Green hadn't been beat when Jenner chipped the puck past him at the blue line.
"He got beat to the inside. That's a mistake. Then he tries his heart out to try and save it, he could have hurt his knee and he gets boinked against the boards because he's on the wrong side of the guy," Oates said. "All the defensemen did it in the first period, all of them."
Oates didn't take issue with Jenner's hit, though not all the Capitals agreed. That's why Troy Brouwer felt the need to fight Jenner in the third period when the opportunity presented itself.
"I just didn't like how he drove him in at the end of his hit; Green got injured as a result of it," Brouwer said. "It's a situation where a guy on our team gets hurt and we don't want those types of hits to stand on our team."
While Green traveled to Detroit, the Capitals will likely recall a defenseman from AHL Hershey ahead of Friday's game at the Red Wings since they embarked on this road trip without an extra blueliner on the active roster.
Assuming Oates would opt for a right-handed defenseman to round out the lineup in Green's absence, Steve Oleksy (cap hit of $541,667) or Tyson Strachan (cap hit of $550,000) would seem to be the most likely candidates. To fit either one under the salary cap, though, would require at least one roster move seeing as Washington has less than $200,000 in space according to Capgeek.com