Best and worst moments from the Wizards' 102-96 win over the Pacers in Indianapolis.
Best Start: Making their first appearance in the second round since 2005, the Wizards scored the first eight points of the game and led 28-15 after one quarter, holding the Pacers to 5-of-23 (22 percent) shooting. Washington didn't show many signs of rust after being off for the past six days since dispatching Chicago in the first round, while the Pacers somehow managed to look worse offensively than the Bulls. It was the sixth consecutive game this postseason that Washington grabbed an early lead, and it led to jokes like this one:
Wizards in 3.

— Michael Saenz (@mikedsaenz) May 5, 2014
Worst Start to a Quarter: With Andre Miller giving John Wall a breather, Indiana scored the first 11 points of the second quarter. Nene finally ended the run with an emphatic dunk off a Trevor Booker pass, but Indiana had pulled to within 30-26 and the Pacers would take their first lead of the game two possessions later. Longtime Wizards fans saw this coming:
I always knew @WashWizards would have their hands full in Indiana despite a strong 1st quarter. #WizPacers #dcRising

— Wolf Blitzer (@wolfblitzer) May 5, 2014
Best Response: Washington responded with a 9-2 run. At halftime, the lead was back to 13 points. Who are these Wizards?
Worst Showing by a Star: Paul George scored a playoff career-high 30 points and had 11 rebounds in Indiana's Game 7 win over Atlanta, but he struggled Monday, missing 13 of his first 16 shots. George still finished with 18 points, six rebounds and five assists, but it wasn't nearly enough.
Best Shots: Bradley Beal missed four of his first five shots, but he got hot when the Wizards needed him most. The second-year guard scored 14 of his game-high 25 points in the fourth quarter, including a three-pointer from the corner with the shot clock winding down and the Wizards clinging to a six-point lead. Beal extended the Wizards' lead to 12 with another three-pointer a minute later and the Pacers never seriously threatened again.
Worst Free Throw: Beal could only laugh after air-balling a free throw later in the game. "This is the playoffs, he's on TNT," color commentator Chris Webber said. "Washington didn't get to play much on a national TV schedule." Webber would know.
Best Sound: Cha-ching. Cha-ching. Cha-ching. Cha-ching. Cha-ching. Cha-ching. That's one cha-ching for each of Trevor Ariza's six three-pointers Monday, including five in the first half. The free agent to be, and the only Wizards player with an NBA title, led all scorers with 17 first-half points, and finished with 22.
Every time Trevor Ariza rises and fires, the sound of a cash register opening plays in my head. Gotta pay that man.

— Mike Wise (@MikeWiseguy) May 5, 2014
Worst 7-Footer: Where have you gone, Roy Hibbert? You could almost hear the collective groan from the gold-clad crowd at Bankers Life Fieldhouse after the former Georgetown star missed his first two shots. "He hasn't had a double-double in 31 games," Webber said while discussing Hibbert's struggles. "You just can't do that as a big fella. Your job is to score, it isn't to be a cheerleader. It's to rebound and block shots if you're over 7 feet in this NBA." Hibbert picked up his fourth foul less than two minutes into the second half and finished scoreless and rebound-less with two blocks and an assist. Oof.
Best Draft Pick: Monday marked the first playoff game featuring the top two picks in the same NBA Draft since 2005, when Washington's Kwame Brown and Chicago's Tyson Chandler squared off in the first round. There was never much debate whether the Wizards made the correct decision by picking Kentucky's John Wall over Ohio State's Evan Turner, but the difference between the two players was magnified in Game 1. Wall finished with 13 points and nine assists against one turnover; Turner scored seven points off the bench.
Best Block Party: Indiana set a franchise playoff record with 13 blocks in Saturday's Game 7 win over Atlanta, but it was Washington that had the spring in its step in Game 1. All eight of the Wizards' blocks came in the first half, including six in the first quarter. Washington has 19 blocks in its last two games.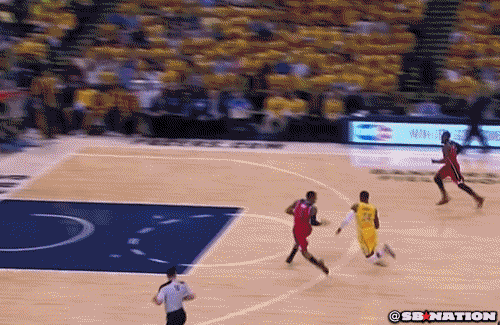 Best Halftime Endorsement: "It's going to be a beatdown; quick and painless," Charles Barkley said of the Wizards' chances against Indiana in the series. "Let me tell you something, Ernie, [Indiana has] no chance of beating these guys. … I think people need to quit talking about their inexperience. Beal and Wall don't have a lot of experience, but you tell me Ariza, Gortat and Nene don't have experience? They're not young guys."
Best Shave: Drew Gooden, who trimmed his beard since Game 2, had 12 points and 13 rebounds off the bench. Green Bay Packers quarterback and president of the Drew Gooden Fan Club Aaron Rodgers approved.
"@DrewGooden: Game 1 suit #greyswag pic.twitter.com/dNJvyF2fwD" #midrange #Wizards

— Aaron Rodgers (@AaronRodgers12) May 5, 2014
Best Quote Out of Context: "We get up for the Miami's, get up for the Chicago's, then come out and lay donuts against the Wizards and these other teams." – Indiana forward David West after the Wizards beat the Pacers, 91-78, on March 28.
Best Homecoming: Randy Wittman, who was born in Indianapolis, played his college ball at Indiana and played for the Pacers from 1989-92, played down his return to the Hoosier State, but his first win as a coach there must've felt pretty good.
Best Streak Busters: The Wizards had lost 12 straight games at Indianapolis dating from a 98-95 win on April 18, 2007. Washington's last win in the second round of the playoffs was against the Boston Celtics on April 28, 1982. Larry Bird had 26 points and 10 rebounds in defeat that day. Now Larry Legend looks like this.
Best Rain Delay: Not a bad view of the game at Nats Park.
#Nats Park now hosting a huge, outdoor Wizards watch party: pic.twitter.com/3VHt2Or3rP

— Chase Hughes (@chasehughesCSN) May 6, 2014