As the Braves and Nats feuded over Bryce Harper last summer, I felt like there was a consensus of sorts among Nats fans. Well, among some Nats fans. Which I guess means it wasn't a consensus.
Anyhow, the point was, some members of the Braves seemed to have an excessive attachment to the unwritten rules of baseball. While some members of the Nats seemed to be normal people.
One of the key moments, of course, came when Bryce Harper homered off Julio Teheran, watched the ball soar through the air, embarked on the slowest home-run trot of his career to that point, and then was plunked in his next at-bat. Via Wagner:
"Something he's got to do," said Harper, who believed Teheran hit him on purpose. "It's part of the game and it's something I guess he's got to do."

Asked is he was surprised Teheran hit him, Harper was blunt: "Uh, I hit that ball pretty far off him, so no, not really."
See, that's awesome. And me, I love a lengthy home run examination, because it's funny. And in a sport that encourages managers to stand on the field and hitch up their britches while discussing the weather with umpires — allowing their bench coaches to look at replays and then challenge plays that are too inconclusive to reverse anyhow — I figure it's okay to spend 23 seconds instead of 21 seconds jogging around the bases.
I also love bat flips. Because they're also funny.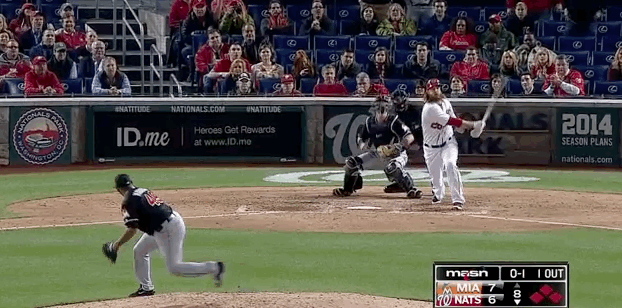 Anyhow, ESPN's Tim Kurkjian recently wrote a lengthy piece on the sport's unwritten rules, and Nats utility man Greg Dobbs played a starring role. Here's his quote:
"When you pimp a home run, or flip a bat egregiously … I'm not saying you have to put your personality in the shadows, but how far do you take it? When you do that, act selfishly, you are disrespecting the founders of the game, the guys that came before you. When you hit a homer, flip your bat, walk 10 feet toward first base and stare at the pitcher, showing bravado, you are disrespecting the other team, your team and the name on the front of jersey. That's the worst thing you can do."

And if a young National does that?

"I'd air him out," Dobbs says. "I'd tell him, 'That's not how we do things.' When you can't control yourself, you're not setting an example for children. You're not being a representative of the game. You're not representing those bigger than you. It's not about you."
Former pitcher Dirk Hayhurst wrote a long, impassioned rebuttal to Kurkjian's piece, and he responded to Dobbs directly.
At one point in Kurkjian's article, veteran Nationals utilityman Greg Dobbs is talking about how the players that Cadillac home runs should all be put in their place. About how they're disrespecting the other team, and the game, and setting a horrible example for the youth. Really? The Yasiel Puigs of the world are destroying America's pastime because they flip bats and jog with swagger? What a shabby, house-of-cards argument that can be demolished by anyone who remembers being a kid.
Fortunately, the Nats are blessedly free of any brash young stars who flips bats or jog with a swagger, so this will probably never be an issue.