Last year, it was the Thanksgiving stomp. This year, the Thanksgiving kick has reignited the debate about whether Detroit Lions defensive lineman Ndamukong Suh is a dirty player or simply misunderstood.
Suh was rushing Houston Texans quarterback Matt Schaub in the first NFL game of the day and, after he was blocked by offensive lineman Derek Newton, Suh kicked out at Schaub's groin region as he fell to the Ford Field turf.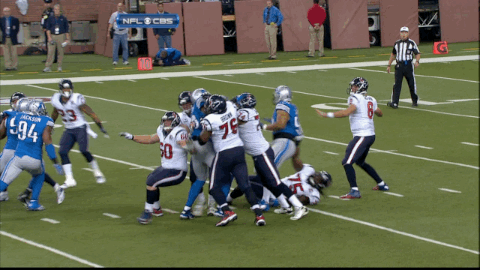 It's impossible just yet to know Suh's intent or whether the "leg extension" was inadvertent. Schaub doubled over after contact and, as CBS's Phil Simms put it, "Oh, he got kicked." Schaub told reporters only: "I don't really have anything to say about that play or that person."
Simms stopped short of saying the kick was intentional. CBS's halftime commentators did not.
"This was intentional. You see the force? Look at the force with which he did that," Shannon Sharpe said on CBS's halftime show. "There's a reason why he's the two-time reigning, voted dirtiest player in the NFL by his peers, because of plays like this…."
Suh was fined by the Lions and suspended two games by the NFL for his Thanksgiving 2011 stomp of the Green Bay Packers' Evan Dietrich-Smith. Suh, who has been fined multiple times, sought clarification from NFL officials about his style of play last fall, and we'll see what the NFL has to say this time. Boomer Esiason was as critical, though, as Sharpe.
"This is supposed to be a brotherhood. You're supposed to have respect for one another out there," Esiason said at halftime. "Bruce Smith, I could always shake his hand. Reggie White, I could always shake his hand after a game. I would never shake this guy's hand because, once again, he has crossed over the line, and it's obvious that it was on purpose." 
But for an October incident in which he knocked Chicago Bears quarterback Jay Cutler out of a game briefly (he was neither flagged nor disciplined), Suh has had a quiet season. Last year, he talked about his reputation.
"It's how Tom Brady is the pretty boy of the league," Suh told the New York Times' Judy Battista. "I'm maybe the villain of the league. It used to boggle my mind: How do you get this reputation? I look at James Harrison's situation last year. I'm him this year."
Follow @CindyBoren on Twitter and on Facebook.
More
Cutler says Suh's hit was clean
Brandon Marshall takes issue with Suh's big hit
Suh suspended for Thanksgiving stomp
Is Suh misunderstood or just dirty?
Suh requests meeting with commissioner