Somehow, Ndamukong Suh's foot ended up in Matt Schaub's groin region Thursday and, as is routine procedure, the NFL will review the play and determine just how much malevolence was attached to the act.
"In our normal course, we identify hits for potential discipline," Ray Anderson, the NFL's vice-president of football operations, said Friday (via NFL.com). "Certainly, that will be one that will be reviewed after the weekend's slate of game as part of normal course of action. … It drew our attention."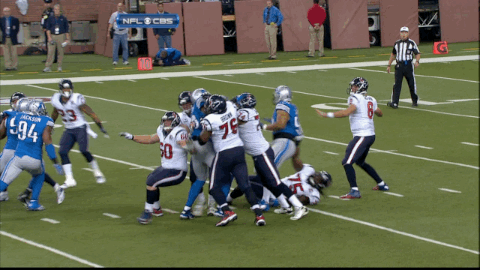 Suh, the Detroit Lions' defensive lineman who was fined and suspended two games for stomping the arm of a player in a Thanksgiving 2011 game, was blocked by offensive lineman Derek Newton and, as he fell to the turf, Suh landed a kick that crumpled the Houston Texans' quarterback. 
"It appeared to be a little out of the ordinary, let's just say," Anderson said on "The Dan Patrick Show" (via Pro Football Talk). "It didn't appear to be a natural football move, but we'll withhold judgment until we see all the angles."
Suh's past will be considered, particularly that 2011 stomp on the Green Bay Packers' Evan Dietrich-Smith.
"Certainly, we have to go on a player's history," Anderson said. "That will certainly factor into our thinking. . . . If you're a repeat offender you really aren't entitled to the benefit of the doubt."
Suh was unavailable for comment after the game.
H/T Bleacher Report for the gif
Follow @CindyBoren on Twitter and on Facebook.
More from Thanksgiving games
Jim Schwartz tripped up by emotions, pretzel-logic rule
Did Ndamukong Suh intentionally kick Matt Schaub in the … giblets?
Mark Sanchez goes cheek-to-cheek with lineman
More Suh
Jay Cutler says Suh's hit was clean
Brandon Marshall takes issue with Suh's big hit
Suh suspended for Thanksgiving stomp
Is Suh misunderstood or just dirty?