In the immediate aftermath of his Thanksgiving encounter with Ndamukong Suh, Houston Texans quarterback Matt Schaub wasn't saying much about whether he thought Suh had maliciously kicked him in the groin.
On Monday, Schaub was a little more outspoken about the play, which the NFL will review. The incident was the second in a row involving Suh on Thanksgiving. Schaub, in an interview on SportsRadio 610 in Houston said he wouldn't want Suh as a teammate.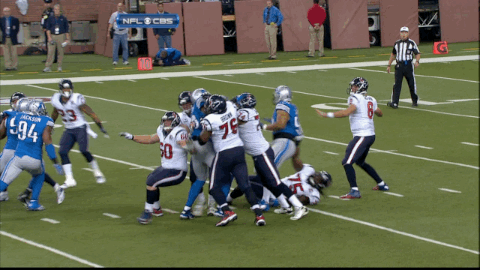 "You don't want a player like that. The stuff that he stands for and the type of player he is, that's not Houston Texan-worthy," Schaub said (transcript via the Houston Chronicle). "That's not what we're about as a football team, as individuals, collectively as a group, we're not that type of person."
The Detroit Lions defensive lineman was lying on his chest when he extended his left foot and struck Schaub, who crumpled to the ground. Suh's previous actions, including his Thanksgiving 2011 stomp of Evan Dietrich-Smith, will be taken into account by the league as it reviews his case. He was ejected from that game and suspended two games by the NFL.
Follow @CindyBoren on Twitter and on Facebook.
More
Jay Cutler says Suh's hit was clean
Brandon Marshall takes issue with Suh's big hit
Suh suspended for Thanksgiving stomp
Is Suh misunderstood or just dirty?