Memphis Coach Josh Pastner is an enthusiastic dude. And why not? On Thursday, he scored his first career NCAA tournament victory with the Tigers, and his No. 6-seeded team trails No. 3 Michigan State and Tom Izzo by just three points at halftime after closing the period on a 16-6 run.
The 35-year-old with the good lucks and boyish haircut also has some ups, too. Although it's a pretty hyperbolic model for defense.
Pastner's leprechaun jump reminds us of one particular local coach.
Okay, might as well turn this into an entire post of basketball coaches jumping…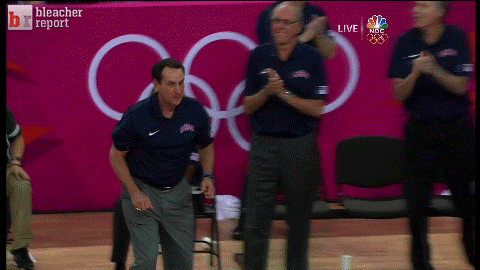 (h/t TheBigLead, Mr. Irrelevant and Bleacher Report)
MORE ON THE NCAA TOURNAMENT
Florida Gulf Coast stuns Georgetown | Hoyas look for answers
Wife of Florida Gulf Coast coach was a supermodel | Welcome to Dunk City, Fla.
Somebody's perfect: It's the Atlantic 10
La Salle upsets Kansas State. Bill Snyder does some emotional eating.
Jim Larranaga and Bob Thomason, 63 years young, square off | Boeheim sticks around
Marshall Henderson: Love him or hate him? | He passes!