In the immortal words of Ron Burgandy, "That escalated quickly."
VCU entered halftime of its South Region second-round game against Michigan with a fighting chance, despite a 30.3 field goal percentage that included just one three-pointer in eight attempts. The Rams, seeded fifth thanks to their vaunted "Havoc" pressure defense, actually played right into No. 4 Michigan's hand, forcing the Wolverines into an up-tempo style with which they're plenty comfortable.
The result? A 78-53 drubbing in Auburn Hills, Mich., punching this season's first Sweet 16 ticket — and Michigan's first since 1994 — amid a sea of maize and blue. An unheralded freshman named Mitch McGrady dropped a game-high 21 points on 10-of-11 shooting, highly touted point guard Trey Burke added 18 and seven assists, and NBA sons Glenn Robinson Jr. and Tim Hardaway Jr. had 14 apiece.
Coach Shaka Smart's team didn't help its cause, especially with this first-half shooting chart. The Rams failed to advance past the second round for the second straight season, though their No. 5 seed was the program's highest since 1985.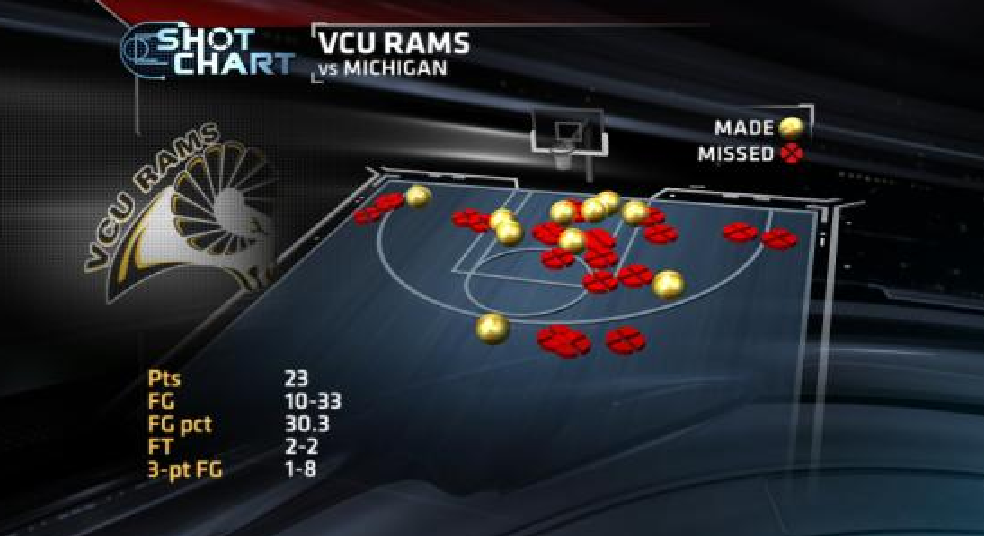 Ripped jerseys couldn't even stop Michigan, though Superman capes might have been appropriate.
Michigan now gets the winner of the Roy Williams Bowl, also known as No. 1 Kansas-No. 8 North Carolina.
MORE ON THE NCAA TOURNAMENT
Florida Gulf Coast stuns Georgetown | Hoyas look for answers
Wife of Florida Gulf Coast coach was a supermodel | Welcome to Dunk City, Fla.
Somebody's perfect: It's the Atlantic 10
La Salle upsets Kansas State. Bill Snyder does some emotional eating.
Jim Larranaga and Bob Thomason, 63 years young, square off | Boeheim sticks around
Marshall Henderson: Love him or hate him? | He passes!
Interactive bracket and NCAA tournament history database