The Washington D.C. East Region doesn't feature any of the apocalyptic upsets which devolved other pods into low-seeded wastelands. The four teams playing at Verizon Center next weekend were seeded first, second, third and fourth.
But there's still plenty of compelling storylines, especially about those coming home. Rick Maese writes about Victor Oladipo, a DeMatha alumnus whose Indiana Hooisers barely escaped Temple.
Now, it's Jim Larranaga's turn.
The Miami coach has done a tremendous job with his second-seeded Hurricanes, leading a veteran-laden group — the nation's ninth most experienced, according to KenPom.com — to both the ACC regular season and tournament title. Now Larranaga returns to the District, where seven years ago he led George Mason to the Final Four.
The Hurricanes, led by arguably the nation's best point guard in Shane Larkin, will face third-seeded Marquette. But it's a host of supporting cast members who make Larranaga's bunch dangerous.
Reserve guard Rion Brown, who entered Sunday averaging just six points per game, erupted for 21 on 5-of-10 shooting from beyond the arc. Even with big man Reggie Johnson struggling off the bench ever since returning from an early-season injury, Miami hasn't skipped a beat, riding the energy of Durand Scott, the ACC defensive player of the year, the wing play of Trey McKinney-Jones, the stretch-four presence of Kenny Kadji and the inside dominance of Julian Gamble.
Remember, this is the same Hurricanes team that lost to Florida Gulf Coast earlier this season, a loss consistently validated with each Eagles win. But Miami has its own agenda, one that includes scoring the program's first-ever Elite Eight appearance with just one more win.
Oh, and photobombing postgame interviews too.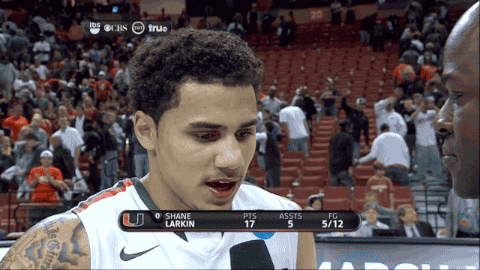 Larranaga's pretty jacked up too.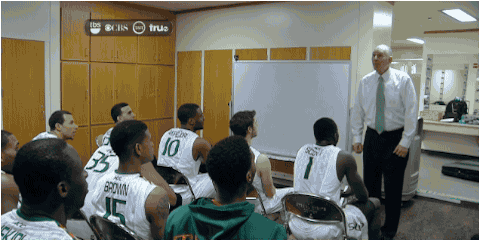 MORE ON THE NCAA TOURNAMENT
FGCU dunks its way into the Sweet Sixteen | 'Golf' Coast? 
Coach Enfield becomes this tournament's Prince Charming
Victor Oladipo's coming home | OSU gets Craft-y in win
Ben Howland canned from UCLA | Is Tubby next?
On refueling stop, Tim Tebow congratulates Wichita State
Interactive bracket and NCAA tournament history database