At last, a compelling reason to watch preseason football.
You never know when a sideline reporter is going to take a pass upside the head.
That's what happened to Fox's Pam Oliver during the Indianapolis Colts-New York Giants game Sunday night when Colts backup-backup Chandler Harnish uncorked a pass that went straight to her cheek.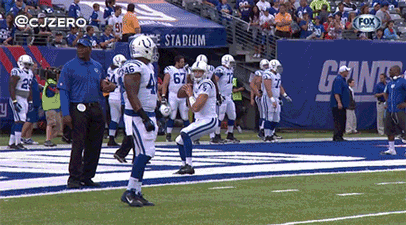 Shortly after the game, Harnish apologized to Oliver, who was unhurt, with a tweet:
Would like to take this time to apologize to Pam Oliver, for the bad pass to the face.. Be expecting flowers in the mail soon! #ToughLady

— Chandler Harnish (@C_Harnish) August 19, 2013
Maybe he could get her one of those Bane facemask helmets, too.
Follow @CindyBoren on Twitter and on Facebook.