At this point, the Atlanta Braves can't be blamed for wanting to get out of Citi Field as soon as possible.
The National League East leaders lost leadoff hitter Jason Heyward, possibly for the rest of the regular season, when his jaw was broken in two places by a fastball thrown by the New York Mets' Jonathan Niese. Heyward, who was struck just below the ear flap by the pitch, is expected to have surgery today in Atlanta and is likely to be out 4–to-6 weeks.
The loss of Heyward is particularly tough for the Braves, who lead the Washington Nationals by 15 games, because he'd been playing well lately. He started the season slowly and underwent an appendectomy in the spring, but over his last 22 games he's hitting .357 (.254 overall) and is a big reason why Atlanta has won 20 of its last 24 games.
It'll be tough to replace him defensively in right field, as well. He entered the day, ESPN's Stats and Information people report, "64 Defensive Runs Saved since the start of his career. That's the second-most of anyone in the major leagues in that span, trailing only shortstop Brendan Ryan, who has 70."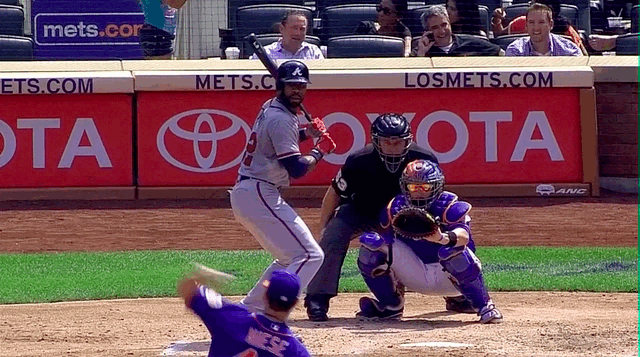 The Braves swear they aren't superstitious, but Citi Field is the place where they lost Tim Hudson, who broke his ankle covering first base, last month.
"Right before he went to the hospital he popped his head into the clubhouse to say goodbye to some of the guys," Manager Fredi Gonzalez said. "It's not the ballpark, it's just a matter of freak stuff happening. It can happen anywhere."