It was instantly apparent the moment Manny Machado crossed first base that the Baltimore Orioles third baseman had suffered some sort of terrible injury, most likely to his knee.
He was legging out a hit in Tampa when he collapsed and had to be carted off the field, a sobering, awful moment for one of baseball's brightest young stars. Machado was heading back to Baltimore with the Orioles on Monday night and was to undergo an MRI today.
"They took an X-ray," Manager Buck Showalter said, "and somehow they couldn't develop the pictures. Had a little glitch there."
Showalter declined to speculate on the severity of the injury, but concern was swift on Twitter.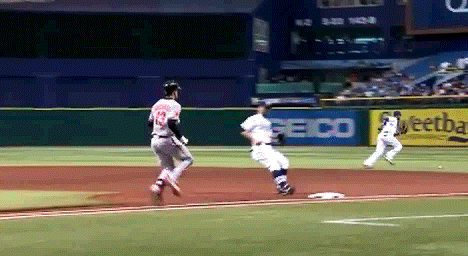 Prayers up for Manny Machado

— Torrey Smith (@TorreySmithWR) September 23, 2013
Praying for the homie manny machado

— billy hamilton (@b_ham_3) September 23, 2013
Thoughts and prayers go out to Manny Machado. Hope he is alright.

— Chris Johnson (@C_Johnson28) September 23, 2013
Pray for manny machado just saw the play on tv in club house. Never wanna see that ever happen to anyone. Get well buddy

— Derek Holland (@Dutch_Oven45) September 23, 2013
In the seventh inning, there was another scary moment when second baseman Alexi Casilla dived for a bloop hit and collided with outfielder Nick Markakis. Casilla's head struck Markakis's thigh. Casilla was taken to a Tampa hospital to be evaluated for concussion symptoms.
Very tough loss as a team but bigger loss wit Manny and Casilla. U never want to see things happen like that. Very scary and unfortunate.

— Adam Jones (@SimplyAJ10) September 23, 2013
Want to express our concern for Manny Machado, and hope for speedy and full recovery. One of best young talents in our game !

— Joe Maddon (@RaysJoeMaddon) September 24, 2013
I wish Manny Machado the best for a fantastic recovery from his leg injury.. A genuine rising superstar http://t.co/PwEfvpr8we

— Dick Vitale (@DickieV) September 23, 2013
H/T CBS Eye on Baseball for the GIF
Follow @CindyBoren on Twitter and on Facebook.