San Francisco 49ers linebacker NaVorro Bowman suffered an excruciating-to-watch knee injury in the NFC championship game Sunday in Seattle and the 49ers fear that he tore both his anterior cruciate and medial collateral knee ligaments on the play.
The team will know more after he undergoes an MRI, Pro Football Talk reported. Bowman was injured when he found himself at the bottom of a pile of players scuffling for a loose ball on a third-and-goal play late in the game. The Seahawks ended up with the ball on a play that, officially, was not subject to review, but it was Bowman who held onto it, even as he screamed in pain. The NFL's competition committee will re-consider the review rules in the offseason, according to PFT, but that's small consolation for Bowman. And, as if the injury weren't dispiriting enough, he was sprinkled with popcorn — it was impossible to know whether it was deliberate — by CenturyLink Field fans as he was carted off.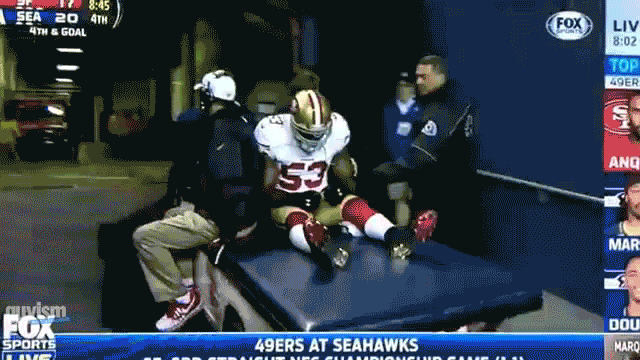 Bowman's opponent, Richard Sherman, wrote about the incident in a MMQB.com column about his postgame rant with Erin Andrews. From Sherman:
One thing I can't accept is what I read after the game about Seahawks fans throwing food at 49ers linebacker NaVorro Bowman as he was being carted off the field with his knee injury. If it's true, it's beyond terrible. That's as low as it gets. I'm sure whoever did this is in a small minority of fans, because I don't think that kind of action is an accurate representation of the character of the 12th man. NaVorro Bowman is a great player who plays the game the right way. When he went down, I dropped to a knee and prayed for him. He deserves better than having food thrown at him as he's carted off a field. All players deserve better than that.