It all seemed capable of slipping away from No. 10 Stanford, when a freshman hero from Kansas began to will the No. 2 Jayhawks back into the game. Except center Joel Embiid was on the bench, wearing warmups as he nursed a lingering back injury, and star forward Andrew Wiggins was burdened by offensive troubles in what would almost certainly become his final college basketball game. So the burden fell on Conner Frankamp, the only Kansas player to hit a three-pointer during this NCAA tournament.
Two huge shots from Frankamp brought the Jayhawks within striking distance of a stunning comeback against the Cardinal, but his buzzer-beating attempt only drilled the backboard as the Cardinal scored with a 60-57 victory and moved into the Sweet 16. Barring something shocking, this should effectively end the college careers of Wiggins and Embiid, both of whom are expected lottery picks for June's NBA draft.
With Embiid injured, dominant big man Tarik Black (game-high 18 points) fouling out with 5:25 remaining in the game and a host of other players struggling from the field, Kansas fell victim to a stingy Stanford zone and couldn't quite escape into the second weekend, where perhaps Embiid would have returned and added some depth inside.
Now, instead of a No. 2 Kansas-No. 3 Syracuse meeting in the Sweet 16, the college basketball world gets Dayton-Stanford, just the second No. 10-No. 11 Sweet 16 matchup since 1985. Once on the hot seat, Coach Johnny Dawkins has now led the Cardinal to their first Sweet 16 since 2008, and did so with a historically unusual stat line.
That was the first time since 2001 (423 games) that Stanford did NOT make a 3-pointer. 0-9. And they beat Kansas.

— David Lombardi (@DavidMLombardi) March 23, 2014
Still, four players scored in double figures and the Cardinal overcame a sudden fit of turnovers (16 for the game) when Kansas unleashed a full-court press that helped it hang around during the second half.
The members of the Stanford band are probably thrilled.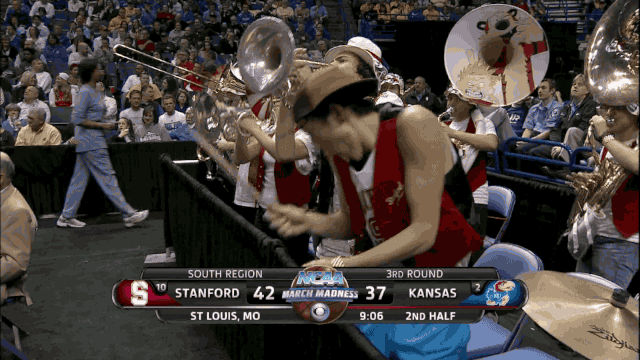 Contrast of styles for Virginia, Memphis
Hands-off approach for Memphis coach
Feinstein: Plenty to build on for GW after loss
Spartans hold off Harvard, 80-73
Gators, a No. 1 seed, roll past Pittsburgh
Michigan handles Texas with three-pointers
NCAA tournament basketball schedule
Bog: When D.C. public television showed college basketball
NCAA tournament bracket and historical database
Play The Bracket Challenge round-by-round
Photos: The best of the tournament | 68 teams, 68 facts