The play resembled something you'd see at your nephew's little league game. But this was Major League Baseball. With a perfect game at stake.
Cleveland pitcher Corey Kluber went from a perfect game after 6 1/3 innings to a loss after an errant throw by his own teammate. Errant might not be the best way to describe it. This 105-year-old woman who threw out the first pitch at the Padres game earlier this week might have had a better throw than the Indians' Ryan Raburn.
He first botched a diving catch on the Royals' Mike Moustakas's hit, ending Kluber's perfect game. Raburn then one-upped himself in bad plays by spiking the throw to center field, allowing Moustakas to score the go-ahead run as the ball dribbled on the field with one of the weirdest inside-the-park home runs ever.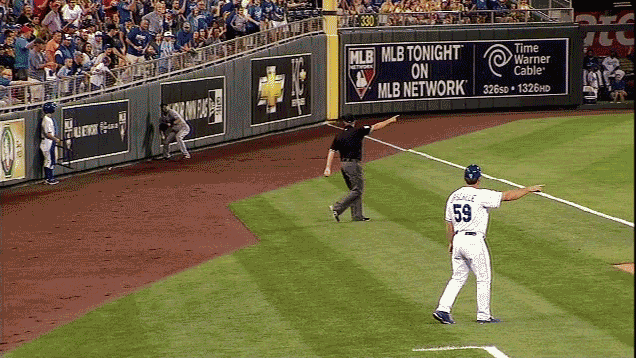 (Gif via Deadspin)
Kluber got the loss, and so did the Indians.
"I think I was more mad than he was," Raburn told reporters. "Crazy things can happen in a game. Of course, if there's a different scenario where we were winning by a lot, we can probably laugh about it. But the way the game was playing out, as tight as it was and as great of a game as he pitched, I don't think there's anybody who felt worse than I did."
Luckily for Raburn, Cleveland is still too busy celebrating LeBron James's return to make him the object of their recurring sports misfortune.