Let's not call it a thing yet, but considering two Cubs fans this summer have balked at the unwritten Wrigley Field rule that states fans should throw back balls they catch off of opposing team home runs, the tradition might be changing. While fans still appear to be throwing the balls back, they're actually throwing back dummy balls that they brought from home or caught during batting practice and keeping the home run balls. Watch this latest example, caught on camera during Monday's game against the Milwaukee Brewers.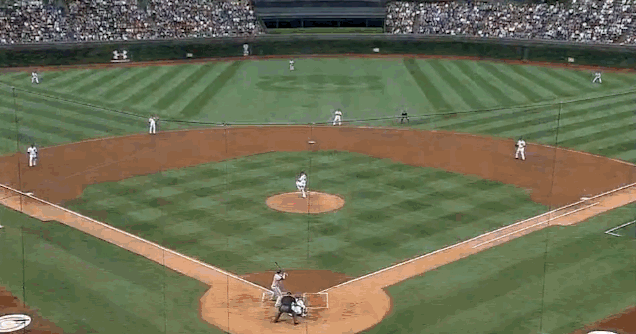 After you recovery from being mesmerized by this elderly fan's top-notch over-the-railing catch, watch what he does with the ball. You can see he has an alternative ball at the ready, which he picks up quickly, puts behind his glove then throws out onto the field. Meanwhile, the actual home run ball hit by Mark Reynolds remains nestled safely in his mitt.
Sneaky? Yes, but let's give the man some credit here. That was one heckuva catch! Plus, he's not the first one to pull the move.
Last month, another Cubs fan did the same thing, albeit not quite as smoothly, after he caught a home run ball off the Braves' Chris Johnson. It caused such a controversy that the broadcast team confronted the fan about it.
The fan kept his cool while fessing up to his bad manners, but indicated that he doesn't plan to quit the practice. Welcome to your new normal, Cubs fans.
(H/t: Deadspin)