Okay, we all know how tough hockey players are, as they are famous for getting bashed and gashed in all sorts of ways, only to return to the very same game. But a hockey fan displaying that kind of toughness? A 5-year-old hockey fan? That's impressive.
On Sunday, the AHL's San Antonio Rampage won a home game against the Texas Stars, 3-2. The contest went to overtime, but the most compelling part took place off the ice, after James Evans, 5, was accidentally hit in the head by a puck.
James had to be taken to an emergency room for stitches, which turned out to be three staples in his head, at which point, according to his father, the boy had one request from doctors at San Antonio's Children's Hospital. "He told the doctor, 'Can you hurry so I can go back to the game'," David Evans said (via mysanantonio.com).
The pair did, indeed, make it back to the game, in time for the final moments of regulation and the victorious overtime period. That inspired James's dad to create a meme out of a photo he snapped at the hospital.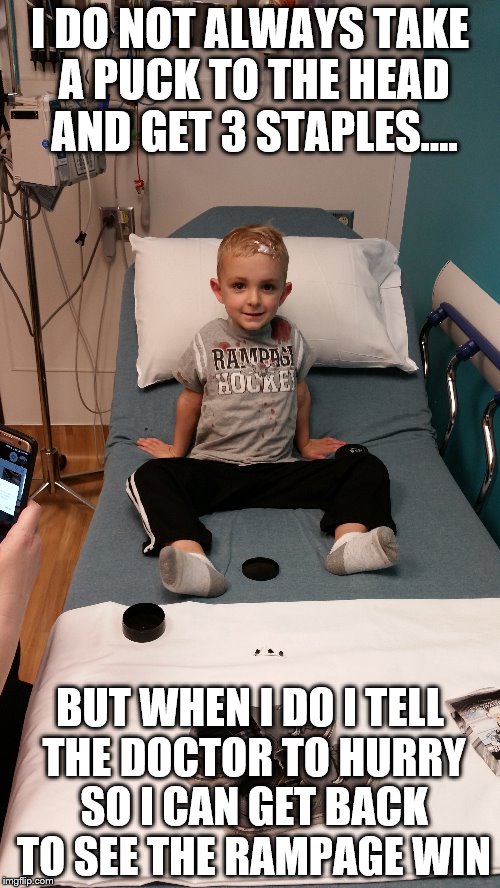 Yes, that's blood all over James's shirt. "He said, 'It's a hockey shirt, it needs blood on it'," Evans told My SA of his son.
Evans is in the habit of bringing James all the way down to the plexiglass during Rampage games, all the better for the child to take in the action and greet players as they warm up, and that was not about to change just because of a little bump-that-required-staples on the noggin. Before Sunday's game, the team had tweeted out a brief video clip of a kid who appears to be James fist-bumping players through the glass.
https://twitter.com/sarampage/status/714189027880996864
"He went right back to the glass [when they returned] – no fear, he's afraid of very few things," Evans said. "He says they won for him."
That may or may not be the case, but James has certainly set an example of toughness for us all. An example that I, for one, am unlikely to follow, but hat's off to the youngster (although maybe wearing some sort of hat would make sense for him from now on).
"A lot of people love that he's a really tough kid," Evans said. "He's all about sports and pain doesn't slow him down."