Votto seems to delight in tormenting the swells when the Reds are on the road. Earlier this year in Philadelphia (obviously), he had some fun with the close-in fans, especially one Phillies supporter who was razzing him over his allegedly small feet (he wears a size 13, if that matters).
He was entirely pleased with himself, as any good heel is.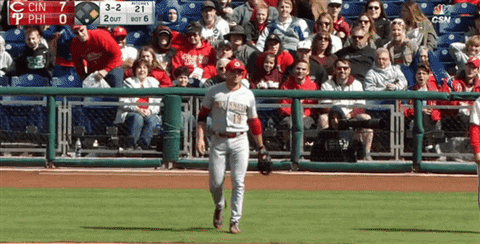 Votto continued to produce as the game wore on:
And then he trolled the fan he had just punked, mimicking his demand for the ball.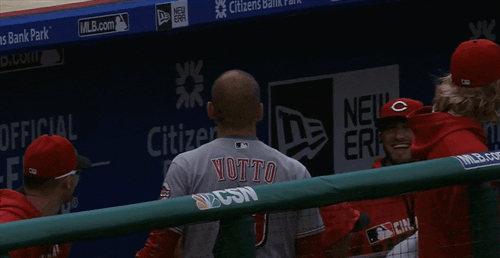 Some may say he's being a jerk here, but I won't. Baseball is supposed to be a fun game, and Votto is doing what he can to make baseball fun again (minus the hat).
"A high percentage of the guys and ladies and kids on the first-base side were smiling and laughing," Votto said after the Phillies game. "Fair game. I happened to pop in during the game and on TV the theme was I didn't give a ball to a kid, which is definitely not the case. I made a point to not give a ball to an adult that was giving me a hard time. So be it."
Asked for his response to fans who think he's over the line here, Votto was succinct: "Too bad."
And then he finished with a flourish.
"I have no problems with any of the Philly fans, except for the Philly fan kids," he said, smiling. "I can't stand kids here. Kids drive me crazy, Philly fans especially."