This is a report on the first Global Fact-Checking Summit, which The Fact Checker attended.
LONDON — FactCheck.org was started in 2003 by the Annenberg Public Policy Center at the University of Pennsylvania. The Washington Post's Fact Checker and the Tampa Bay Times' PolitiFact were launched in 2007.
But since 2010, scores of fact-checking Web sites have sprung up across the world. This week, under the auspices of the Poynter Institute, fact checkers from six continents and more than 20 countries, including Argentina, Australia, Chile, Egypt, India, Italy, Serbia, South Africa and Ukraine, gathered for the first time in London to exchange ideas and assess the state of the fact-checking movement. Lucas Graves, a University of Wisconsin scholar who is writing a book on the rise of journalistic fact checking, said only four of the sites represented at the conference existed before 2010. (Istinomer, based in Serbia, was founded in late 2009.)
Participants at the conference voted overwhelmingly to lay the groundwork for an international association of fact checkers, both as a way to highlight the work being done around the world and to serve as an annual forum for exchanging ideas. Duke University's Reporters' Lab, which helped organize the meeting, counts 48 active fact-checking organizations in the world.
Surveying the current field of fact checking organizations, what's fascinating is both how similar and different they are. All have a passion for holding politicians accountable for their statements. El Poligrafo of Chile in just 11 months has shaken the political foundations of the country with a series of exposes, including how many presidential candidates had fabricated their resumes. (The reports run in the El Mercurio newspaper; there is no Web site yet. Below is a video presentation of El Poligrafo's impact.)
Some organizations are clearly modeled on their American cousins, while others have a tone and attitude that uniquely reflects their country or region. About half of the organizations at the conference were affiliated with media institutions, while 34 percent rely on donor organizations, 7.5 percent are affiliated with universities and 7.5 percent with community groups.
Some, such as Full Fact of the United Kingdom, fact check the media as well as politicians — and seek out corrections in the newspapers. Meanwhile,  Ukraine's StopFake focuses on puncturing myths and exposing Russian propaganda that springs up in social media.
Margo Gontar, co-founder of Stop Fake, demonstrated how easy it is to discover whether photographs have been digitally manipulated for propaganda purposes. Here, for instance, is a picture of the eastern Ukrainian city of Donetsk in flames.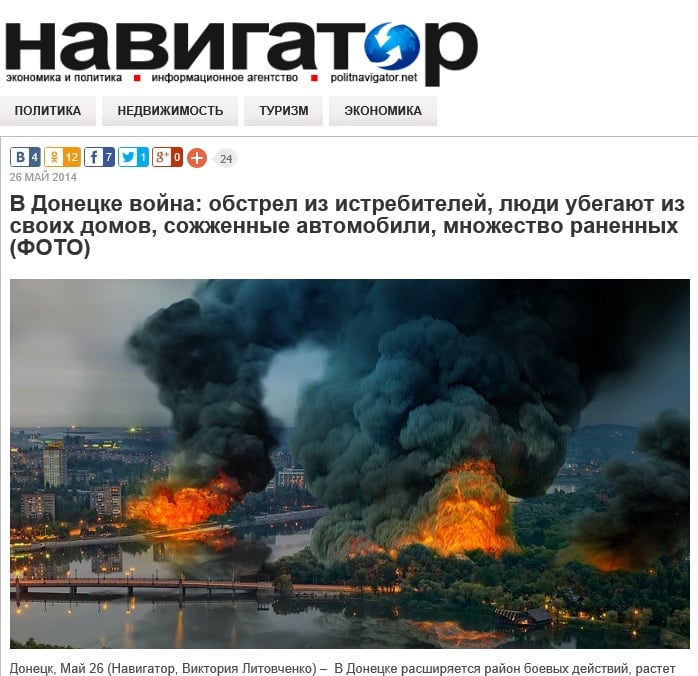 But it turns out the fires had been photoshopped into a photo by a well-known photo studio in Donetsk.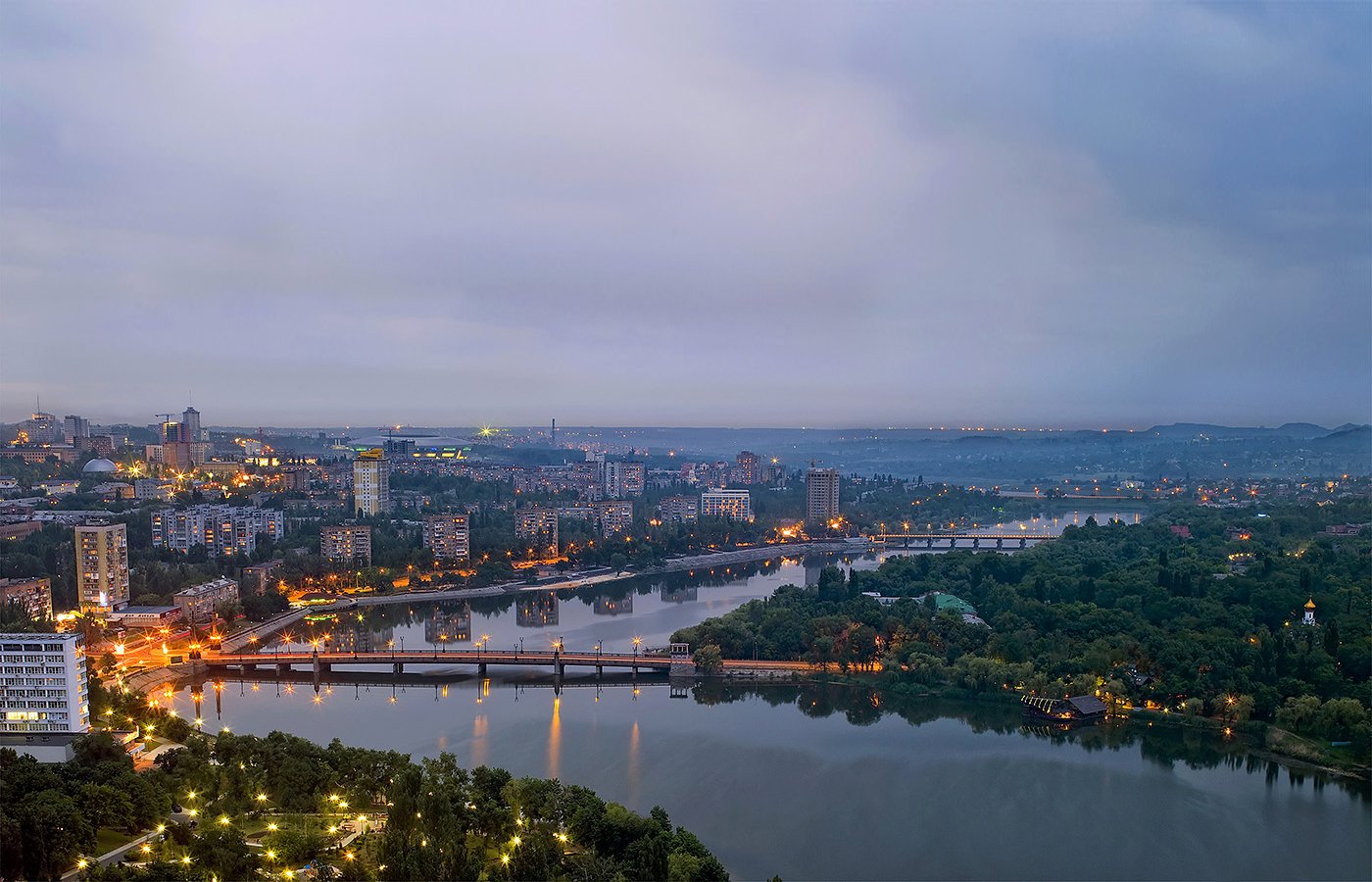 StopFake focuses much of its attention on social media  rather than newspapers, because, increasingly, that is how people get their news. There is certainly hunger for this information, as StopFake gets 50,000 unique visitors a day, Gontar said.
The Web site includes a how-to guide for readers to uncover their own untruths. AfricaCheck, a South African Web site, also features a guide for identifying fakes and hoaxes online.
Indeed, one important trend is that some of these organizations welcome and encourage fact checks from readers. Both AfricaCheck and FactCheckEU, a Belgium Web site that monitors statements by European parliamentarians, welcome contributions from readers. FactCheckEU accepts reader contributed fact-checks, translations from readers and even votes on the rating for the politician's statement. Readers also vote on the quality of the reader-generated fact checks in order to provide an incentive to produce good ones. (FactCheckEU's equivalent of Four Pinocchios is called "insane whopper.")
The Argentine group Chequeado ("Fact-Checked") enlists crowd-sourcing on major news events, such as speech by President Cristina Fernández de Kirchner, who appears to love to cite a litany of facts. The group also is assembling its own database of statistics, from experts and other sources, because data from government sources is suspect. This video shows how the group recently live fact-checked a speech. (Click on "CC" for subtitles.)
Some of the fact checking organizations have a substantial television presence. Australia's ABC Fact Check appears regularly on the Australian version of PBS. Here's an example of one of its fact checks:
Meanwhile, Italy's La Pagella Politica appears on a Friday evening show, "Virus" on Channel Rai2, that attracts 1 million viewers. Alexios Mantzarlis, co-founder of the site, appears on a slickly produced program with host Nicola Porro that features easy to understand graphics. Interestingly, as Mantzarlis renders his judgment, he is frequently interrupted with questions and objections from supporters of the person he is fact checking. The result is a lively and entertaining dissection of politics and policy. Here's an example:
Fact Check Georgia also produces television spots with particularly imaginative graphics:
In the United States, PolitiFact pioneered the idea of keeping track of a politician's promises — a concept that has also been embraced overseas. Egypt's MorsiMeter was a bold effort to track the 64 promises the now-ousted president said he would achieve in his first 100 days. (He ended up completing 10 of the 64.) There are no plans for "SisiMeter," as newly elected president Abdel Fatah al-Sisi apparently made no promises before the former general won a landslide victory. But the same technology has been used to create a "RouhaniMeter" that is tracking the campaign promises of Iranian president Hassan Rouhani.
Three out of four fact-checking organizations employ a rating system along the lines of The Fact Checker's Pinocchio scale, but some of the fact checkers adamantly reject the concept. Will Moy, director of Full Fact, said the site started with a rating system but then he dropped it because he decided it was "dodgy," especially because so many statements fall in a gray area between "true" and "false."
Graves has identified what he believes is the first fact check in an American newspaper — a 1985 article in The Washington Post by then-correspondent Glenn Frankel, checking assertions made by Ronald Reagan about apartheid in South Africa. So how did a concept that began with fits and starts in the United States suddenly burst on the international stage?
"The manufacturing of truth has become a multimillion dollar industry," said Neil Brown, editor of the Tampa Bay Times, who said that fact checking "meets the definition of innovation — filling an unmet need."
Traditional news journalism would allow politicians to make claims or statements without much scrutiny, in part because, before the explosion of information resources on the Internet, it was difficult to quickly verify what the speaker said, track down government reports, or find the right books. Now, instant transcripts or videos are available and government documents and books are on online. As some fact checking organizations have demonstrated, readers themselves can participate and contribute to the debate.
Some skeptics maintain that fact checking is merely another form of opinion journalism, disguised behind a veneer of objectivity. But Michelle Amazeen, assistant professor at Rider University, said that preliminary research indicates that during the 2008 and 2012 elections, The Fact Checker, PolitiFact and FactCheck.org reached the same conclusion on similar statements at least 95 percent of the time.
Below is an ABC Fact Check interview about the global rise of fact checking with Bill Adair, founder of PolitiFact and now Duke University professor, and Glenn Kessler. 
Send us facts to check by filling out this form
Follow The Fact Checker on Twitter and friend us on Facebook