You can't win your fantasy football league on draft day, but you can certainly lose it if you don't generate value from your selections. Getting value from every draft slot is key to filling out a roster that can be competitive every week. Some selections are easy, while others could be nothing but fool's gold.
Here are six players whose draft positions are not in line with the value they will offer throughout the season:
[The top 2018 fantasy football sleepers to draft late]
Overvalued
LeSean McCoy, RB, Buffalo Bills
3.04 ADP per Fantasy Football Calculator
The 30-year-old running back is dealing with serious accusations from an ex-girlfriend, and it is possible McCoy is placed on the commissioner exempt list while the NFL investigates. Even if you put McCoy's offseason issues aside, he is a risk at his current average draft position.
The six-time Pro Bowler, including a nod in 2017, saw his overall rushing efficiency drop to a career-low 4.0 yards per carry last year, with his yards per carry after contact dropping from 3.0 to 2.5 per rush from 2016 to 2017.
[The top 300 players for 2018]
McCoy also could have a sluggish start to the season. The Bills' first-half schedule includes the Chargers, Vikings and Packers, all teams expected to qualify for the playoffs, making it difficult for Buffalo to establish a lead and reducing opportunities available to McCoy on the ground.
Rob Gronkowski, TE, New England Patriots
2.11 ADP
When healthy, Gronkowski is one of the best, tight ends in the game, if not the best. But the injury experts at Sports Injury Predictor see Gronkowski missing almost five games this season, an alarming number for a player selected in the latter part of the second round.
Plus, fantasy experts aren't even sure Gronkowski is going to be the best tight end if healthy. Based on the consensus ranking tabulated at Fantasy Pros, two other tight ends, Travis Kelce and Zach Ertz, also are being considered as the No. 1 option at the position, with Kelce a consensus top-three pick. And Kelce isn't as big of an injury risk among those three, adding more uncertainty to any owner who calls Gronkowski's name as the first tight end selected.
The gamble on passing over Gronkowski is that he figures to be the favorite target of Tom Brady, with little competition among New England's other receiving options. But the risk of losing a second-round draft choice for nearly a third of the season outweighs the reward.
Andrew Luck, QB, Indianapolis Colts
8.05 ADP
Since he has been sidelined by shoulder issues, the last time we saw Luck on the field for a regular season game was New Year's Day 2017. Offensive coordinator Nick Sirianni told reporters that Luck is "[r]eally progressing nicely" and should get some reps Thursday night in the Colts' exhibition opener against the Seattle Seahawks.
But with 576 days (and counting) between meaningful starts, it's impossible to tell how well Luck, the eighth quarterback taken in mock drafts, will be this year. Even the experts at Fantasy Pros are stumped, with expectations ranging between the second- and 25th-best passer in fantasy football, a spread that could be the difference between him accumulating a projected 266 fantasy points or 117. The former total would be good enough to be a top-five option at the position, yet the latter is no better than a deep reserve, making Luck one of the riskier picks in the draft.
And if the goal is to keep Luck upright to reduce the risk of injury, that, too, is no guarantee. The game charters at Pro Football Focus rank the Colts' offensive line as the 17th-best. Indianapolis had the ninth-worst offensive line in terms of total pressures allowed (182 sacks, hits and hurries) last season.
Undervalued
Pierre Garcon, WR, San Francisco 49ers
7.08 ADP
There is a lot of hype surrounding the 49ers' offense this year. Quarterback Jimmy Garoppolo is the 10th passer selected in mock drafts, and tight end George Kittle is quickly becoming a fantasy darling. But for some reason, Garcon's stock has taken a hit, dropping him from an early to a late seventh-round pick over the past month.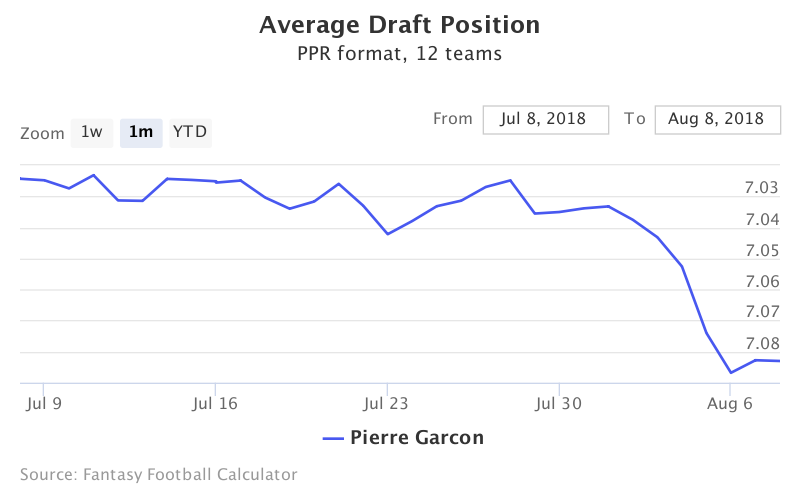 Volume, via targets, is the lifeblood of fantasy wide receivers, and Garcon's workload is as secure as ever. His lowest number of targets per game came back in 2009 (6.1), and he has been steadily increasing his volume each year over the past four seasons. He earned 8.4 targets per game in 2017 with San Francisco, almost double the average volume seen by a wideout (4.3).
[Are Deshaun Watson, Jimmy Garoppolo worth the risk?]
And given Garoppolo hasn't yet proved he can be consistent throwing the ball downfield — he was 4 for 16 on throws traveling 20 or more yards in the air last season — Garcon should continue to be the team's safety value in the short-to-intermediate passing game. He caught 25 of 28 catchable targets in the middle of the field last season, producing 254 yards and 13 first downs in just eight games.
Duke Johnson Jr., RB, Cleveland Browns
8.10 ADP
The Browns aren't expected to win many games in 2018 — they won none in 2017 — but Johnson's role is clear in the passing game. Josh Gordon, if available, will be out wide; Jarvis Landry will run routes from the slot; and tight end David Njoku will provide versatility, leaving Johnson to catch passes out of the backfield.
Johnson has caught at least 53 passes in each of his three seasons in the NFL, with a career-high 74 catches on 93 targets in 2017. Only Alvin Kamara and Todd Gurley were more efficient than Johnson on these opportunities.
Ben Roethlisberger, QB, Pittsburgh Steelers
10.11 ADP
Running back Le'Veon Bell and wide receiver Antonio Brown are bona fide early first-round picks, largely given their performance in the passing game. So it stands to reason the quarterback throwing those balls, Roethlisberger, should be valuable as well. Yet he's a fringe starter according to his current average draft position as the 14th quarterback off the board.
Part of the knock on Roethlisberger is connected to his home/road splits, which used to heavily favor his play at Heinz Field. But last season the difference between his passing performance at home and on the road wasn't as stark.
At the least, Roethlisberger is a good bet to get off to a fast start. According to Sharp Stats, the passing defenses Pittsburgh will face in the first half of the year are the fifth-easiest in the NFL, allowing Roethlisberger and the Steelers to put you in striking distance of a playoff spot before the bye weeks arrive.
More fantasy football:
The 50 best keeper-league and dynasty commodities
Don't hesitate to take Saquon Barkley in the top five
Colts tight end Jack Doyle is getting no respect in mock drafts
Tyreek Hill is going higher in mock drafts than he should be