Davey Johnson has recently noticed a concerning trend: the Nationals have struggled to bridge the starter to the late-inning relievers. On Wednesday night, Jordan Zimmerman left the game with a 6-1 lead after seven innings yet the Nationals only won 6-5 and had to turn to four relievers to finish the game. The night before, the Nationals were up 3-1 before a run was coughed up in the seventh inning to make the margin for error even smaller.
Through eight games of this nine-game homestand, the Nationals bullpen has been unreliable and inconsistent. They have been major reasons for two of the Nationals' only three losses during this stretch, both to the Atlanta Braves. The starters have posted a 2.34 ERA in 50 innings during this homestand, including two abbreviated four-inning starts. In the same span, however, the bullpen has posted a 5.50 ERA in 18 innings.
"I've got to get some help in the bullpen," Johnson lamented after Wednesday's victory. "I can't keep going to [Tyler Clippard] and [Rafael Soriano]. We should've been able to put that one away."
Since Drew Storen was demoted to Class AAA Syracuse, Johnson has used a combination of Fernando Abad, Ian Krol, Ryan Mattheus and Tanner Roark in the middle innings. Roark has yet to allow an earned run in six innings. Abad, however, has allowed a run in each of his two outings this homestand and Johnson has had to turn to Mattheus twice to clean up his innings.
But Mattheus hasn't been effective, either. He, in fact, hasn't been as sharp this season as he has in the past. And since his return from the disabled list, he has allowed seven runs in 6 2/3 innings, or a 9.45 ERA. Krol, too, has allowed a run in two of his four appearances during this homestand. On Wednesday, Krol was brought in to face the left-handers in the eighth inning. He massaged a groundout from Brandon Crawford but then Brandon Belt crushed a second-deck shot off him, the first home run allowed to a left-hander this season.
The inning then fell to Mattheus, who faced two right-handers, Buster Posey and Hunter Pence, and couldn't get either out. Both singled and then Pablo Sandoval doubled in two runs. Again, Johnson turned to his most reliable and high-pressure reliever, Clippard, to clean up the mess and he did. (Clippard did cost the Nationals a game against the Braves, but he has been so dominant the rest of the season it was a rarity and excusable.) And even though Soriano allowed three hits and a run on Wednesday and nearly cost the Nationals another game, those were the first baserunners he has allowed in six outings.
"We've just got to make better pitches," Johnson said. "I understand Krol. He's still feeling his way a little bit. But that's a pretty good-hitting ballclub over there and you've got to make pitches. We had some guys ahead in the count. Soriano had guys ahead in the count and give up a base hit. We've just got to make better pitches."
That also applies to Mattheus and the others who have stumbled of late. Their mistakes also highlight the importance of Storen. Despite varied roles when he was with the Nationals earlier this season, Storen was one of the team's key set-up men. He could bridge the starters to Clippard or Soriano. If Storen can correct his mechanics and struggles at Class AAA Syracuse, he could help restore order to the Nationals bullpen if others continue to struggle. At the very least, he could do that as a likely call-up in September. Storen has a 5.68 ERA in 6 1/3 innings for Syracuse, his last three outings all scoreless and two of them featured two strikeouts.
FROM THE POST
Denard Span makes an absurd game-saving catch as the Nationals beat the Giants, 6-5, and win their fifth straight game, writes Adam Kilgore.
Here's GIF of that catch, courtesy of cbssports.com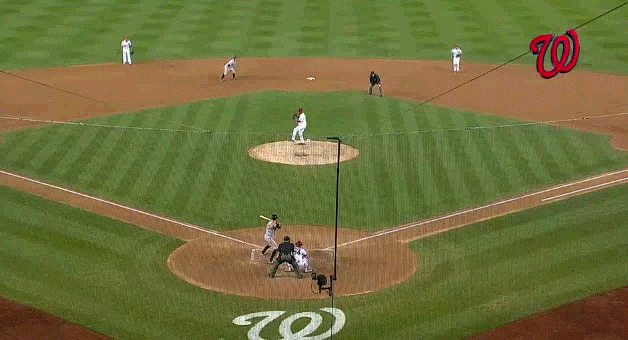 FROM YESTERDAY'S JOURNAL
Wilson Ramos' hamstring injury appears minor, to miss a few days
Davey Johnson says Gio Gonzalez-Jayson Werth spat shows Nationals 'have a pulse'
Gio Gonzalez's back feeling better, other rotation health updates
Nationals' Gulf Coast League team on a crazy tear
The Nationals' focus on the Reds
NATS MINOR LEAGUES
Lehigh Valley 4, Syracuse 1: Jeff Mandel allowed two runs over 5 2/3 innings. Drew Storen faced one batter and got a lineout. Michael Crotta tossed a scoreless frame and Erik Davis allowed two runs, one earned. Zach Walters went 1 for 3 and launched his 28th homer.
Trenton 4, Harrisburg 3: Nate Karns allowed four runs on 11 hits and struck out six over five innings. Neil Holland and Matt Grace combined to toss three scoreless innings. Justin Bloxom went 4 for 5 and Carlos Rivero added two hits.
Potomac 6, Frederick 2: Matt Purke allowed two runs on four hits and struck out three over six innings. He has a 5.40 ERA. Rafael Martin and Colin Bates combined to toss three scoreless innings. Adrian Nieto went 3 for 4 and Kevin Keyes went 2 for 4 with two RBI.
Hagerstown 5, Delmarva 0: Nick Lee struck out eight, walked one and allowed only two hits over eight scoreless innings. Derek Self tossed a scoreless ninth. Tony Renda, Mike McQuillan and Wil Piwnica-Worms each smacked two hits.
Auburn 3, Williamsport 0: On rehab, Blake Treinen tossed two scoreless innings. Robert Orlan notched the win with five scoreless and John Simms earned the two-inning save. Bryan Lippincott went 1 for 3 with a homer. James Yezzo added an RBI.
The Nationals GCL team is now 41-6. That's almost unreal.