The first day of the season is supposed to be filled with hope, not scary moments. But in the second inning of the season opener in New York, Nationals outfielder Bryce Harper lay at second base, his helmet off, being tended to by head trainer Lee Kuntz with Manager Matt Williams at his side.
Harper led off the second inning by drawing a walk off starter Dillon Gee. The next batter, Ian Desmond, hit a ground ball to third baseman David Wright, who started a double play. Wright fired the ball to second baseman Eric Young Jr. Harper, who appeared to start his slide slightly late, slid into Young. The second baseman jumped to complete the throw to first base and Harper slid into Young's right leg.
Harper's helmet flew off and his head snapped back after hitting Young's shin. Harper collapsed to the ground and didn't get up for a few moments. Kuntz and Williams ran out to talk with Harper, who then sat up. Slowly, he stood up on his own power and walked off the field. Harper's slide broke up the double play and Desmond reached base safely, and later scored a run on Adam LaRoche's two-run home run.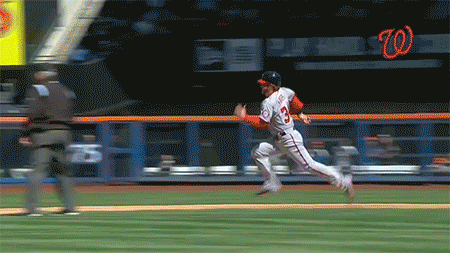 The next inning, Harper took his position in left field and remained in the game.
While dealing with the lingering effects of his wall collision last season, notably his left knee and hip injuries, Harper talked himself into the lineup a handful of times before finally needing rest.
It is unclear if Harper underwent any concussion tests before returning to the game. Under rules instituted by MLB in 2011, there are protocols for evaluating players for possible concussions and high risk incidents, such as collisions or hits to the head. Each team must designate a specialist to evaluate players and umpires and send medical reports to the league's medical director for approval before the injured player or umpire is cleared to return to the field. A seven-day disabled list was created only for concussions.
More on this later.