THE BIG IDEA: Stop underestimating Jeb Bush. As the former Florida governor prepares to officially announce his candidacy at 3 p.m. in Miami, his operation is beset by unfavorable comparisons to the juggernaut that George W. Bush built in 1999. That summer, the Texas governor was scaring candidates like John Kasich out of the race with record fundraising, winning the Iowa straw poll and making inroads with evangelicals.
Jeb, by contrast, shook up his campaign leadership team last week after an extended rough patch. He's either fourth or seventh in Iowa, depending on the poll. He's struggled to distance himself from his brother, especially on questions relating to Iraq. And Kasich, now the governor of Ohio, is preparing to get into the race because, as he puts it: "I thought Jeb would take up all the oxygen. He hasn't."
But while Jeb has lost momentum, and the mainstream media narrative has turned against him, he continues to have as good or maybe even greater odds as anyone else of becoming the Republican nominee. Let's not forget: he'll have massively more money than all the other GOP candidates, he could prevail without Iowa (as his dad did in 1988) and the field remains incredibly fragmented (which means he could win early contests with a thin plurality). Even diminished, it's conceivable that Jeb could win the New Hampshire primary if it took place this week. Here are four other reasons why it's premature to write Bush's political obituary:
1. Jeb remains the establishment favorite, and the establishment favorite has won the Republican nomination every time since 1988. The more apt analogy for Jeb than George W. Bush in 1999 might be Mitt Romney in 2011 or John McCain in 2007. Both were considered damaged goods at this stage, but they outlasted everyone else because they had the most support from core party leaders. Heavyweights, such as Speaker John Boehner, see him as a proven commodity. After eight years in the wilderness, they want to get the White House back — and they see a two-term governor from a must-win state, not to mention the husband of a native Mexican, as their most electable option.
2. His record is more conservative than most primary voters realize. Bush is bedeviled by his apostasies, support for Common Core education standards and legal status for undocumented immigrants. But the ex-governor has a long list of accomplishments that will play well with very conservative base voters who now view him unfavorably, including ending affirmative action at in-state colleges, expanding gun rights, signing tax cuts and fighting to keep Terri Schiavo on life support.
3. George W. Bush is still popular among Republicans. Bush Fatigue is real, as is voter leeriness about dynasties, but it's not as bad in the primaries as it would be in a general election. A CNN poll this month found that the previous president has a slightly higher favorability rating than Barack Obama. The poll found 88 percent of Republicans view him favorably. That's consistent with early-state surveys, as well. 
4. The last few months helped get the rust off. Jeb's name has not appeared on a ballot since 2002, before the formation of Facebook or YouTube. Unlike Hillary Clinton, he's gotten lots of recent practice mixing it up with press scrums. He's made mistakes, such as twisting himself into contortions over whether he would invade Iraq again knowing what we know now. But his campaign team believes most real people were not paying attention during the imbroglio. "People make up their mind in the last weeks of these primaries," Bush himself told CNN in an interview broadcast Sunday. "So my expectation is that we'll have slow, steady progress."
Three things to watch during Jeb's speech at Miami Dade College this afternoon: Ed O'Keefe, our Bush beat reporter, e-mailed what he'll be on lookout for in a wide-ranging Q&A late last night. "Word is he's got a plan to create 19 million new jobs. How? By when? Doing what? … Bush also talks incessantly about the need to 'show my heart.' As a self-professed introvert, how deeply will he take us inside his soul? … Finally, he's speaking Monday at one of the most diverse colleges in America, in a city that increasingly reflects what the rest of the country will begin to look like as the century progresses. How will he embrace the atmospherics of the venue?" Ed also talked with The Daily 202 about the impact of last week's shake-up, how tall Jeb is and what else has surprised him the most about covering Bush full-time in this Q&A.
Sign up to receive The Daily 202, James Hohmann's new political tipsheet
— Hillary Clinton wants you to know: she's a Nancy Pelosi Democrat. The Democratic front-runner breaking with the president on trade (sort of) was Sunday's biggest news. After strategically waiting for months to take a firm position, the ex-secretary of state sided with House Democrats over President Obama. But she also avoided specifically saying how she would have voted on Friday, when rank-and-file progressives disregarded personal pleas from the president and voted down one of his top priorities.
As my colleague Philip Rucker notes in his dispatch from Des Moines, Clinton gave herself lots of wiggle room with nods to the left but also to free-trade supporters. Bernie Sanders, a rival for the nomination, attacked her last night for continuing to be wishy-washy. Here's her verbatim quote: "In order to get a deal that meets these high standards, the president should listen to and work with his allies in Congress, starting with Nancy Pelosi, who had expressed their concerns about the impact that a weak agreement would have on our workers, to make sure we get the best, strongest deal possible. And if we don't get it, there should be no deal."
Hillary repeatedly dropped Pelosi's name throughout her Sunday in Iowa. Besides the speech at the fairgrounds, she invoked the San Francisco congresswoman's name at least five times during a house party in Burlington. She cited her again during an interview with Radio Iowa. The first woman speaker of the House is a big booster of Clinton's, and she has cachet among the progressives Clinton is trying to woo. Still, it's unusual to hear a national candidate trying so hard to link herself with a polarizing congressional leader. In fact, it is very hard to imagine any of the leading GOP candidates praising Boehner or Mitch McConnell on the stump in Iowa.
She even praised Pelosi for her role passing Obamacare: "I remember calling President Obama after the Affordable Care Act passed, and he said, 'Nancy, she really made it happen,' so I called her," Clinton said in Burlington, according to a pool report from the Boston Globe's Annie Linskey. "She's been a great partner both in the majority and minority for the president. And when she finally declared herself that she would have to oppose it, because it didn't do enough for the American worker, my view is the White House should call Nancy and a few other of the Democrats to say, 'What would it take to get an agreement that would be better and not worse for American workers?'"
WHILE YOU WERE SLEEPING:
— The Pentagon acknowledged that the United States led an operation inside Libya over the weekend. "Libya's recognised government has claimed that the militant Mokhtar Belmokhtar, charged by the US with leading the deadly attack on a gas plant in Algeria in 2013, was killed in an American air strike over the weekend," the Guardian reports. "An official said Belmokhtar was killed in a raid on the eastern city of Ajdabiya. The US confirmed that he was the target of a strike, but could not confirm whether he was killed in the raid. There have been reports in the past that Belmokhtar had been killed, but these have never been independently confirmed."
— A fresh report from the International Energy Agency finds that greenhouse gas cuts are not meeting agreed-upon targets. "In a major report to be released Monday, the Paris-based International Energy Agency — which provides independent energy analysis and has 29 member countries, including the United States — will state that current national commitments to cut greenhouse gases are still insufficient to keep the world below two degrees Celsius of warming above preindustrial levels," Chris Mooney reports.
GET SMART FAST:
1. The Supreme Court is expected to hand down one or more decisions at 10 a.m., the first of two batches this week. We're awaiting potentially landmark judgments involving gay marriage, Obamacare subsidies or lethal injection.
2. House Majority Leader Kevin McCarthy (R-Calif.) is expected to say today that there will be a revote on trade this week, specifically assistance for displaced workers, after Democrats torpedoed the measure on Friday.
3. Tomorrow, the House Select Committee on Benghazi will depose Clinton family friend Sidney Blumenthal "about why he e-mailed the former secretary of state unsubstantiated intelligence on Libya, whether he was paid for the work and whether he used his Clinton connections to help his business partners," per Politico.
4. The man who was killed by police early Saturday after he fired dozens of rounds at Dallas police headquarters had a history of mental health problems, his mother told the Morning News.
5. Scott Brown has been volunteering at a bike shop since losing the New Hampshire Senate race. "Brown has learned the basics of bike maintenance and repair," the Foster's Daily Democrat reports. "He's also assembled almost 40 bikes under the guidance of longtime mechanic Dean Merrill…. He's starting to feel more confident and he's served as the on-site bike mechanic for recent cycling events in Rye."
WAPO HIGHLIGHTS:
— "How a devastating loss in Florida taught Jeb Bush what it takes to win," by Karen Tumulty: "Humbled by defeat the first time he ran for office [governor in 1994], Bush spent the mid-1990s broadening and deepening his knowledge of how his state worked, forging relationships that softened his profile and striving to talk about what he believed in a way that would bring people together. 'I learned tone,' Bush said in an interview. 'You can say the same thing that represents your core beliefs in a way that draws people toward your message, rather than pushes people away."
— "Security clearance companies still sacrifice thoroughness, workers say," by Christian Davenport: "For years, investigators charged with vetting the backgrounds of those who handle the nation's secrets have said they were pressured to churn through cases as quickly as possible. The faster they turned them in, the faster their company got paid — even if the investigations were rushed and incomplete. The company, USIS, lost the contract to conduct background checks used in granting security clearances after an employee blew the whistle in a lawsuit, eventually joined by the Justice Department…. Federal officials vowed to prevent such abuses from ever happening again. But a similar quota system used by USIS to drive its investigators continues at the companies that now perform the bulk of the investigations — and in some cases is even more demanding, according to internal company documents and interviews with current and former investigators."
Read more of PowerPost, the new Washington Post vertical for leaders
SOCIAL MEDIA SPEED READ:
— ZIGNAL VISUAL — Hillary successfully used her Roosevelt Island speech to control the news cycle: This weekend, from Saturday morning at midnight to midnight on Sunday night, she dominated 59 percent of the media conversation. That means three out of every five stories or posts written about any presidential contender mentioned Clinton. (By comparison, the week prior, she commanded 20 percent). And this word cloud shows that she was able to control what people were saying — which is not always easy for a Clinton:
Clinton's mentions skewing far more favorable than in previous weeks. The stats from Zignal Labs also shows sentiment was 64 percent positive over the 48-hour weekend, compared to just 50 percent during the week prior. While not a precise barometer, it does broadly illustrate the trend — the coverage of Clinton this weekend was more positive than it was at the beginning of the month. The five most circulated tweets related to Clinton all came from Bill or Hillary's official accounts.
— WHAT EVERYONE IS TALKING ABOUT:
Pictures of the day:
"This is taking #stoputurnsonpenn a little far." — Washington Post tablet editor Andrew Heining, tweeting from downtown DC over the weekend (@andrewjh)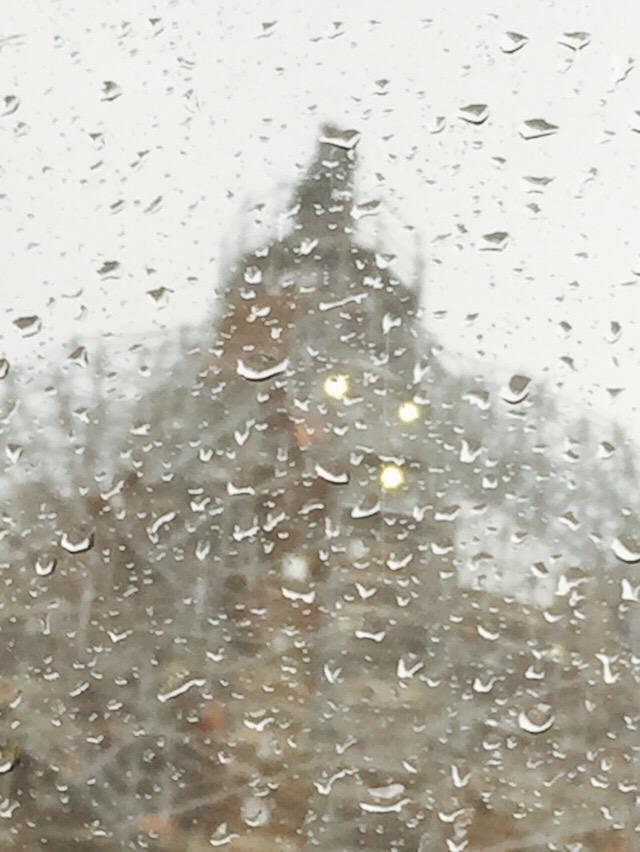 It was a tough weekend weather-wise between Saturday's heat and Sunday's rain. "I picked the wrong Sunday to make brief stop in Capitol without umbrella," tweeted Washington Post congressional reporter Paul Kane. "At this point I'm being held hostage." (@pkcapitol)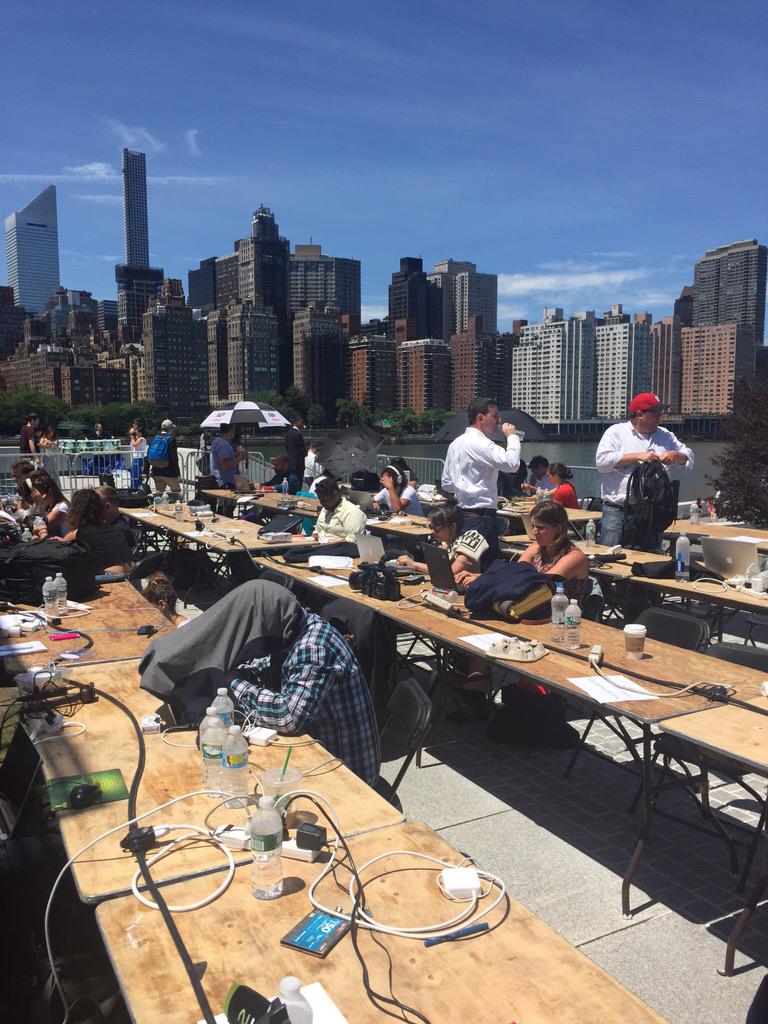 In New York City, meanwhile, reporters faced strong sun while covering Hillary Clinton's campaign announcement. "Pro-tip: Don't need shade if you use a typewriter," tweeted Philip Bump, contributor to The Fix. (@pbump)
Tweets of the day: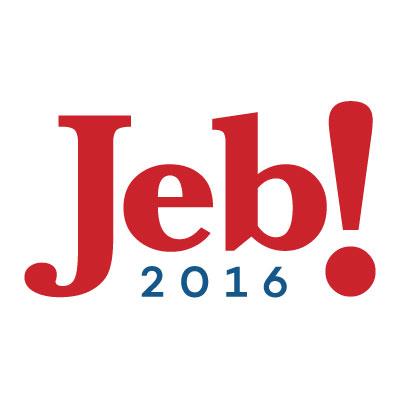 Jeb Bush's team unveiled his soon-to-be campaign logo on Sunday to mixed reviews. (Jeb Bush)

The design drew comparisons to another campaign logo from the 1996 presidential bid of Sen. Lamar Alexander (R-Tenn.), though strategist Mike Murphy said Bush used the formula first. Observers also noted the absence of the "Bush" name. (@costareports)
"Jeb! has used the same logo since 1994," noted BuzzFeed Politics writer Andrew Kaczynski. (@BuzzFeedAndrew)
And, of course, the parodies emerged quickly.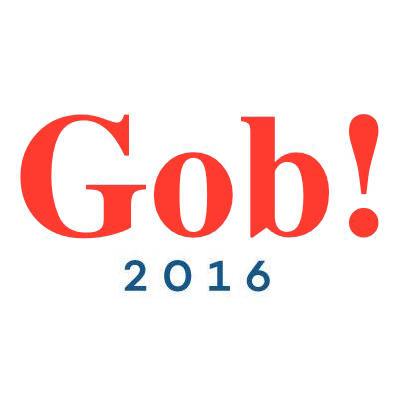 Tweeted by New York Times culture reporter and apparent Arrested Development fan Dave Itzkoff (@ditzkoff)
Instagrams of the day:
But we wanted to see Charlotte! Hillary Clinton poses for a family photo ahead of her Roosevelt Island speech. (hillaryclinton)
Facebook posts of the day:
Rep. Rosa DeLauro (D-Conn.) is on a victory lap following Friday's trade defeat in the House. "Happy Flag Day!" she wrote Sunday on Facebook. (Rosa DeLauro)
Today in cute dogs: "Welcome to Darcy – the newest member of our family!" (Rick Santorum)
GOOD READS FROM ELSEWHERE:
— Wall Street Journal, "In Ferguson, Mo., a Long Road Getting Back to Business": "Nearly half of the roughly 500 businesses operating in Ferguson and adjacent communities, such as Dellwood and Jennings, suffered property damage or lost revenue as a result of the unrest, according to the regional development association, North County Inc. Sixteen businesses closed. Seven of those have yet to reopen, while four have relocated, according to a city tally."
— Los Angeles Times, "Border Patrol absolves itself in dozens of cases of lethal force": "A U.S. Border Patrol agent who killed an unarmed 15-year-old Mexican boy by shooting him in the face after a rock-throwing incident on a border bridge to El Paso in 2010 was recently cleared of wrongdoing by the agency's internal affairs office. So was a Border Patrol agent who shot and killed a 17-year-old Mexican who threw rocks from the Mexican side of the border fence near Nogales, Ariz., in 2011. Internal affairs also cleared an agent who shot and killed a 19-year-old U.S. citizen as he climbed over a border fence into Mexico near Douglas, Ariz., in 2011. Agents said the man was seeking to flee after driving a narcotics-laden truck into a Border Patrol vehicle. In all, an internal investigation of 67 shooting incidents, which left 19 people dead, absolved agents of criminal misconduct in all but three cases, which are still pending."
— Des Moines Register, "Clinton hears 'eagerness' for talk of female presidency," by Jennifer Jacobs: "Clinton's campaign in 2008 downplayed the fact that she'd be the first woman in the White House. But in 2016, she's making it a major selling point — that she's running as a female candidate … Clinton noted [during an interview with the paper] that there have been a raft of TV programs that have featured women in power, such as 'Veep,' the HBO series starring Julia Louis-Dreyfus as vice president, then president, and 'Madam Secretary,' the CBS show in which Téa Leoni stars as U.S. secretary of state. Other shows, such as 'Gilmore Girls,' which ran from 2000 to 2007, featured characters who repeatedly voiced the wish that Clinton would become president … 'It does take a leap of faith of imagination for people to envision a woman in the Oval Office, and oftentimes culture, entertainment is ahead of the political system in lots of ways,' she said."
— Miami Herald, "How Miami made Jeb Bush," by Patricia Mazzei: "For Bush's Cuban-American loyalists, it's no betrayal to back Bush over Rubio, his one-time protégé. 'Jeb is Cuban. He's Nicaraguan. He's Venezuelan,' said U.S. Rep. Ileana Ros-Lehtinen, one of three Cuban-American Republicans from Miami in Congress, all of whom have endorsed Bush. 'The stamp of South Florida is in his DNA.'"
— Palm Beach Post, "The biotech bonanza Jeb Bush hoped for? It didn't go as planned," by Jeff Ostrowski: "Bush announced in October 2003 that he would pay Scripps $310 million [in state money] to open a Florida lab. Palm Beach County sweetened the pot with $269 million. Then a popular and powerful second-term governor whose brother was in the White House, Bush envisioned a biotech bonanza — 50,000 jobs in 15 years, demand for millions of square feet of biotech space in northern Palm Beach County, a flood of donations from Palm Beach's wealthy philanthropists. None of those promises has materialized. While Scripps Florida met its state-required hiring goals and brings in a steady stream of research grants from the National Institutes of Health, even biotech boosters admit that there's no sign of the private-sector boom Bush envisioned."
BUZZING AT THE CAPITOL:
— National Journal, "Democrats set to block defense bill amid GOP attacks," by Fawn Johnson: "Senate Democrats hope to stop a lauded defense authorization bill this week before President Obama has a chance to veto it. It will mark their latest, but by no means last, vote in protest of mandatory across-the-board budget cuts that were agreed to four years ago as part of a deal to avert a global fiscal crisis."

— Politico, "Ryan still 'optimistic' about stalled trade bill," by Elena Schneider: "House Ways and Means Chairman Paul Ryan says he's still he's still 'optimistic' that the stalled trade legislation 'can be turned around,' but left the responsibility for flipping Democratic votes to President Barack Obama. 'The president has a lot of work to do with his own party to turn this around,' the Republican congressman from Wisconsin said on 'Fox News Sunday.'"

— Roll Call, "Chaffetz threatens subpoenas over OPM hack," by Matt Fuller: "Subpoenas could be headed out to officials at the Office of Personnel Management after a massive data breach gave hackers sensitive information for millions of government workers, Oversight and Government Reform Chairman Jason Chaffetz said during a taping of C-SPAN's 'Newsmakers' program. Chaffetz's committee is holding a hearing on the data breach on Tuesday."

HOT ON THE LEFT
State rep suggests abortion is to blame for California drought. From The Huffington Post: "While speaking at the California ProLife Legislative Banquet last week, California Assemblywoman Shannon Grove (R) suggested a theory that the state's worst drought in 1,200 years may be divine retribution for California providing women with access to abortions…. 'Texas was in a long period of drought until Governor Perry signed the fetal pain bill,' she told the audience. 'It rained that night. Now God has his hold on California.'"
HOT ON THE RIGHT
Embattled NAACP leader Dolezal cancels chapter meeting. From KREM-TV, via USA Today: "Amid unanswered questions about her ethnic identity and continued leadership, local NAACP acting president Rachel Dolezal on Sunday canceled a Monday meeting of the chapter [in which she was expected to address the controversy]…. Dolezal's parents said Thursday that she was born Caucasian and has been deceiving people into thinking she was African American since 2004."
DAYBOOK:
— What's happening today on the campaign trail: Jeb Bush will launch his bid for president at 3 p.m. in Miami. Hillary Clinton will attend several events in New Hampshire. Sen. Rand Paul (R-Ky.) will hold a meet-and-greet in Lexington, S.C. Scott Walker remains in Canada on a trade mission. Jim Webb is in Iowa for a multiday trip.
— On the Hill: The Senate will resume consideration of its defense authorization bill. The House will consider seven bills under suspension of the rules.
— At the White House: President Obama will participate in the White House Mentorship and Leadership Graduation Ceremony at 2:05 p.m. Press Secretary Josh Earnest will brief the media at 12:30 p.m.
QUOTE OF THE DAY: "Born and bred in Brooklyn" — Justice Ruth Bader Ginsburg notes a similarity between herself and the late rapper Notorious B.I.G. during a Saturday appearance at the American Constitution Society's convention (Hipster attorneys have taken to wearing T-shirts that say "Notorious R.B.G.")
NEWS YOU CAN USE IF YOU LIVE IN D.C.:
— It will be steamy and stormy all week long, and particularly hot today, according to the Capital Weather Gang.
— The Warriors beat the Cavaliers 104-91 in Game 5 of the NBA finals.
— The Redskins will kick off training camp in Richmond on July 30 and hold 13 practices at their training center.
— John Boehner was spotted last week by an In the Loop fan eating his favorite dish at his standby Barracks Row restaurant, Trattoria Alberto, Al Kamen writes for In the Loop. Manager Juan Buruca says the House speaker has a standing special known as "Veal Alla Boehner," with the veal lightly breaded and baked, which seems quite healthy — until you put the fried egg and anchovies on top. It's $25.95. (But only $16.95 for lunch.)
VIDEOS OF THE DAY:
Zoo animals are on the loose in Tbilisi following a flood. (BBC News)
"If you're single, there is nothing wrong with you." (Face the Nation)