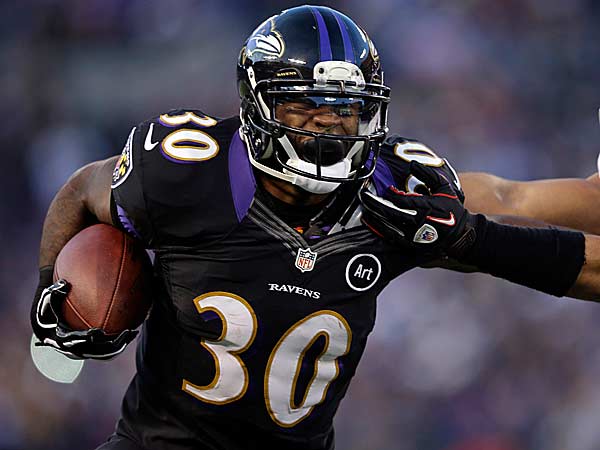 OWINGS MILLS, Md.—After two seasons as Ray Rice's understudy, Bernard Pierce is poised to move into the Baltimore Ravens' starting lineup at tailback for the first two games of the regular season while Rice serves his suspension imposed by the NFL last week for a domestic violence incident earlier this year.
It perhaps is an opportunity for Pierce, a third-round draft choice by the Ravens in 2012 out of Temple, to demonstrate that he can be a reliable centerpiece runner in the NFL. The Ravens open the season with two games at home against AFC North opponents in a five-day span, Sept. 7 against the Cincinnati Bengals on the season's opening Sunday and four days later against the Pittsburgh Steelers in a Thursday night game.
Pierce expressed confidence following the Ravens' training camp practice here Thursday that he will be productive if given the chance.
"I've never looked at myself as a No. 2 back or a backup," Pierce said. "If my number is called, I'm gonna perform. I'm gonna show up."
Those in the Ravens organization have remained steadfastly supportive of Rice while the controversy sparked by his suspension, which many observers have called too lenient, has raged. Pierce calls Rice a close friend and said the issues related to Rice's suspension are put aside by Ravens players when they're on the field readying for the season.
"When we're on the practice field, you really can't think about that because at the end of the day, like I said, we're out here and everybody's trying to win their job," Pierce said. "But from a friend–and a good friend, at that–standpoint, I'm out here to support him 110 percent and whatever he goes through, I'm always gonna be there to make sure he can count on me, call me. If he needs me, I'm there."
Pierce has totaled 968 rushing yards in his two NFL seasons, 532 of them as a rookie in 2012. He averaged only 2.9 yards per carry last season after averaging 4.9 yards per rushing attempt as a rookie. That mirrored Rice's decline, from 4.4 yards per carry in 2012 to 3.1 yards per attempt last season.
According to Pierce, he has not changed his approach to preparing for the season based on the prospect of an increased early workload.
"I'm just fighting and competing like everybody else," he said. "I really don't try to think too far ahead because at the end of the day, the job is still up in the air. Nobody has been declared the No. 1 back. So as of right now, I'm just out here just fighting for a position, just doing my job."