There are 33 Senate seats up for re-election in five weeks time. But, none has come close to equaling the amount of national media coverage (and money) that the race between Sen. Scott Brown and Elizabeth Warren in Massachusetts has already drawn.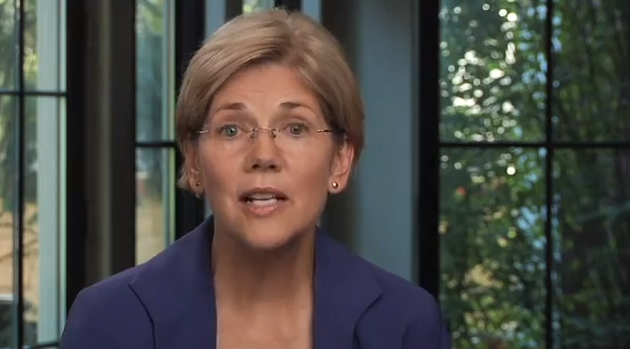 There's a good reason for that: The Massachusetts race has major implications for the 2016 presidential field. What, you say?  2016? Let's get through 2012 first.  Fair enough. But, there is a relatively clear case to be made that what happens in 35 days time could have a major impact on the 2016 Democratic presidential race.  
Here's why: Even before she ran for the Senate, Warren was a national folk hero among the liberal left thanks to her work overseeing the spending of the Troubled Asset Relief Program (TARP) funds and as a major mover in the founding of the Consumer Financial Protection Bureau.
Two pieces of evidence make that case convincingly:
* A video of Warren insisting that "there is nobody in this country who got rich on his own" became a viral sensation on the left last year -- and now has nearly 1 million views on You Tube.
* Warren was greeted as a conquering hero during her speech at the Democratic National Convention and sounded the sort of populist calls to action -- "for many years now, our middle class has been chipped, squeezed, and hammered," -- that have earned her the undying love and affection of Democratic partisans. 
Combine that sort of fervor for Warren with her fundraising ability -- as of mid August, Warren had raised an amazing $28 million for her bid in the space of a single year -- and the fact that there is an open slot for a female candidate in the 2016 field (assuming, of course, Secretary of State Hillary Clinton keeps to her pledge not to run) and you arrive at a simple conclusion: Elizabeth Warren has a direct-ish path to top-tier status in 2016 if she winds up winning this fall.
"If she wins, she has a rich history-making narrative, which would put her in the first tier of '16ers like [Martin] O'Malley, [Andrew] Cuomo and [Mark] Warner," said Michael Meehan, a Democratic consultant with long ties to the politics of the Bay State. (Meehan noted that if Warren is elected, she would be the first woman to be elected either governor or Senator in Massachusetts.)
Others in the Democratic political world agreed with Meehan's assessment although they all insisted that she had to stay focused on 2012 first. (Um, duh. That kind of goes without saying.  See Allen, George.)
To be clear: The Warren-Brown 2012 race doesn't offer a direct parallel to the 2006 Clinton re-election race in which the prospect of the New York Democrat running for president in 2008 hung heavy over the proceedings. (It's also far more competitive than that race which Clinton won with 67 percent of the vote.)
And, while Warren would certainly have a legitimate claim to the top tier in 2016 -- she would likely be competing with the likes of New York Sen. Kirstin Gillibrand and Minnesota Sen. Amy Klobuchar for the slot of most prominent woman in the contest -- there's also plenty of reason for caution about the prospect of Warren as a national candidate even if she does win.
"I think Massachusetts is a tough state," said one senior Democratic strategist with close ties to the Commonwealth. "From the moment [Warren] gets elected, the local media will be testing her.  Clinton had a similar, but bigger challenge with the New York media, but Elizabeth Warren is not Hilary Clinton."
All true.  And, those close to Warren are doing everything they can to beat back chatter about her next steps if she is able to win this fall -- a smart strategy given that Brown is doing everything he can to cast her as a figure more rooted in the national Democratic movement than in local Massachusetts politics. (Democrats also note that there is already speculation about Brown as a national candidate moving around the state.)
But, if the three most important elements of running for president are a) an emotional connection with the base b) a demonstrated fundraising ability and c) a slot that you naturally fill  in the race, then Warren's potential as a serious 2016 candidate is hard to dispute.
So, remember that the fight between Brown and Warren isn't only about who will represent Massachusetts in the Senate for the next six years. It could well be a make or break moment for Elizabeth Warren as national candidate in the near future.