Virginia Lt. Gov. Bill Bolling's decision to bow out of the race for the GOP gubernatorial nomination on Wednesday sets up a political junkie's dream general election next year between former Democratic National Committee Chairman Terry McAuliffe and state Attorney General Ken Cuccinelli.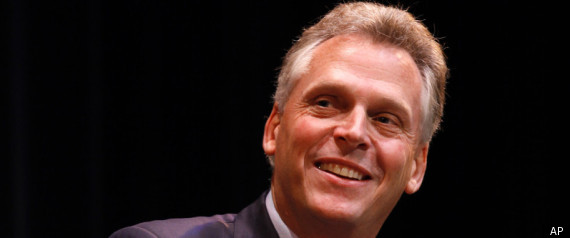 Both men are already national figures, are expected to be able to raise tens of millions for the race and are the sort of quotable types that reporters love to cover. McAuliffe and Cuccinelli also have something else in common: Neither man could likely win a general election against anyone other than the person he is going to run against next year.
Polling tells the story.  
While nearly seven in ten respondents in a recent Quinnipiac University poll said they didn't know enough about McAuliffe to offer an opinion on him, those that did were deeply divided -- with 17 percent saying they viewed the former DNC Chairman favorably and 13 percent regarding him in an unfavorable light.  The story was basically the same for Cuccinelli. While he is better known than McAuliffe (just 45 percent don't know enough to offer an opinion), public opinion is also strongly split with 29 percent regarding Cuccinelli favorably and 24 percent seeing him unfavorably. (Not surprisingly, a head-to-head race between McCauliffe and Cuccinelli starts off close with the Democrat taking 41 percent to 37 percent for the Republican.)
What those numbers make clear is that while neither McAuliffe nor Cuccinelli are universally well known among Commonwealth voters, both men drive strong feelings -- negative and positive -- among those who do know them. 
Put another way: If you love McAuliffe -- the glib, fast-talking, BFF of Bill Clinton -- you really love him. And, if you love Cuccinelli -- the conservative warrior, speak truth to power guy who was a leading opponent of President Obama's health care law  -- you really love him. And, if you don't like either man, then you really don't like them. Both men are no-gray-area politicians; very few people don't feel strongly about them.
That's what makes this race so intriguing. Cuccinelli will have rock-solid support bordering on fervor from the Republican base while McAuliffe -- now that Sen. Mark Warner (D) has removed himself from consideration -- should receive similar treatment from the Democratic base. 
But neither man is a natural fit to appeal to the centrists -- fiscally conservative, socially liberal -- who populate the far suburbs and exurbs of Washington, D.C. (Prince William and Loudoun counties, we are looking at you) and tend to decide elections in the state. (Gov. Bob McDonnell (R) won both counties handily in 2009 and President Obama carried both in 2008 and 2012.)
Cuccinelli's emphasis on social issues -- he has long been an outspoken abortion opponent -- won't likely sit well with many suburbanites nor will McAuliffe's high-profile defense of all things Democratic during his tenure as the titular head of the party.
And both men -- and their respective parties -- will do everything they can to cast the other as a dangerous extremist who doesn't have a clue about what the ideological middle of Virginia wants and needs. One example: Democrats have already put out a release seeking to tie Cuccinelli to the likes of Todd Akin and Richard Mourdock who lost Senate race due to impolitic comments on rape. 
What it all means: An absolutely fascinating matchup that could well be the marquee matchup not just of 2013 but of the entire two-year election cycle. And, yes, we are excited.
Update 1:53 p.m.: The Virginia politics team notes that Bolling's statement seems to suggest he could run as an independent. That makes some sense, since Bolling was unhappy that Cuccinelli ran against him after indicating that he would seek reelection as attorney general (Bolling also stepped aside for then-attorney general Bob McDonnell in the 2009 GOP contest and seemed to think it was his turn this time). Also, former congressman Tom Perriello is apparently interested in challenging McAuliffe for the Democratic nomination. Perriello has good liberal bona fides, but is seen as a less-formidable candidate for the general election, and obviously doesn't have the deep pockets and connections that McAuliffe has. Two more potential x-factors in a very exciting race.