Sen. Frank Lautenberg's (D-N.J.) decision to retire from the Senate after the 2014 election means the upper chamber will soon say good-bye to its last veteran of World War II.
(Assuming, of course, that no vets run for and win another Senate seat in 2014 -- something that is highly unlikely given they are all at least in their mid-80s.)
Lautenberg's retirement, combined with the death of Sen. Daniel Inouye (D-Hawaii) in December and the retirement of Sen. Daniel Akaka (D-Hawaii) in January, has quickly brought an end to World War II's contingent in the Senate.
As the chart above shows, that contingent numbered one-third of the Senate less than 30 years ago -- and even more before that. In fact, 115 veterans of the Second Great War have served in the Senate. (The full list is here.)
It comes to an end in a new era in which very few incoming members of Congress have served and fought overseas. Below is a look from CNN at the percentage of veterans overall in Congress, which is at its lowest point since World War II.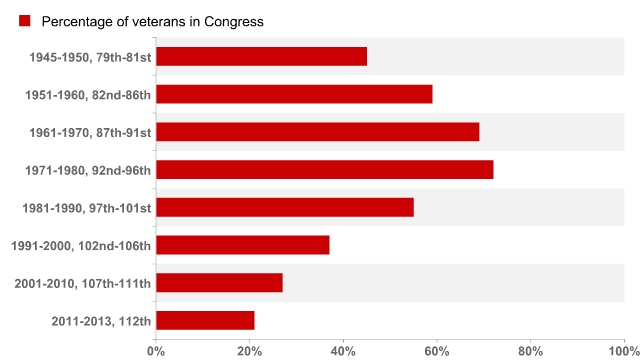 World War II lives on in the House, though, where veteran Reps. Ralph Hall (R-Texas) and John Dingell (D-Mich.) are still going strong.