Journalists may have many biases, but among the most important is that they always see the glass as half empty. It's a phenomenon researchers call "negativity bias," and studies show all humans share it. This is why Thanksgiving is a useful holiday. It gives us a reason to think about what's actually in the bottom half of the glass.
The facts, once you look at them, are indisputable. The world in the 21st century is really a remarkable place to live, and it's getting better all the time, even for its poorest inhabitants.
-- Wars claim fewer lives today than ever in human history, by several orders of magnitude. Here's the Associated Press, citing research by psychologist Steven Pinker:
Before there were organized countries, battles killed on average more than 500 out of every 100,000 people. In 19th century France, it was 70. In the 20th century with two world wars and a few genocides, it was 60. Now battlefield deaths are down to three-tenths of a person per 100,000.
-- Just in the last two decades, global poverty has declined by half, and there's reason to think we could nearly eliminate it in the next two decades.
-- Also just in the last two decades, the infant mortality rate has similarly declined by about half, according to the World Health Organization.
-- These spectacular changes have made the world a much more egalitarian place. While the distribution of wealth in particular countries is becoming more unequal, if you take a broader view and compare the world's poor to the world's rich, inequality appears to be declining.
-- Even within the United States, there are unambiguous signs of progress. The grand jury's announcement in Ferguson this week revealed that many people are still very frustrated by the persistent linkages between race and poverty in this country. And they should be. But some things are getting better, if slowly. Our neighborhoods are becoming steadily less segregated, for one thing.
-- Also, the crime rate has been declining for the last 25 years.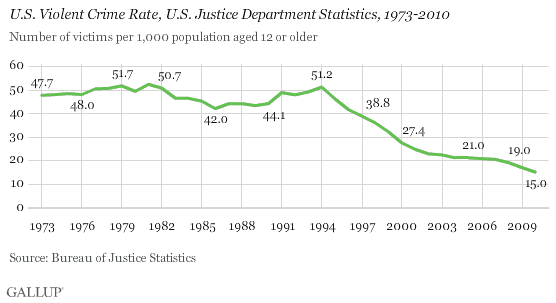 -- And since 2007, the number of people arrested for possession of marijuana annually has also declined sharply.
It's gloomy out there, no doubt about it, but there are still a few things to be thankful for.
---
Welcome to Wonkbook. To subscribe by e-mail, click here. Send comments, criticism or ideas to Wonkbook at Washpost dot com. Follow Wonkblog on Twitter and Facebook.
Wonkbook will return on Monday, Dec. 1.
---
What's in Wonkbook: 1) Ferguson protests continue 2) Happy Thanksgiving! 3) Tax extenders stall 4) Smog rules coming out 5) Counting calories, training teachers and more
Number of the day: 5.1 million. That's the volume, in gallons, of jellied cranberry sauce that Americans consume annually over the holidays. K. Annabelle Smith in Smithsonian.
For years, Ocean Spray's competitors have accused the cooperative of monopolistic behavior. Madeleine Behr in The Capital Times with the Wisconsin Center for Investigative Journalism. 
Chart of the day:
The average turkey has more than doubled in weight since 1929 through selective breeding. Alexis Madrigal in The Atlantic, 11/25/2008.
1. Top story: Ferguson protests continue

Last night was quieter. Protesters rallied in the streets of Ferguson and in cities from Los Angeles to Boston, but there was no more arson or rioting. Chico Harlan, David Montgomery and Kimberly Kindy in The Washington Post.
Witnesses gave conflicting testimony to the grand jury. The eyewitnesses were confused and startled, and couldn't see or make sense of everything that happened between Michael Brown and Officer Darren Wilson. Sandhya Somashekhar, Steven Rich and Amy Brittain in The Washington Post.
The testimony revealed lapses in protocol on the part of authorities. Wilson returned to the police station after killing Brown, washed his hands and put his gun in an evidence bag. The medical examiner failed to take photos of the scene or any measurements. Tom Hamburger and John Sullivan in The Washington Post. 
Civil rights groups call on Obama to reduce police militarization. Modifications to massive federal grant programs under executive authority could change the way police do business, they argue. The Washington Post.
COBB: The promise of Obama's presidency was broken in Ferguson.  "The man who once told us that there was no black America or white America but only the United States of America has become a President whose statements on unpunished racial injustices are a genre unto themselves." The New Yorker.
FELDMAN: Prosecutor Bob McCulloch asked a poorly understood, secretive institution to decide Wilson's case. Grand juries are a vestige of medieval legal practice. The public doesn't know how they work, and they don't offer a transparent presentation of the evidence. McCulloch made a mistake by presenting the case to the grand jury in a neutral manner, hoping that doing so would lend validity to a decision not to charge Wilson. Bloomberg.
MILBANK: McCulloch acted as Wilson's defense lawyer, not as a prosecutor. He could easily have secured an indictment on a lesser charge -- if he had asked the grand jury for it, as was his responsibility. The Washington Post.
---
Hip-hop interlude: "Tell the Children" by Tink (prod. by Timbaland).
---
2. Happy Thanksgiving!
Cheap gas will save travelers money this year. A typical road trip over Thanksgiving is 529 miles round trip, which means that at $2.82 per gallon, someone traveling by car for Thanksgiving will save about $7.42 on gasoline compared to last year. Gas prices haven't been this cheap during Thanksgiving since 2009. Christopher Ingraham in The Washington Post.
Turkey breeding has created shockingly unhealthy birds. The animals' skeletons aren't adapted to carry their weight. As a result, they're bowlegged, and the males (or "toms") are so obese they're incapable of mating. Kiera Butler in Mother Jones.
Turkey, a Mediterranean country, v. turkey, an avian species domesticated for food. Why do they have the same name? Dylan Matthews in Vox.
3. Tax extenders stalled by veto threat
Obama threatens a veto of a tax deal being negotiated on the Hill. Lawmakers were planning on making a slate of temporary tax breaks permanent, but the White House said the bipartisan agreement helped corporations and the wealthy at the expense of the middle class. In particular, the deal would not have made the expanded child and earned income tax credits, which help working families. Looks like lawmakers are headed back to the drawing board. Kristina Peterson and Damian Paletta in The Wall Street Journal.
The veto threat shows the divisions between Congressional Democrats and Obama. It might be that the White House is aiming to preserve leverage with Republicans until next year by not yet making business tax breaks permanent, but all in all, it seems like Democrats aren't doing a good job of coordinating their strategy. Richard Rubin for Bloomberg.
4. Smog rules to be announced
The administration will announce restrictions on ozone Wednesday. Ozone causes smog, asthma and heart disease, and public health and environmental advocates say it's among the most damaging and widespread pollutants. The new rule has been delayed for several years due to opposition from industry. Coral Davenport in The New York Times.
Lobbyists are gearing up for a big fight. The rule could cost businesses around $90 billion annually, by one EPA estimate. Observers are also watching the Supreme Court, which accepted challenges to the EPA's authority earlier this week. Amy Harder in The Wall Street Journal.
5. In case you missed it
Some undocumented immigrants could hypothetically be eligible for Medicare and Social Security. They pay into the system through payroll taxes, and those of them who receive a reprieve from deportation would eventually be able to draw benefits. Karen Tumulty in The Washington Post.
The administration released new rules on teacher preparation. In order to qualify for federal aid, education programs will have to produce graduates who are rated as effective teachers. Caroline Porter in The Wall Street Journal.
Menus will now include calorie counts. The FDA approved a rule requiring chain restaurants, movie theaters and more to tell consumers how many calories they're buying. Most people have no idea. Jason Millman in The Washington Post.