The image showed a man on the ground; frantic bystanders look on. The group happened to include a woman in a hijab. She was on her phone. She looked horrified.
But as her picture began fluttering across Twitter, a different story emerged. The unnamed woman was "paying no mind" to the atrocity unfolding in front of her. She didn't care that a man lay dying in front of her. Maybe, some people suggested, she was happy about the attack.
It didn't matter that the photographer took to TV to correct the record. As Jamie Lorriman explained to Australia's ABC, his series of shots captured the woman's distress. "In the other picture in the sequence she looks truly distraught … personally I think she looks distressed in both pictures," he said. "It's wrong it's been misappropriated in that way."
He further elaborated to the Guardian: "We were all being told to clear the bridge at various stages, so it's not unreasonable to think she'd been told to leave the bridge at some point just like everybody else."
It didn't matter that the woman had tried to help. In the moments after the attack, she talked to other witnesses and guided someone to a metro station. She then decided to call her family and tell them that she was okay, according to a statement she released through TellMama, a U.K.-based group.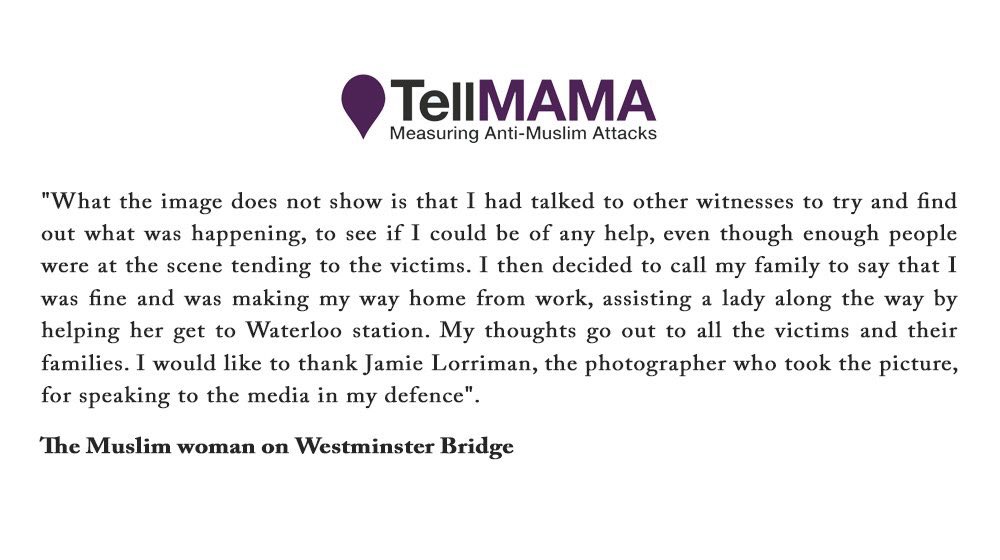 To those who believe Islam is violence, who would like to ban all Syrian migrants and refugees, this unnamed woman was an easy way to prove something already believed: that all Muslims hate the West and wish Westerners harm. That Muslims are scary, and we should be afraid. Because only a monster could walk by a scene like the one that unfolded on the bridge without batting an eye.
(Of course, observers noted, the Muslim woman wasn't the only one on her phone.)
This kind of thing happens all the time. Someone takes a photo of a person who seems Muslim, suggests that it tells a particular, nefarious story about the faith, then spreads it around. Pretty soon, the subject of the photograph is getting trolled, hard. It doesn't matter if that person is totally innocent. The truth doesn't matter at all.
It happened to Anas Modamani, a 19-year-old Syrian who snapped a selfie with a woman he vaguely recognized from the news. Modamani fled Daraya for Europe in 2014 after his home was destroyed. He settled in with a host family and spent his days learning the language and working at McDonald's. Then, at an event, he snapped a picture with Angela Merkel. A news photographer captured the moment too.
The picture got little attention then. But after the Brussels attack, a Facebook page posted a link to the image. The accompanying caption read: "Dumb, dumber, Angela: Did Merkel take a selfie with one of the Brussels terrorists?" The post went viral. Suddenly, Modamani's image was being shared by everyone. His face was being cropped and distorted to make him look like the other suspected terror suspects.
It got so bad that he's scared to fly back to visit his family, because he knows that if he's Googled by an immigration agent, they will find a long string of articles about him as a terrorist. "I want peace in my life," the teenager told the New York Times. "Not everyone believes that. Many people hate me, but all I did was take a selfie with Ms. Merkel."
Other examples abound. A popular email forward uses a photo of a 1985 Muslim Day Parade (which shows a couple hundred men kneeling in prayer on a New York City street) to suggest that Muslims routinely stop traffic in New York on Friday afternoons to pray. "This is an accurate picture of every Friday afternoon in several locations throughout NYC where there are mosques with a large number of Muslims that cannot fit into the mosque," it reads. "Is there a message here???? Yes, there is, and they are claiming America for Allah. If we don't wake up soon, we are going to "politically correct" ourselves right out of our own country!"
The image of a Sikh man was photoshopped by a Twitter user (who's since been suspended) to suggest that he was responsible for the terrorist attack in Paris. Veerender Jubbal lives in Canada (he says he's never traveled to Paris). But after the November attacks, someone stole a selfie of him holding an iPad and doctored it to look like he was holding a Koran and wearing a suicide vest. The image of the "Islamic State attacker" was then circulated.
The same images were used to tie Jubbal, a freelance writer, to the truck attack in Nice.
As my colleague Abby Ohlheiser wrote:
The fallout from the hoax took a huge toll on him. "The last time around it was so disheartening that his life hasn't been the same since," said Jubbal's friend Simran Jeet Singh, a senior religion fellow at the Sikh Coalition, in an interview on Friday morning.
Just this week, a social media user with ties to the French far right shared a video that showed a man hitting two nurses. The user claimed it was shot at a public hospital in France, where the two nurses were treating a migrant. "We treat them," he wrote, "and they are thankful for it, the proof." Several influential social media accounts linked to the French far right shared this video, and all suggested that it depicted a migrant waging an anti-white attack. The video was viewed more than 7 million times.