Published on September 30, 2017
CODRINGTON, Antigua and Barbuda
Jenita Cuffy rounded the old almond tree, its branches now snapped like twigs, as she headed toward her office at Barbuda's ruined hospital. The island's public-health nurse hadn't been back in nearly three weeks, since every soul was evacuated from this flat disk of an island laid waste by Hurricane Irma.
With the people gone, it was as though Barbuda had gone feral. Abandoned dogs had formed packs and were taking down livestock. From the hospital courtyard, Cuffy could smell death — animal carcasses rotting in the rubble. A corner of the roof had collapsed, the windows blown in. The medical dorms were a scrap heap. An ambulance was wedged into a tree.
"This doesn't look like my island," Cuffy said.
A 'post-apocalyptic' landscape: Barbuda after Hurricane Irma
The Washington Post's Anthony Faiola and Salwan Georges traveled to Barbuda almost a month after Hurricane Irma struck the island. Here's what they saw.
Before the storm, Barbuda was a forgotten Eden about the physical size of the District of Columbia. Its 1,800 inhabitants were family, literally. The descendants of African slaves brought centuries ago by the British, many islanders were related. The workdays were short and the rock lobster — freshly caught and free — were sweet. They'd grill them up at picnics down by the caves at Two Foot Bay National Park. There were no street addresses. Collecting mail meant a call from Joyce Lynn Webber at the post office.
"Eh, you got mail down here, come by," she'd say.
That life was blown away.
Now Cuffy was back, just for a few hours, to help set up a temporary clinic — a step, she hoped, toward getting scattered Barbudans back to their island home.
But would they come back? Should they? Would she?
In this, the cruelest season of storms that anyone alive has known, entire islands, such as Barbuda, have been wiped clear. There's no power across Puerto Rico, and it probably won't fully return for months. Dominica is devastated, with no commerce and hardly any usable homes. St. John and St. Martin — playgrounds for the affluent and homelands for the descendants of slaves, adventurers and colonizers — have been boomeranged back to a time before luxury resorts and timeshare condos.
The storms pushed the islands back to the primitive, basic state that made the sandbars of the Caribbean so alluring to European empires, pirates and tourists for half a millennium.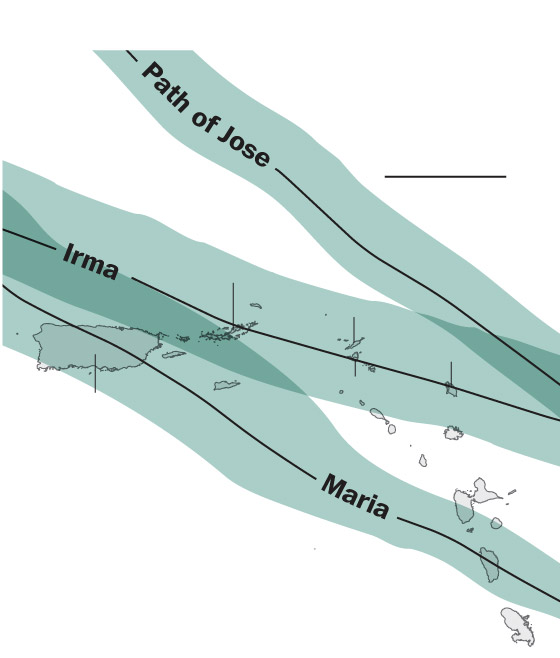 Hurricane-force winds in 2017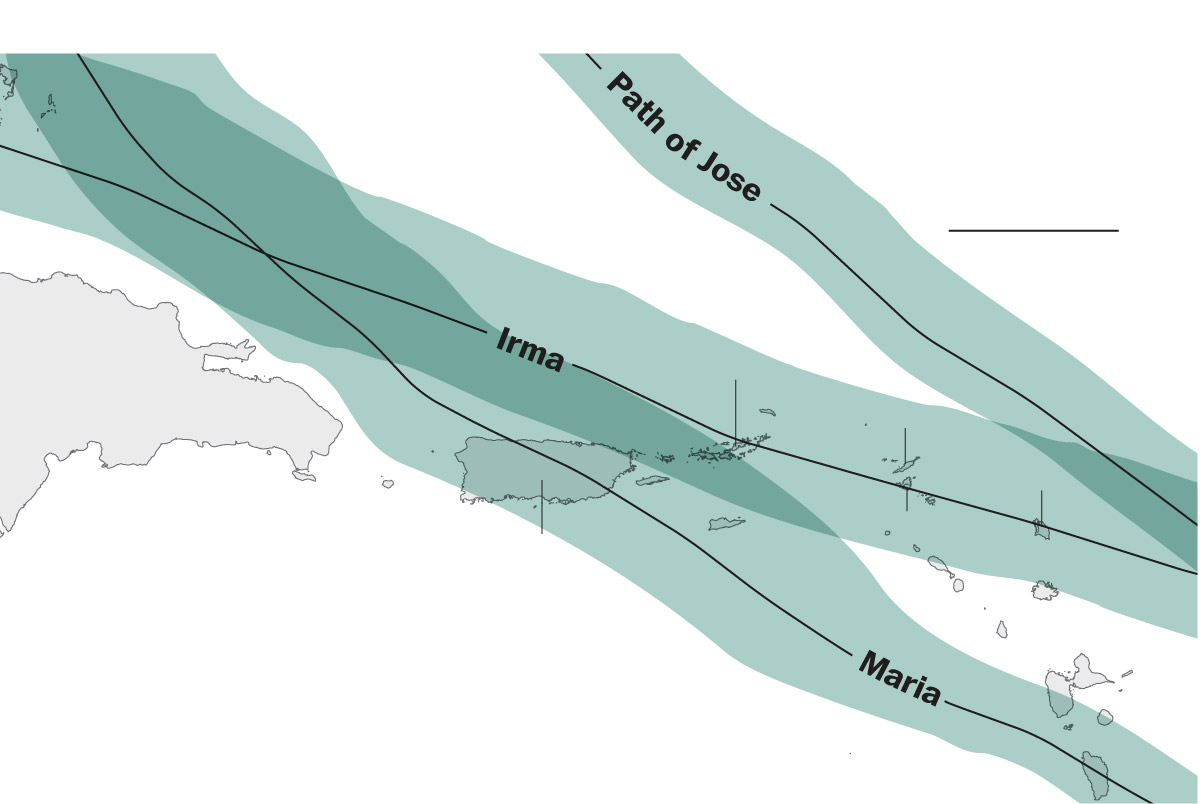 Hurricane-force winds in 2017
Investors, governments, visitors and the people who have called these islands home for generations now wonder: Has something elemental changed? Might paradise turn uninhabitable? Is it time to go?
Devastation is part of the natural cycle of life in the islands. During the past four decades, the region has been hit by more than 200 major storms, which killed more than 12,000 people and caused nearly $20 billion in damage, according to an International Monetary Fund study. About 1 percent of the Caribbean's gross domestic product is wiped out every year.
"Storms shape the history of these places," said Joshua Jelly-Schapiro, a geographer and author of "Island People: The Caribbean and the World." "And people have been leaving these islands for decades," heading for New York, London, Paris and other more stable places in countries that once colonized the Caribbean.
But in recent years, hurricane season has delivered more intense storms. "A person in the Caribbean generally would experience one Category 5 hurricane in a generation," said Tahseen Sayed, the World Bank's Caribbean country director. "In two weeks, we've had two Category 5 hurricanes."
The result is not only physical damage and economic strain.
"There's a new, strong consensus that storms are getting worse and climate change is to blame," Jelly-Schapiro said. "You didn't hear that even a few years ago. For the first time, people are saying, 'I love this place, but maybe it's not a place where we can live.' "
On Barbuda, in the aftermath of Hurricane Irma, a house is left devastated; the glass is gone from a kitchen window, which looks out on a destroyed yard; a family photo is water-damaged, but intact.
Three hundred miles west of the devastation that was Barbuda, Maria Roman and her husband, George Matta, live on what feels like a new island within their island of Puerto Rico.
Hurricane Maria cut their neighborhood off from the rest of their mountain town, collapsing the bridge over a 200-foot-wide river. Roman and Matta were left marooned, without food stores, gas stations or emergency services. The only way out was to wade across the river or drive more than three hours around the mountains — nearly impossible with little to no gas.
"I call it lost in space," Roman said.
This is home, but it wasn't always so. Roman, 54, grew up in Jersey City, then moved to Puerto Rico in the mid-1980s, when her parents decided to retire to their native island. Roman met the man who became her husband, and he got a job running a ranch, and next thing they knew, they'd made a life on the island.
But Roman often has felt the pull of the mainland. She doesn't like the isolation of the countryside. And each time a hurricane has hit, each time her neighborhood of San Lorenzo lost power or water, she longed for the comfort of New Jersey.
After Hurricane Georges in 1998, she wanted to leave, but she needed to care for her wheelchair-bound mother and father, who have since died. And she felt connected to her neighbors. Her husband had a good job. And college was cheaper for her daughters than it would be on the mainland.
After Georges, "everything was calm for 19 years," Roman said. Until this year, until Irma, and then Maria. "This is like a nuclear bomb was thrown at Puerto Rico," Roman said.
Roman has had it. As soon as her younger daughter graduates from nursing school in May, she said, the family will move to the mainland.
That daughter, Merari Matta, 24, longs for the better pay and quality of life up north. On the island, "the power always goes, hurricane or not," she said. "The water always goes. There's a lot of inconsistency." If the storm had hit themainland, she said, help would have arrived faster.
Like many people in the Caribbean, Roman and her family have a relatively easy way out. The Caribbean diaspora is vast and deeply connected. About as many Caribbean natives live in North America or Europe as in the islands; immigrants from the region make up 20 percent of the population in greater Miami and 7 percent of New York City. Half of Caribbean immigrants around the world send remittances to support relatives back home, and 70 percent belong to organizations on their islands, according to a World Bank study.
For Puerto Ricans, who are U.S. citizens, the back and forth is even more fluid.
Roman's sister, Aurea Roman, lives in Jersey City. She can't imagine living on the island. As a single parent on partial disability, she said, "all the convenience for me is here." She can get food delivered to her home. She can use public transportation, such as buses, trains and taxis.
"I like the island to visit, but to so-called live? No," she said. In Puerto Rico, "I panic."
Aurea had not heard from her sister in Puerto Rico after the hurricane, and was relieved to learn from a reporter that she is okay. She now wants them to join her in the land of safety and comfort.
"If they want to come," she said, "I'll buy them a ticket right now."
An aerial view of the damage to the town of Codrington, on Barbuda; a tower is crimped and bent after a shipping container flew into it during Hurricane Irma; an ambulance is overturned and useless outside a hospital.
Hurricanes kill and destroy. Things small and large — toys and family photos and entire buildings — vanish in torrents of water and gusts of wind.
"Eden is broken," Dominica Prime Minister Roosevelt Skerrit said at the United Nations after Hurricane Irma. "To deny climate change . . . is to deny a truth we have just lived."
The tragedy storms wreak was powerful enough that William Shakespeare heard about it in England. "The sea that roar'd to us," Prospero said in "The Tempest," "did us but loving wrong."
Hurricanes can also revive and renew. Crops come back stronger than before. People learn to build smarter. Storms also cement the bonds of people who share the intimate spaces of islands, which are, as Jelly-Schapiro put it, "both a world apart and connected to everywhere by the sea."
Storms drive people out. "Hurricanes have been an important aspect of migration in the Caribbean at least since the late 19th century," said Yale historian Stuart Schwartz, author of "Sea of Storms," a history of hurricanes. People leave because they are dispirited or because the storm destroys their livelihood, wiping out sugar plantations or gutting resort hotels.
"Puerto Rico was already in an out-migration crisis before the storms," Schwartz said. The island lost 10 percent of its population in the past two years, mainly because of deep financial woes. "This could make it much worse."
But in a struggling economy, many people can't leave. Gabriel De la Cruz, his wife, Luisa Rodriguez, and their son Ismael, lived in Loiza, one of the poorest suburbs of San Juan. It had already suffered extensive damage from Hurricane Irma when Maria ravaged the town on Sept. 20, destroying 90 percent of all residences. The family lost nearly everything.
De la Cruz, who works as a cook, might move to an area less prone to hurricane damage. Loiza "is going to be a desert town," he said. But moving to the mainland is impossibly expensive, he said. He's been there before, living in the Bronx for four years, paying more than $800 a month for a room in a shared apartment. In Loiza, the family's three-bedroom house cost just $400 a month.
But it is gone and De la Cruz doesn't know how it might be replaced. That work is months, maybe years, away.
While $48 million already has flowed from an 18-nation insurance consortium to seven island governments to jump-start the buildback, the region's U.S. territories, including Puerto Rico and the U.S. Virgin Islands, were in financial distress even before the storms. Now, their paralyzing debt crises have been compounded by a near-halt in commerce.
The World Bank has encouraged island nations to build in resiliency — put much of the electrical network underground, invest in drainage systems, pass stricter building codes, rebuild hospitals so they can double as storm shelters. On islands that have taken such steps, recent storms have caused far fewer deaths than strong hurricanes did in the past, Sayed said.
"The whole thing is about cost-benefit analysis," said Saurabh Dani, a disaster-risk-management specialist at the World Bank. "The social and economic cost of trying to recover from a devastating storm makes you realize that it might be worth the cost" to invest in expensive precautions such as moving electrical wires from overhead poles to underground trenches.
Major storms can paralyze production in agriculture and industry for years, Schwartz said, but "hurricanes bring benefits too — eliminating insects, renewing fields." The difference between long-term devastation and quick recovery depends on "the willingness of the government to spend on preparation," he said. "One dollar spent in preparation is worth four in recovery."
Gaston Browne, prime minister of the former British colony of Antigua and Barbuda, views the storm as an opportunity. From the ruins of his country's smaller island, he wants to build a Barbuda powered only by solar energy. Telephone lines could go underground. Houses and the hospital could be rebuilt to withstand monster storms.
Since Irma, Browne said he's won commitments for grants, loans or other aid from China, Venezuela, the United Arab Emirates and Canada. He's soliciting more.
Browne, an Antiguan, said Barbudans must learn to be more self-sufficient, and that means abandoning a centuries-old communal land system in which the descendants of slaves built houses on land they believed belonged to all. Browne wants to create modern property rights, allowing Barbudans returning home to their ravaged island to buy their land for $1. That would pave the way for them to win mortgages to rebuild and to buy insurance.
"We are trying to build an ownership class in Barbuda," he said. "What is so bad about the government bringing Barbuda into the 21st century so that it's not a giant welfare state?"
Some Barbudans smell a rat, a land grab that could lead to large-scale development. Indeed, the government is backing major tourism projects, including one led by actor Robert De Niro that would revive a long-shuttered resort once favored by Princess Diana.
Cuffy is among those who fear the government plan. Paying $1 for prime land near a Caribbean beach might seem like a gift. But Barbudans saw land as a birthright. You picked your parcel and you built. Nobody owned it. Everyone did.
That land is now barren, a mudpit of ruins.
"I'm not really ready to take it in, what's happened," Cuffy said. "It's just, where do you start?" Her voice broke. "How do you start? Can you? I worry that it will never be the same. Everybody's gone. Everybody. And I know some won't come back. I don't know if we will."
Peter Cuffy, trailed by a stray neighborhood dog, arrives to check on his home in Codrington; Jenita Cuffy, his wife, surveys some of their home's damage; Peter Cuffy hammers planks into his front door to seal it.
She is decked out in her Sunday best, her husband, Peter, and son Garen by her side. They have come to worship at a small revival hall behind St. John's Pentecostal House of Restoration on Antigua, 39 miles across sparkling turquoise waters. Their preacher from back home on Barbuda, Bishop Nigel Henry, offered solace and spirit to his displaced flock. By boat and airlift, Barbudans had found a temporary home on Antigua, in shelters and the homes of Antiguan families.
"Affliction," Henry cried out, his voice echoing through the church. "My people, we have an affliction. It's like a lawn mower took down our island, and it's amazing that we're still here, still alive. Our little island didn't bother anyone. All we did was love to have fun. And yet still, we had it. A Category 5 plus plus plus."
The old folks might go back, the bishop said, but "a lot of the younger ones, they're going to find jobs, go to schools, here in Antigua. I don't think they're going back."
It's a question Cuffy and her family already are mulling. On Antigua, Garen, 9, swiftly acquired a taste for KFC and Big Banana Pizza — the kind of chains that never made it to Barbuda.
Last week, he was in the back seat of a family friend's car when it suddenly started to rain. Garen curled up in a ball. The rain summoned memories of the bathroom cupboard where his parents had hid him as Irma tore at their Barbuda home.
"He says he won't go back, ever," Cuffy said. "It puts me of two minds, you know. I want to go back . . . but he's my son."
Later, in the small Antigua apartment a cousin has lent them, Cuffy's 60-year-old mother, Junie John, wasn't hearing any of it.
"We got to go back, it's home," she said, slapping her hands on her lap.
Lestroy John, Junie's husband and Cuffy's stepfather, chimed in: "Oh, we goin' back. My people there. Gonna be there."
Cuffy went silent. She recalled the 1995 storm, Hurricane Luis, which tore things up good, but not like Irma. Junie remembers the earthquake in 1974. It was bad, too. And it's not like family never left. One sister moved to the District, the other to Antigua. But they left for work, not to escape the storms.
"We always rebuilt, we always stayed put," Junie John said. "My mother always told me, 'Junie, mind your land.' We have done that. No gonna stop now."
Faiola reported from Antigua and Barbuda; Schmidt from Puerto Rico; and Fisher from Washington.