Here are some of the highest reported wind gusts of the evening from the National Weather Service:
68 mph at Dulles Airport

65 mph in Cabin John, Md.

64 mph at George Washington University

63 mph at BWI Airport

62 mph in Upper Marlboro, Md.

58 mph at National Airport
7:50 p.m. — Winds peaking thru late evening
A tree also has fallen on a house in Aberdeen, and a number of incidents of trees and wires down have been reported elsewhere.
So far, outages are isolated to scattered locally. Fauquier and counties near or west are seeing the most in our area, with a couple thousand customers out. A quarter million are without power in Pennsylvania, where storms have been more widespread today.
Winds are peaking now and over the next few hours, particularly through about 11 p.m. Gusts around 55 to 60 mph are likely to continue. The high wind warning was extended until 1 a.m. in the immediate area.
6 p.m. — Strongest winds start to arrive during next hour or two; power outages likely to increase
We are now beginning the period of highest expected wind gusts. The wind should strengthen significantly during the next hour or two from west to east across the area, with wind gusts in the 40-60 mph range through around 10-11 p.m., before diminishing from west to east. Power outages are likely to grow during this time with downed trees likely. If you're outside, try to stay away from trees and power lines and watch out for blowing objects.
Showers and thunderstorms have been moving through as well, with the strongest passing north of D.C. so far. Some of these storms could produce their own localized damaging winds and small hail. Shower and storm activity should largely dissipate by around 7:30 or 8 p.m.
High winds continue toward midnight tonight. We expect winds to pick up between 4 and 6 p.m., with the strongest gusts around the Beltway expected between 6 and 10 p.m. More than one round of high wind gusts around 60 mph is possible, and a line of broken showers and storms may arrive before wind gusts start diminishing.
Downed trees and power outages are most likely to occur in areas under high wind warnings (see the advisory map below), with slightly lower chances in areas under a wind advisory. Charge your devices, just in case.
Through tonight: Any final showers and thunderstorms should exit before 10 p.m. near the D.C. area. The atmosphere is pretty dry, so we don't expect heavy or long-lasting rains. Still, the threat of damaging wind gusts won't diminish until rains fully pass to our east.
Eastern areas of our region are the last to clear and may deal with stronger storms. We will stay on guard for high gusts until midnight. Skies clear late night, and winds slowly fall as low temperatures bottom out around 40 degrees.
Tomorrow (Sunday): Sunny and breezy with west-northwest gusts perhaps as high as 30 mph, especially early. High temperatures should get to at least the mid-50s with some of the typically warmest spots eyeing the 60-degree mark. A few clouds overnight as we turn nearly calm and dip into the upper 30s to low 40s.
Severe storm threat increases east of town, later this evening
While showers and storms in our immediate area may amplify already-high winds, the potential for more powerful storms ramps up east of town after sunset. Chances for severe storms in areas like the DelMarVa are markedly higher than right around D.C.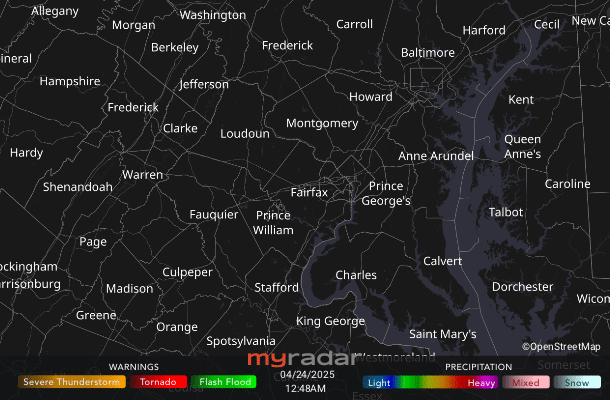 This evening, as the cold front exits the D.C. area, storms may turn stronger as they head east. Even-higher chances for damaging wind gusts above 58 mph from the cold front's associated line of thunderstorms are possible east and north of town. One or two tornadoes, and hail up to quarter-size, are possible as well.
Want our 5 a.m. forecast delivered to your email inbox? Subscribe here.