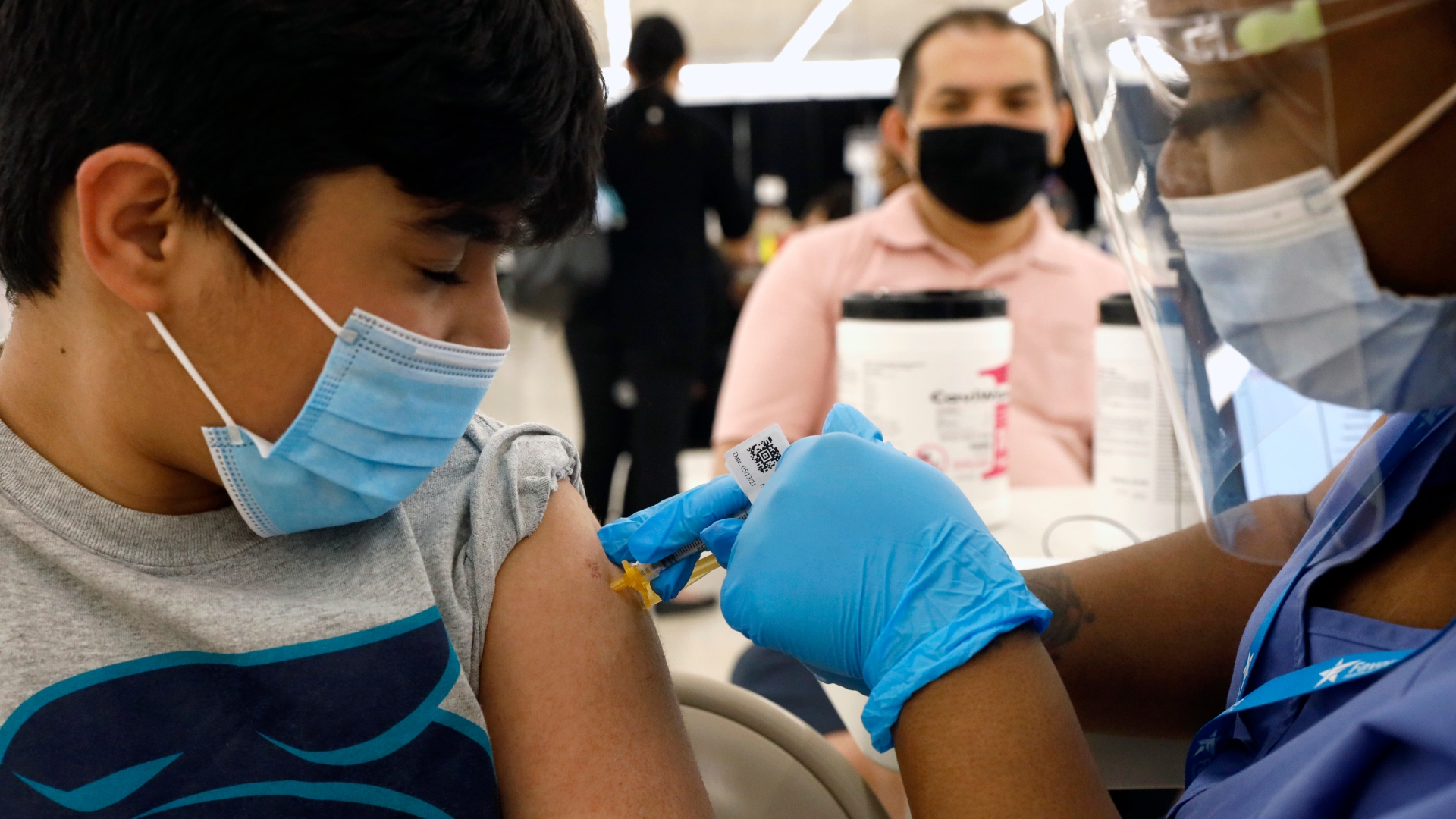 Fauci said it is "almost certain" that the country will be able to vaccinate children of any age by early 2022, a development that would mark another significant milestone in the pandemic response.
By
, , and
52 minutes ago
It could be as much as 50 percent more contagious than the highly transmissible B.1.1.7 variant.
Hamas militants fired rockets and mortars at cities in southern Israel on Tuesday as Palestinian demonstrators staged a general strike in solidarity with Gaza.
An Israeli airstrike early Sunday destroyed the home and office of Hamas's political leader in Gaza, Yehiya Sinwar.
This is the first time the United States has agreed to share vaccines approved for domestic use.
A State Department list of corrupt Central American officials underscores the Biden administration's challenges of working with the region's governments to deter migration.
Johnson had singled her out for praise. But critics say his government has failed to convey its appreciation with concrete support for the National Health Service.
Ceuta has long been a magnet for migrants from across Africa who hope to claim asylum in Europe, but the record number of arrivals comes at a moment when relations between Spain and Morocco are already strained.
Israel's assault on the Gaza Strip ramped up Friday as the threat of all-out war loomed and hundreds of tanks and warplanes pounded the densely populated territory with artillery.
Residents rush to get vaccinated amid the island's worst outbreak, only to find there are nowhere near enough doses.
The United Nations has warned that fuel, necessary for power generation, could be exhausted in days.
"We can't calm ourselves, we just stare at each other in silence with love and fear."
Top U.K. officials still warned people to be cautious amid fears that the new variant first identified in India could roll back the country's progress.
Israel launched its heaviest string of airstrikes to date overnight on nine targets throughout Gaza.
No end in sight as the Israel-Hamas conflict enters a second week. And, how will the Biden White House respond to the intensifying crisis?
Though war crimes have not been proved in a court, allegations have been made against both sides.
Thousands have been evacuated inland, and vaccine campaigns have been suspended.
Israeli fighter jets pounded targets in the Gaza Strip and Hamas militants fired rockets and mortars at cities in southern Israel on Tuesday, as Palestinian demonstrators staging a general strike in solidarity with Gaza faced off against Israeli forces in the occupied West Bank.
Chinese businessman with links to Steve Bannon is the "linchpin" of a sprawling disinformation network that pushes election and covid-19 falsehoods, researchers say
New research says the Cerne Giant predates Shakespeare and possibly the Battle of Hastings.
After the COVID-19 pandemic halted last year's edition, the Eurovision Song Contest has roared back to life
Children are being subjected to extensive trauma in Israel's bombardment of the Gaza Strip
Palestinians across Israel and the occupied territories went on strike in a rare collective protest of Israel's policies
Mexico is mounting a final push to get all of the country's 3 million school teachers vaccinated so that it can reopen schools, perhaps by June
The famed Darwin's Arch in the Galapagos Islands has lost its top, and officials are blaming natural erosion of the stone